I'll give SemiLEDs (NASDAQ:LEDS) credit for at least staying alive longer than I thought it would. This is a company that has posted negative gross margins for five consecutive years, after the company announced fourth quarter earnings and filed its 10-K today. (SemiLEDS fiscal years end August 31.) FY16 revenue is down about 70% from FY10 levels; full-year non-GAAP operating margin was -106%.
Those numbers sound alarming, but it's not as if the trend really has changed; LEDS has been imploding for years now. And the chart since a 2010 IPO shows little in the way of optimism, save for an odd burst this summer: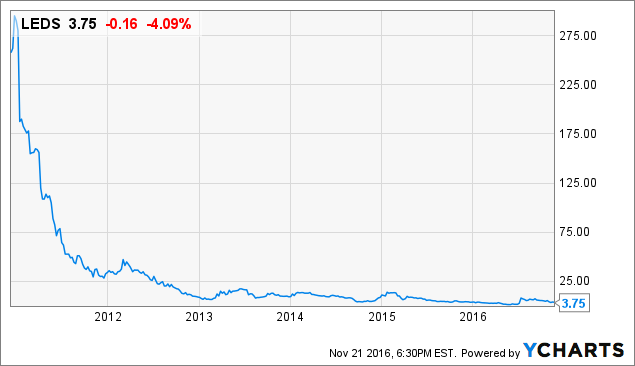 note: LEDS executed 1-for-10 reverse split in April 2016
LEDS has been a terminal short for years now, with the only negatives occasional day trader-fueled volatility and difficulty in finding a borrow. With the market cap still at ~$15 million (pro forma for a recent share issuance and convertible debt issue), there's still room for a short, though there may be another bout of volatility to ride out and there's a bit of information in the 10-K that suggests SemiLEDs could at least make its runway a bit longer.
Slim Hope
The numbers speak from themselves: negative gross margins and collapsing revenue show SemiLEDs' inability to compete in what admittedly it is a difficult space. There have been occasional successes, in camera flash, and UV LED components, and SemiLEDs is trying to make up the value chain to avoid the "race to the bottom" in chips (sales of which fell to under $1 million in FY16). The company did seem to have a potential toehold through its Revlon deal in UV LED (I believe that was for a curing application), with sales reaching $3 million last year; those declined ~20% YOY in FY16, however.
From a structural standpoint, there was a very faint, very short-lived bit of optimism for LEDS last year. The company announced a rather reasonable "liquidity plan"; it would shift production to an ODM (original design manufacturer) partner, allowing it to slash opex; it would focus on trying to gain some sort of margin-enhancing sales in components (including UV LED) and it would raise cash through an equity issuance. The equity issuance fell through, but SemiLEDs was able to find a new partner (though there appears another issue in terms of funding an agreed-to convertible issue).
However, revenue, even in higher-margin components, continues to fall, with those sales down 15% YOY. Sales to Revlon declined ~20%. And the ODM process apparently has stalled out, which at the time seemed somewhat unsurprising; SemiLEDs generated barely $10 million in sales in FY16, and given its financial condition it was unclear who would agree to partner, or what motivation that partner would have. SemiLEDs did sign an agreement on December 31st, but from previous filings and releases it appeared the move to a so-called "fabless model" had been delayed, with little, if any, progress reported.
But the plan isn't quite dead, yet, not all the way. SemiLEDs rolled out new module products last August, focusing on industrial applications, and it continues to target smartphone camera flash and, now, automotive. And in terms of the ODM move, it appears that, oddly, SemiLEDs never disclosed (to my knowledge) the major issue, which an educated guess suggests is the Taiwan earthquake in February. Buried in the 10-K, in the discussion of an $8.6 million asset impairment, the Company wrote that its partner had "just recovered from a serious catastrophic event", which perhaps explains some of the weakness in sales. (SemiLEDs did blame chip weakness on "business interruption" from the restructuring, but it was de-emphasizing chips anyway.)
That seems to imply that the ODM process may get off the ground in FY17 - but there was another interesting piece of information, again rather buried. In Q4, according to the Company, the still-unnamed partner "expressed its interest in acquiring a portion of the equity of one of our subsidiaries." The "discussion is in a preliminary stage," but appears somewhat serious, as the company wrote that assessing the proposal itself would lengthen the schedule for the transition to fabless.
It's not clear to which subsidiary SemiLEDs is referring; it owns 93% of a lighting products business (Ning Xiang) valued at $2 million when SemiLEDs last expanded its ownership in 2014, and the rest of its operations are in wholly owned subsidiaries. (A JV in Malaysia is in the process of being dissolved.) And from here, any moves are simply rearranging deck chairs on the Titanic, as the old saw goes. SemiLEDs needs a dramatic reversal, and it needs it quick.
But when the company has raised equity in the past - both in the December 2014 agreement that the buyer failed to fulfill and in July - the stock has soared, and the announcement of an asset sale, however meager, might spike the stock again. I still don't think LEDS ends up anywhere but zero; the fundamentals simply are ridiculous at this point in terms of losses, and constant ASP erosion makes this a difficult business for even scaled players (see the results at Cree (NASDAQ:CREE)). I'm skeptical the company can build an automotive or camera flash customer base with SG&A slashed to a little over $1.2 million a quarter. But the company, to its credit, continues to find ways to make its road a little longer - and a little bumpier for shorts.
Making It Through FY17
SemiLEDs closed Q4 with $6 million in cash, including $500K on a convertible note. The remaining $1.15 million on the note was due on September 29th, and does not appear to have been paid (though the 10-K is unclear on that point, it does describe other events subsequent to fiscal year-end and does not affirm that the payment was received.) There's another $200K due in a settlement relative to the 2014 equity agreement (though there's reason to be skeptical on payment there as well); in a best-case scenario, pro forma cash is about $7.4 million.
LEDS saw free cash flow of negative $4.2 million in FY16, and it has $2.9 million in mortgages on its headquarters. That building has been sold in a deal that will close in December 2017; SemiLEDs is receiving another $2.2 million in payments, but has to pay off the notes before that sale can close, implying a $700K hole.
By that math, LEDS has about six quarters left, if cash stretches to zero. And cash burn was better in Q4 ($400K+), with workforce reductions in Q2 still providing a modest benefit. At the same time, working capital was positive in FY16, and that may reverse as suppliers lengthen payments; companies don't usually get a chance to get to zero cash before a restructuring, and it certainly seems like that is a possible outcome in FY17.
What chance SemiLEDs has is to establish a second product line beyond UV curing, and quickly. Guidance for Q1 of $2.2-$2.6 million implies a 19% decline at the midpoint, which isn't a good start. There really aren't any assets left: the headquarters have been sold, and PP&E impaired (and likely worth little regardless in a still-flooded secondary market for LED fabs). But there is a "Hail Mary" play here of selling an equity interest to the ODM partner and trying to get another few quarters to find a hit, somewhere.
It strikes me as exceedingly unlikely - SemiLEDs has had narrow paths out of its morass since its IPO, and rarely, if ever, made much progress on any of them. This still is a company that's never really made a dent in the LED market as a whole, and the turnaround required is so severe and the process so difficult (the ODM transition alone with eat up time and cash, both of which LEDS does not have) that it seems close to impossible. Short interest is reasonable, though another Twitter-fueled pump might require more capital, and even at $15 million, LEDS at zero provides 100% return. The company is still trying, and I suppose stranger things have happened - but I still think zero is the most likely outcome.
Disclosure: I/we have no positions in any stocks mentioned, and no plans to initiate any positions within the next 72 hours.
I wrote this article myself, and it expresses my own opinions. I am not receiving compensation for it (other than from Seeking Alpha). I have no business relationship with any company whose stock is mentioned in this article.
Editor's Note: This article covers one or more stocks trading at less than $1 per share and/or with less than a $100 million market cap. Please be aware of the risks associated with these stocks.