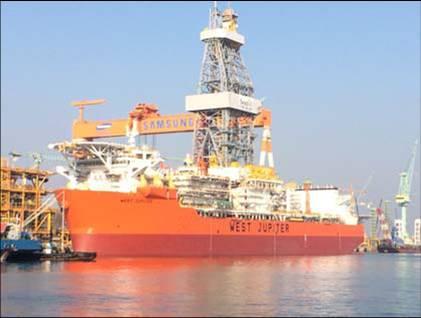 West Jupiter
Source: Company's website
Seadrill (NYSE:SDRL) has just announced its third-quarter results. Previously, the company postponed its restructuring to April 2017, so the results are especially interesting in the light of ongoing negotiations.
The company reported adjusted earnings of $0.28 per share on revenue of $743 million. GAAP loss was as high as $656 million due to impairments mostly related to Seadrill's stake in Seadrill Partners (NYSE:SDLP).
The most important part of the earnings release is Seadrill's fleet status report, so let's turn immediately to new developments. There are a few of them:
1. West Phoenix got a 90-day contract with Total (NYSE:TOT). The rig will work from February 2017 to May 2017 at a dayrate of $145,000. The previous short-term job, also with Total, was valued at $275,000 per day. The dayrate is as low as Seadrill could go. The company reported that its progress in cost cutting led to operating costs of $145,000 per day for floater rigs. Thus, the dayrate is roughly at operating costs for West Phoenix.
2. West Saturn got a one-well contract with Exxon Mobil (NYSE:XOM). The rig will work from December 2016 to January 2017 at a dayrate of $225,000. The previous dayrate for the rig was $634,000, but this was the dayrate negotiated at the peak for offshore drilling industry. The 65% discount from the peak level is consistent with what we have seen so far.
3. West Freedom will remain a floating hotel at a dayrate of $42,500 until April, when it will resume operations at a dayrate of $225,000.
4. West Jupiter contract value was reduced by $144 million. West Jupiter is on contract with Total until December 2019. The initial dayrate was $581,000. Judging by Seadrill's comment on the topic ("As part of the agreement, the contract has been amended such that the compensation due in the event Total elected to terminate for convenience would ensure that the company's backlog remained materially intact"), I suspect that the alternative was the backlog reduction was an outright termination for convenience.
Backlog developments are clearly negative. New contracts for West Phoenix and West Saturn bring less than $30 million in backlog while the West Jupiter hit is $144 million.
Seadrill's shares have recently stabilized above $2 mainly due to the absolute uncertainty regarding the company's upcoming restructuring. It is really difficult to justify aggressive bets on both long and short side, so the activity in Seadrill's shares remained subdued.
Facts continue to point out that the offshore drilling industry has not reached its bottom. Terminations and renegotiations continue, and there's little drillers could do about it.
In my view, Seadrill's negotiating position continues to deteriorate as backlog shrinks and the timing of any kind of a rebound is highly uncertain. Meanwhile, dayrates have bottomed for a simple reason - they have no room to fall.
Seadrill finished the third quarter with $1.25 billion of cash while the current portion of long-term debt is $3.14 billion. The company needs debt restructuring, and I don't think it will be able to postpone the decision one more time.
The main hope for Seadrill is that the OPEC decision will give a sustainable boost to oil prices and make creditors more optimistic. In other scenarios, I suspect heavy dilution awaits common shareholders.
Disclosure: I/we have no positions in any stocks mentioned, and no plans to initiate any positions within the next 72 hours.
I wrote this article myself, and it expresses my own opinions. I am not receiving compensation for it (other than from Seeking Alpha). I have no business relationship with any company whose stock is mentioned in this article.
Additional disclosure: I may trade any of the abovementioned stocks.