It is always worthy to look to emerging markets when you look for additions to your dividend portfolio. You can find nice company running great business generating lot of cash which they pay to shareholders there. Ceske Energeticke Zavody a.s. (or shortly CEZ OTCPK:CZAVF) is one of them. Dividend yield 9+ percent usually justify a deeper look into any company, so let me have a look on CEZ.
Business Fundamentals
CEZ is integrated electricity conglomerate with operations in Central and Southeastern Europe and Turkey, with headquarters in Prague, Czech republic. It generates, trades and distributes power and heat. Their main focus lies in the Czech Republic, where CEZ makes approximately 74 percent of revenues. Moreover, Czech republic (via Ministry of Finance) is also the main shareholder of a company with 69,78% share. Therefore Czech republic is the key factor when deciding about investing in CEZ.
I almost absolutely ignore CEZ presence in Bulgaria, Romania, and Turkey. CEZ has no plans to expand its international presence at the moment and its current positions are in the phase of stabilization, not seeking further financial injections. Therefore, it should not be very important for future of CEZ cash flow or dividend policy.
CEZ generates yearly revenues around 200 billion CZK, EBITDA is circa 60,6 billion CZK and Net Income 18,3 billion CZK.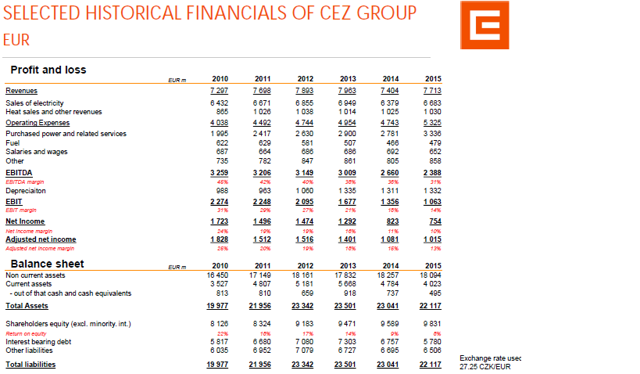 Source: CEZ Investor Presentation
Analysts expect that business of CEZ will slightly slow down, however the numbers should still remain solid.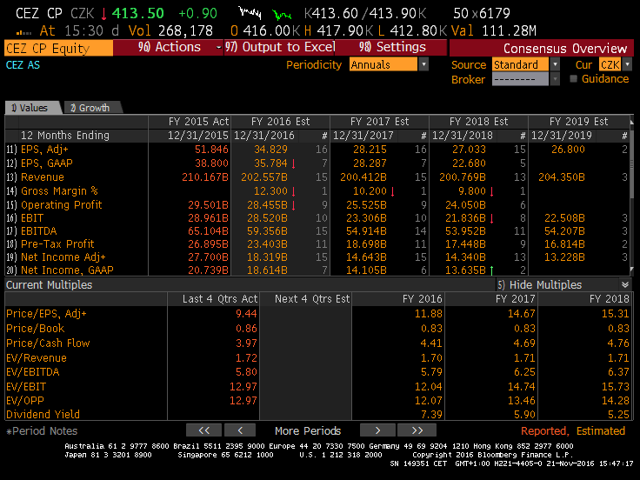 Source: Bloomberg
Debt of CEZ stays at reasonable levels comparing to industry standard and to other European competitors.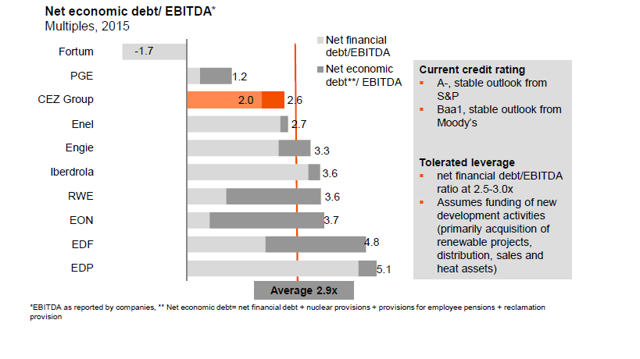 Source: CEZ Investor Presentation
Cash Flow of CEZ is strong enough to cover all capex in following years.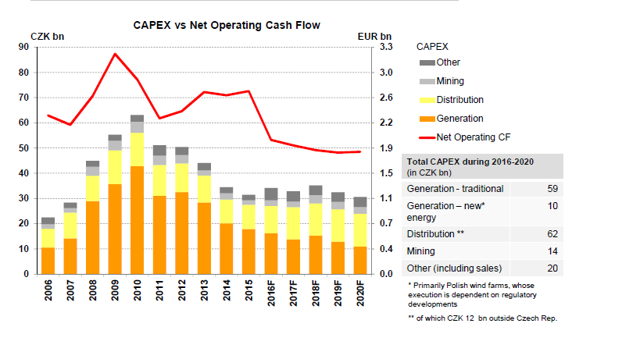 Source: CEZ Investor Presentation
Dividend Policy
CEZ has approved dividend policy to distribute between 60 to 80 percent of adjusted net income. Last year, the payout ratio approached the upper limit.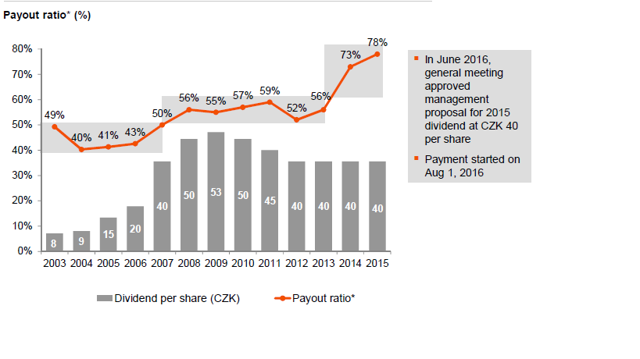 Source: CEZ Investor Presentation
With the general election coming next year in Czech republic, I expect the payout ratio for the year 2016 will stay close to 80 percent. The government usually need to cover higher expenses during the election year and every additional financial source has to be exploited. So my prediction for 2016 dividend stays at current 40 CZK.
Years 2017 to 2020 should see lower dividend as analysts anticipate lower adjusted net income. However, still, the dividend should be not lower than 30 CZK (comparing with 40 CZK for the year 2015).
Year
2016
2017
2018
2019
2020
Dividend Estimate
40 CZK
35 CZK
30 CZK
30 CZK
30 CZK

Dividend Yield Estimate
[based on share price 440 CZK]

9.69%
7.95%
6.81%
6.81%
6.81%
Risks
I see two basic risks to CEZ business in future years.
Firstly, CEZ performance is depending on the price of electricity, lower prices lead to lower margins and then lower net income. CEZ continually hedge its production and therefore any impact on lower electricity prices will be mirrored in results of future years (2018 and later).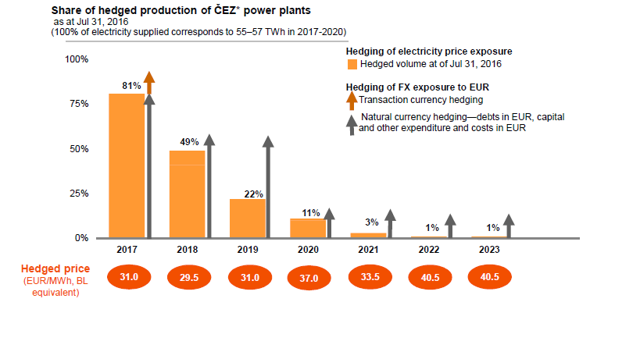 Source: CEZ Investor Presentation
Czech Base Load Year 2018 - historical development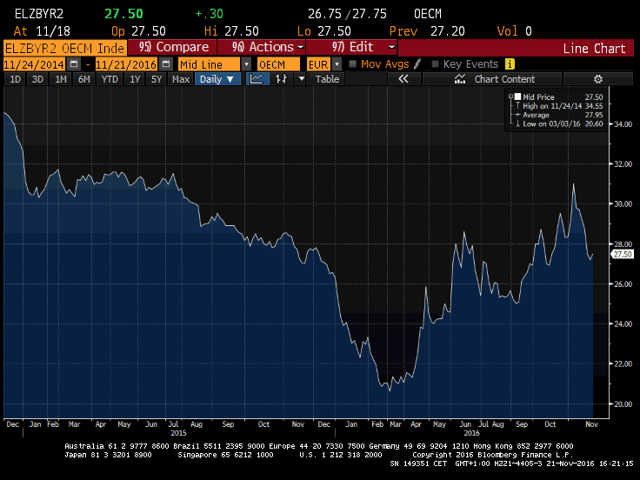 Source: Bloomberg
As we see from the graph above, electricity prices returned from historical minimums we saw in first and second quarters of 2016.
Secondly, we already mention that 69,78 percent of shares is owned by Czech republic. The government is not always the best owner and with upcoming elections in 2017, we can see changes in the management of CEZ. However, any political shift in past years retains CEZ position as cash-cow of country finances. I, therefore, expect that even new government will respect and utilize CEZ dividend policy.
Additional Reward
Any investment with exposure to Czech crown has to be done with respect to current currency situation (I described the EURCZK floor policy and scenarios for next year in my previous article). Czech central bank is keeping EURCZK rate at 27,000 level. Currently, the removal of the floor is expected at the end of 2Q 2017. It will probably result in appreciation of CZK against Euro and subsequently also against USD. This appreciation will not hit company financial results as a majority of revenues is in CZK and rest is hedged against any fluctuation. But even the pessimistic 5 percent move of CZK will help our dividend scenario in a big way if you will invest in CEZ ADRs in USD.
Year
2016
2017
2018
2019
2020
My Dividend Estimate [CZK]
40
35
30
30
30
My Dividend Yield Estimate
[share price 440 CZK]
9.69%
7.95%
6.81%
6.81%
6.81%
My USD/CZK rate Estimate
25.400*
24.130
24.130
24.130
24.130
My Dividend Yield Estimate [ADR price 17.35 USD]
9.69%
8.36%
7.17%
7.17%
7.17%
*current rate
Conclusion
The dividend yield 9,69% at the moment, and 7+% yield in years to come from the company with strong cash flow. Any risk coming from ownership or lower electricity prices is outweighed by possible additional profit from CZK appreciation. There are not so many companies offering such scenario, so I would not hesitate to add CEZ to my dividend portfolio now.
Editor's Note: This article discusses one or more securities that do not trade on a major U.S. exchange. Please be aware of the risks associated with these stocks.