As investors and analysts we can't follow everything but we can follow what holds the underlying risk pulse of general markets. Our key risk indicators are Deutsche Bank (NYSE:DB), Bonds (NYSEARCA:TLT)(NYSEARCA:AGG), the pound (NYSEARCA:FXB), Fed Funds Futures, and the yuan (NYSEARCA:CYB). If these main risk indicators look weak we worry about the general stock market (NYSEARCA:SPY).
We have three indicators that have broken, one indicator we think can break now and one that may be not be such a risk after all.
Broken
Bonds
Fed Funds Futures
Yuan
Can Break Now
Deutsche Bank
Not Sure If This Is A Risk Anymore
British pound
Let's go one by one.
Bonds Keep Showing Weakness. That Is Not Good.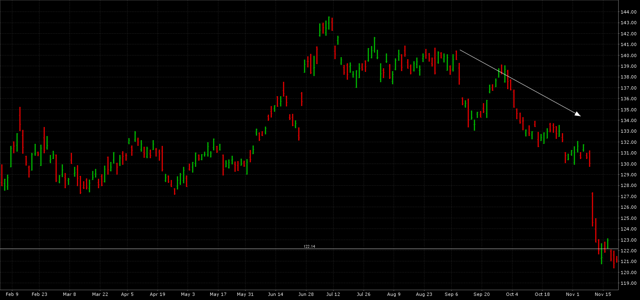 Source: Interactive Brokers
Above you have the 20 Year Treasury ETF TLT. It had been heading lower and fell off a cliff with the elections. Recently, where we drew a line it tried to hold but broke again.
While the market has been moving up TLT and bonds remain weak.
This is a market risk because the higher yields become relatively more attractive to equities. Low yields have supported equities. The more bonds drop and yields rise the more risk there is in equities.
The Fed Chair Janet Yellen said the bond market reacted correctly to the increasing prospects of inflation. There is more risk for inflation and rate hikes.
Since growth has been sluggish the drop in longer maturities is likely from inflation fears. If there were no inflation fears longer term bonds would actually go up with sluggish growth. That would act to flatten the yield curve. the opposite happened and we don't think it's because of growth. Inflation and lack of growth along with higher yields is a risk to equities.
Bonds have not found a bottom so there is no solace for equities yet from bonds.
Fed Funds Futures Keep Dropping
There is no floor yet in Fed Funds Futures. We're focused on December 2017 (not 2016) because that number reflects the combination of rate hikes through the year.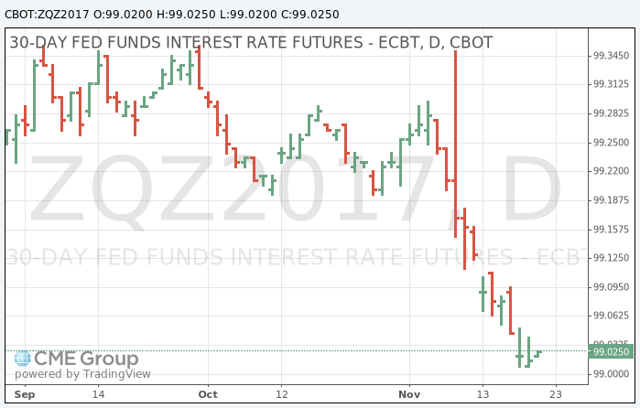 Source: CME Group
The chart is the Fed Funds Futures for December 2017. The 99.025 is 100 minus the expected Fed Funds rate for December 2017. The market currently prices in 1% Fed Funds Rates. That expects two rate hikes from where we stand now.
This chart should continue to drop.
First we have one rate hike coming in December which gets us to .6% from .4%. Then roughly two more rate hikes will get us to 1%.
The problem is that's what the Fed is already expecting; two more rate hikes in 2017. But the Fed said recently that if fiscal policy passes it is inflationary and will require the Fed to adjust up their rate expectations. Here's how they said it.
"We will be watching the decisions that Congress makes and updating our economic outlook as the policy landscape becomes clearer and taking into account those shifts in the economic outlook for the appropriate stance of policy but I think that is how I would interpret the market response."
The bond crash was the "market response" expecting inflation, rate hikes and an "update" of the Fed's economic outlook.
We don't know how low this above chart can go. More rate hikes may need to still get priced in for 2017.
More rate hikes is an equity risk.
The Fed Funds Futures not yet finding support is a market risk.
Deutsche Bank Has Risk As Rates Rise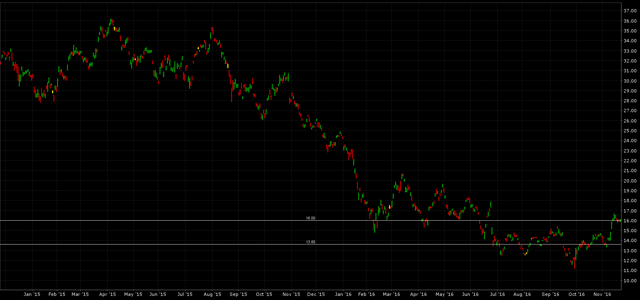 Source: Interactive Brokers
Above is the chart for Deutsche Bank. The lower line is the one we drew November 14th to say the bank stock looked like it was holding.
We wanted to update the chart because we think the stock has run into technical resistance above. The stock is at risk (and already has) to close below the above line which means it could head back down to the lower line.
If DB's stock weakens that is a risk to overall markets.
The stock may be up because word went around that President-elect Trump could go easy on the bank. The President-elect could have appreciation for the bank being a main lender to his business and could find a way to soften the DOJ penalty.
We need to remember though that the IMF pegged DB as the single biggest contributor to global systematic risk.
Currently DB has a $14B tab from a DOJ penalty it can not pay. If they don't the IMF would worry there will be financial repercussions throughout the world.
The world is teetering on this one payment.
If we see DB drop from the higher line we drew it's something to take note because it could mean investors flinched that DB could have risk ahead. Risk for DB is risk for equities overall.
For now our top line on the chart needs to be watched and DB needs to hold.
Yuan Continues To Break Down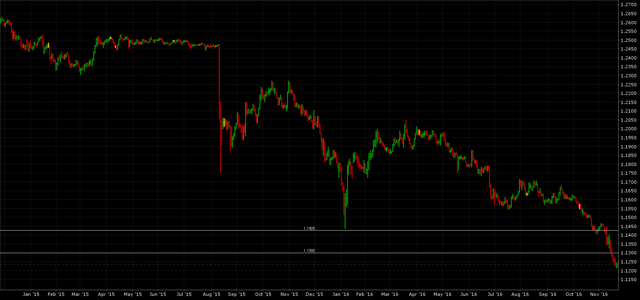 Source: Interactive Brokers
Most of our key risk indicators keep breaking down. The above chart shows two lines. The top one was a break to all-time lows.
The bottom line is where we'd like to see the yuan hold. It continues to break down however.
You can see that last year's yuan collapse helped lead to a market collapse.
Now with a strong dollar and trade rhetoric against China, the yuan is seeing capital flight hurting the currency.
The pace of the decline is not slowing down in fact it's speeding up.
Currency risk and China liquidity risk are global equity issues. Capital flight risks a slowdown for China at home.
The drop in the currency also fuel's President-elect Trump's anti-trade rhetoric. That causes more capital to flee which further cycles a drop in the currency.
Either the yuan needs to base out, hold and go higher or at some point we think this will lead to an equity risk.
Pound Holding On: Our Only Risk Indicator Holding On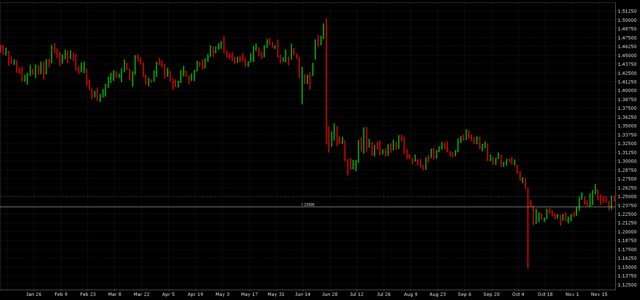 Source: Interactive Brokers
Because of Brexit we felt that the pound is a risk indicator.
You see above two sharp drops (long red vertical lines). That is a reaction of fear, worry and risk. As long as the pound holds this risk indicator is ok.
But thinking further about it, it's surprising that the pound is holding up with the dollar jumping of late. There is a possibility that money is leaving Europe into dollars. If they can't find dollars maybe that money is moving into pounds.
The now famous Steve Eisman, the trader portrayed in The Big Short said in an interview with The Guardian last week,
"I'm not really worried about England's banks. They are in better shape than most in Europe."
Money could be leaving Europe in favor of anything they can get their hands on. That could be one reason why the pound (thought to be full of risk) actually held up in this dollar rally.
The pound may come off our "risk indicator" list. It's holding up (not its going down) could actually be a sign of risk as money pours out of euros.
That could explain why this is the only "risk indicator" holding up.
New Highs
We respect new highs. We were bullish and turned bearish last week on Thursday (All Bear-ed Up). This week is typically a seasonally positive week with Thanksgiving. Thereafter markets have to contend with a rate hike, inflation risk, and the rest of the above "risk indicators."
Conclusion
We lay out key market risk indicators based on prevailing fundamental stories. Each one of the above "risk indicators" alone could send markets spiraling. They are all continuing to break lower. That means market risk is building. All, that is, except for the pound. But the pound's holding could actually be a sign of euro money fleeing looking for a home outside the EU. Let's continue to watch. Market risk appears to be building.
PRO TRADER: Price Rise December 1st. Free Two-week Trial
Click here for a free trial.

Directional calls on stock market, stocks, gold, oil, bonds, currencies, indexes and more.

Get in before we raise rates 15% on December 1st.
If you want Elazar's analysis on Seeking Alpha, scroll to the top of the article and hit "Follow." Elazar also writes real-time pieces as news is reported. If you want to be among the first updated check the box for "Real-time alerts on this author" under "Follow."
Disclaimer: All investments have many risks and can lose principal in the short and long term. This article is for information purposes only. By reading this you agree, understand and accept that you take upon yourself all responsibility for all of your investment decisions and to do your own work and hold Elazar Advisors, LLC and their related parties harmless. Any trading strategy can lose money and any investor should understand the risks.
Disclosure: I/we have no positions in any stocks mentioned, and no plans to initiate any positions within the next 72 hours.
I wrote this article myself, and it expresses my own opinions. I am not receiving compensation for it (other than from Seeking Alpha). I have no business relationship with any company whose stock is mentioned in this article.