OPEC is meeting in Venezuela at the end of this month. Will this meeting be as the ones before? Where crude oil (NYSEARCA:USO) rallied a couple of weeks before the meeting, and then dropped after some comments from Iranian or Saudi officials showing hardships in reaching a deal. Well, it seems - to me- that "this time is different". In this article, I will state why I think each of the biggest OPEC players will has an incentive to cut production at the coming meeting.
Saudi Arabia
Saudi Arabia is the biggest oil producer in OPEC, with 10.67 million barrels a day; it has the biggest influence on OPEC decision (and all gulf countries). One might think that this wealthy country, which had $750 billion in foreign reserves 4 years ago, has the least incentive to make a deal.
Actually, they are the ones with the biggest need to increase oil prices. Saudi Arabia has been in a war with Yemen's militias, which is costing the Kingdom more than$200 million a day. The war doesn't seem to end anytime soon, due to the Kingdom's failure to achieve any of its military goals till now. Last month, the rebels fired rockets near Mecca, Islam's holiest city and Saudi Arabia's most important one.
A prolongation of the conflict, accompanied by lower oil prices, will put downward pressure on the Saudi's foreign reserves, the Kingdom's piggy bank since its foundation.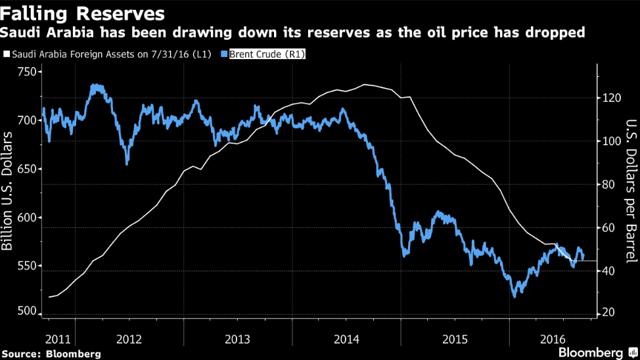 As seen, foreign reserves decreased more than 30% since its peak in 2012, and it is expected that these reserves will diminish further. Actually, the IMF expects that Saudi Arabia could go bankrupt by 2020, if current levels of deficits remain.
To make things worse, the Saudi's current account balance witnessed a first-time negative record since more than 20 years. That's mainly a result of lower oil revenues, and higher arms imports.

(Source: YCharts)
In addition, the current account witnessed an outflow of$25 billion in 2016 H1 (which is not in the chart). That will put further pressure on Saudi's foreign reserves.
Concluding, I think that Saudi Arabia was shocked by how the US shale companies reacted to lower oil prices. It became obvious that lower oil prices will not stop the shale oil production, which is at record highs, instead, lower prices will give higher incentives for companies to find new cost effective ways to produce oil, threatening Saudi Arabia's long term market share.
Thus, the Kingdom is in urgent need to cut production, which will at least save its current financial status. I also believe that "Vision 2030" will suffer the same destiny as the Kingdom's previous attempts to diversify the economy. Simply because, no government is able to transform its people's culture, which is based on 70 years of laziness - ranked number 3 in top laziest countries in the world- into a productive one in just 15 years.
Iraq
Iraq is emerging from a series of catastrophic wars since 2003. The US invasion, and the Islamic State emergence, had a cost of more than $30 billion on the country. That's a bearable amount, but when compared to the$130 billion of external debt the country is having, that's a huge load.
In addition, the Iraqi oil output is at historic high.

Thus, any increase in oil price will offset any limited upside in production. Let's do the math.
Let's assume that if a deal is announced, crude oil will stabilize at $50-$55 per barrel, according to Goldman Sachs' expectations. Knowing that the current oil supply glut is around 500,000 bbl/day, and current OPEC production is at 35.37 million bbl/day, OPEC needs a ~1.5% production cut in order to re-balance the market.
Taking the $52.5/bbl midpoint, and 1.5% production cut, Iraqi after-deal oil revenue would be $228 million/day. However, current Iraqi oil revenues, at current oil prices of $47.5/barrel, is $209 million/day.
This means, Iraq is better off after the deal.
With oil production at historic highs, and a better revenue stream for a financially troubled country, I believe that Iraq will agree to any output cut.
Venezuela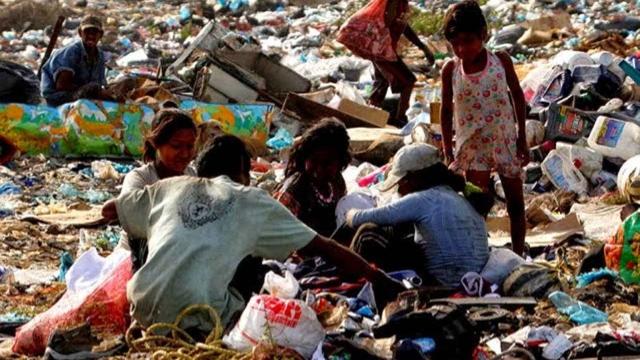 This photo is not taken in Africa or India; it's in Venezuela, the country that used to have a GDP growth rate of 18% in 2003, is now having the most severe starvation in history. People are eating zoo animals!!

At a time when most oil producing countries are ramping up production, Venezuela oil production is only at 75% of its peak in 1970. That's mainly due to the absence of needed maintenance for Venezuela's oil infrastructure. Given that, Venezuela is the most desperate OPEC country for a production cut.
Iran
Iran has already stated that in order to approve a deal, it needs to reach its pre-sanctions oil production level. And guess what? It reached that level a couple of months ago.

Given that Iran oil production is at all times high, and above its pre-sanction level, I believe that Iran will definitely agree on an output cut deal.
Concluding, I believe that the main OPEC players will approve to cut production. No matter how much the cut is, oil prices will surge. Since that's a sign that future corporation is possible. In addition, I think that the new US administration, with the oil executive Harold Hamm as an energy advisor (or energy secretary) and an anti-Iranian deal president, will push oil prices to surge.
The risk lies in Saudi Arabia not agreeing to any output cut, believing that the US shale production will eventually give up and higher prices might benefit its major enemy, Iran. However, I think that Saudi Arabia has already learned the lesson that strong shale companies are backed by the full faith of US investors (shares of major shale companies have barely decreased), preventing the medium-term collapse of shale companies. Saudi Arabia should also have learned that Iran has proved its ability to implement its expansionary policies, regardless at what price oil futures are trading. Thus, Saudi Arabia should have known that it's the only losing party at these price levels.
Disclosure: I am/we are long USO.
I wrote this article myself, and it expresses my own opinions. I am not receiving compensation for it (other than from Seeking Alpha). I have no business relationship with any company whose stock is mentioned in this article.