At this writing, the surprise election of Trump on November 8, 2016, has markets anticipating higher U.S. rates and inflation, which has dramatically impacted fixed income asset classes, including emerging markets bonds (read more about this in Emerging Markets React Strongly to Trump Victory). In addition, emerging markets are greatly impacted by the shifting winds of global trade, and given the yet-to-be-determined trade policies of a Trump Presidency, we expect markets to remain somewhat unsettled in the coming months.
Looking back at the month of October, global fixed income markets suffered a setback, as U.S. interest rates remained on the volatile path they had assumed in September. By the end of the month, rates had moved 0.23% higher with the 10-year U.S. Treasury note yields ending October at 1.83%. Emerging markets bonds sold off as well, mostly in line with U.S. Treasuries. Other fundamental drivers of performance were mixed. As the U.S. presidential election loomed large, risk appetite remained relatively healthy in October. Meanwhile, economic data and Fed signaling led to increased anticipation of a December rate hike.
Emerging Markets Continue to Grow Faster than Developed Markets
The news for emerging markets this year has been taken mainly as positive. For starters, the growth differential of emerging markets versus developed markets has expanded in 2016 YTD, while the global growth picture overall has improved slightly. China moved out of the headlines during the first quarter, but the China yuan renminbi (NYSEARCA:CNY) has been devaluing and capital has been leaving the country. On the other hand, positive Purchasing Managers' Index (PMI) readings have been in line with the slightly improved global growth backdrop. While Turkey and South Africa battle their own political crises, Latin American economies have begun to show long-awaited fiscal improvements, and several key central banks are anticipating, or have recently begun, a cycle of interest rate cuts.
Hard Currency Sovereign Bonds Selloff on Higher Rates
Emerging markets hard currency sovereign bonds were largely impacted by a rising interest rate driven selloff, with added negative contribution from Venezuela on solvency concerns and Colombia after the peace agreement referendum failed. A proposed bond swap by Venezuela's national oil company, Petroleos de Venezuela S.A. (PDVSA), turned into a market saga as the proposed terms were revised multiple times due to lack of market interest. With rising uncertainty about the consequences of a failed swap ahead of sizeable obligations coming due, Venezuela's (and PDVSA's) bond prices dropped significantly. Colombia's progress on a fiscal agenda had taken a back seat to the signing of a peace agreement. In a surprise vote reminiscent of the Brexit vote in June, the agreement was shot down via public referendum. Colombian assets sold off sharply as a result. Positive contributions were mainly from smaller, high beta issuers like Ecuador and Ukraine. Overall, U.S. dollar sovereign bonds returned -1.24% in October, though on average credit spreads moved only 0.04% wider. New supply of dollar bonds has been running at a record pace in 2016, at approximately $132 billion through October 31.
In October, another notable occurrence in the sovereign debt space was the impact of ratings moves on widely followed indices. Turkey moved to the high yield sector within JPMorgan's (NYSE:JPM) sovereign indices; Hungary at the same time moved back to investment grade. The portion of investment grade issuers in most widely followed U.S. dollar sovereign index, the J.P. Morgan EMBI Global Diversified Index (EMBIGD), is down to approximately 52.5% at the beginning of November, with Turkey (3.95% of the EMBIGD) trading places with Hungary (3.11% of the EMBIGD). In the J.P. Morgan Custom EM Investment Grade Plus BB-Rated Sovereign USD Bond Index (JPEGIGBB) Turkey moved into the capped (at 20%) BB category, while Hungary re-ascended to the investment grade category. As a result, Turkey's weight fell from 6.2% to 4.3%, while Hungary grew from 3.5% to 4.8%. The corporate debt market, which has a higher weighting towards higher rated Asian issuers, began November at approximately 60.5% investment grade.
Local Rates, Currencies Drag Down Local Currency Sovereign Bonds
Emerging markets local currency sovereign bonds were down 0.85% in October, driven by both local rate movements and adverse currency movements. Colombia and Central/Eastern European markets were the worst performers during the month. Brazil, South Africa and Mexico (with the peso closely tracking election odds) were the top positive performers, and Peru and Chile had positive returns. Interest rate easing cycles continued in the majority of emerging markets local markets, including Brazil after the country's central bank lowered the SELIC rate in October for the first time in four years (from 14.25% to 14.00%).
High Yield Emerging Markets Corporate Bonds Show Strength in October
Corporates performed better than dollar and local sovereigns, but investment grade credit in particular dragged lower with U.S. Treasuries. High yield emerging markets credit, posted slightly positive returns in October, almost canceling out the 0.51% loss by investment grade corporates. Credit spreads tightened by approximately 0.12% overall. One risk barometer we have been monitoring, the yield spread between emerging markets high yield corporate and U.S. high yield corporate, tightened further during October to 27 basis points ("bps") from 51 bps at the end of September. On an option-adjusted-spread basis, which also takes into account the shorter duration of emerging markets high yield, the spread narrowed to 51 bps from 80 bps a month earlier.
October 2016 1-Month Total Returns by Country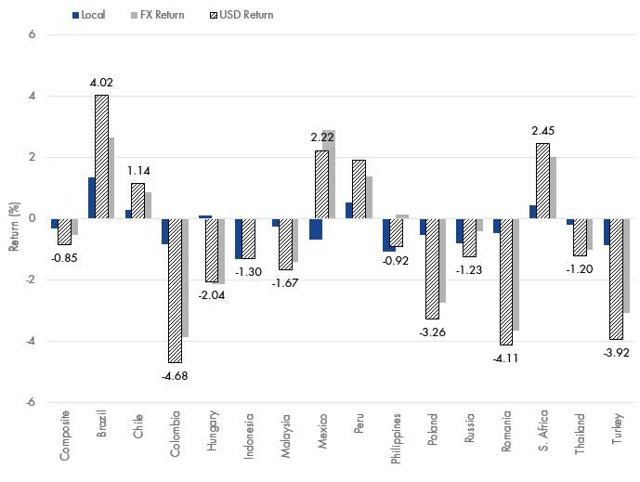 Source: FactSet as of 10/31/2016. Not intended to be a forecast of future events, a guarantee of future results or investment advice. Current market conditions may not continue.
Important Definitions And Disclosures
Sources of all data: FactSet, J.P. Morgan, and BofA Merrill Lynch. All data is as of 10/31/2016.
Duration is a measure of the sensitivity of the price of a fixed-income investment to a change in interest rates.
Purchasing Managers' Index (PMI) is an indicator of the economic health of the manufacturing sector.
SELIC rate is the benchmark interest rate of Brazil's central bank.
Any indices listed are unmanaged indices and include the reinvestment of all dividends, but do not reflect the payment of transaction costs, advisory fees or expenses that are associated with an investment in a fund. An index's performance is not illustrative of a fund's performance. Indices are not securities in which investments can be made.
J.P. Morgan EMBI Global Diversified Index is comprised of U.S. dollar denominated Brady bonds, Eurobonds, and traded loans issued by emerging markets sovereign and quasi-sovereign entities. The index weighting methodology limits the weight of countries with larger debt stocks.
J.P. Morgan Custom EM Investment Grade Plus BB-Rated Sovereign USD Bond Index is comprised primarily of investment grade U.S. dollar-denominated bonds issued by emerging markets governments.
The information herein represents the opinion of the author(s), but not necessarily those of VanEck, and these opinions may change at any time and from time to time. Non-VanEck proprietary information contained herein has been obtained from sources believed to be reliable, but not guaranteed. Not intended to be a forecast of future events, a guarantee of future results or investment advice. Historical performance is not indicative of future results. Current data may differ from data quoted. Any graphs shown herein are for illustrative purposes only. No part of this material may be reproduced in any form, or referred to in any other publication, without express written permission of VanEck.
This content is published in the United States for residents of specified countries. Investors are subject to securities and tax regulations within their applicable jurisdictions that are not addressed on this content. Nothing in this content should be considered a solicitation to buy or an offer to sell shares of any investment in any jurisdiction where the offer or solicitation would be unlawful under the securities laws of such jurisdiction, nor is it intended as investment, tax, financial, or legal advice. Investors should seek such professional advice for their particular situation and jurisdiction.
Please note that Van Eck Securities Corporation offers investment products that invest in the asset class(es) included in this commentary.
Debt securities carry interest rate and credit risk. Interest rate risk refers to the risk that bond prices generally fall as interest rates rise and vice versa. Credit risk is the risk of loss on an investment due to the deterioration of an issuer's financial health. Securities may be subject to call risk, which may result in having to reinvest the proceeds at lower interest rates, resulting in a decline in income. International investing involves additional risks which include greater market volatility, the availability of less reliable financial information, higher transactional and custody costs, taxation by foreign governments, decreased market liquidity and political instability. Changes in currency exchange rates may negatively impact a Fund's return. Investments in emerging markets securities are subject to elevated risks which include, among others, expropriation, confiscatory taxation, issues with repatriation of investment income, limitations of foreign ownership, political instability, armed conflict and social instability.
Investing involves substantial risk and high volatility, including possible loss of principal. Bonds and bond funds will generally decrease in value as interest rates rise. An investor should consider the investment objective, risks, charges and expenses of a Fund carefully before investing. To obtain a prospectus and summary prospectus, which contains this and other information, call 800.826.2333 or visit vaneck.com. Please read the prospectus and summary prospectus carefully before investing.