There have been some of the strong numbers showing up in the housing market recently. September saw the second highest monthly total of new home sales since the recession ended in 2009. October brought the highest amount of housing starts in almost a decade.
Mortgage rates have spiked since the election but are still historically low. I also believe yields will drift down through year-end as the huge rise on what a Donald Trump presidency might or might not do seems a bit premature given his cabinet is not even half formed yet.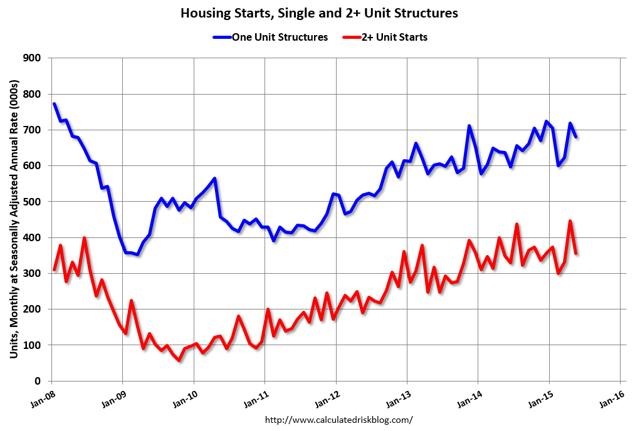 Housing starts and other housing related activity has been way below the trend of the past 40 years over the past decade. There should be years of pent up demand provided the domestic economy does not go into recession, which seems unlikely at the present time.
Given this, here are three smaller housing plays to keep an eye on as they look attractive given this backdrop. Two of these names have seen some insider buying in recent quarters.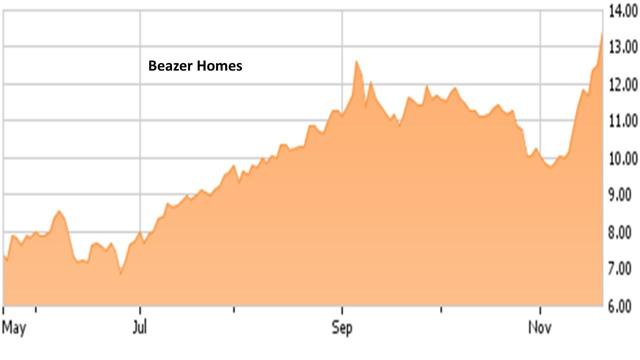 Beazer Homes (NYSE:BZH) is now up 35% since it went into the Insiders Forum portfolio in mid-August. However, if we get a sustained housing recovery; Beazer should be a primary beneficiary as it continues to improve its balance sheet. This move was preceded by a director buying over $750,000 of stock earlier in August. Interestingly, insider interest has continued. Another director bought over $100,000 in new stock over the past week.
The home builder was less prepared for the Great Recession than its rivals such as Toll Brothers (NYSE:TOL) and Lennar (NYSE:LEN) were before the housing market imploded. The company once had a $3 billion market capitalization at the height of the housing boom earlier this century. Even with its recent rally, the stock has a market capitalization of just $450 million.
The stock looks fairly priced on a price to earnings basis. However, it sells for a fraction of the value Toll and Lennar sell for based on price to sales and price to book. If the housing market continues to improve like it has the past few years, I look for those discounts to narrow considerably over time.
William Lyons Homes (NYSE:WLH) is another small home builder that has seen recent insider buying in its shares. A beneficial owner bought over $10 million in stock in the second quarter. This followed some smaller purchases by the CEO and another director late in 2015. The stock is also cheap on a traditional earnings valuation basis as well. The company posted earnings of just under $1.50 a share in FY2017. William Lyons is on pace to deliver $1.60 to $1.70 a share in profit in this fiscal year. The range of earnings for FY2017 is roughly between $2.25 and $2.65 a share. With the stock selling just over $19.00 a share, that growth trajectory is undervalued in the market.
Finally, we have my old favorite LGI Homes (NASDAQ:LGIH) whose stock has delivered a 60% return to shareholders in 2016 but is still cheap. It is the only one of the three homebuilders mentioned in this piece that does not have recent insider buying, but still appears undervalued given its growth trajectory. The stock has faced a perceived headwind from some investors given layoffs in the oil patch over the past two years. However, the Texas based builder now gets over 50% of its revenues outside the Lone Star State as the company has done a great job pursuing geographical diversity and growth opportunities. Home closings are up some 20% year-over-year in 2016.
Earnings for FY2015 came in at $2.44 a share. This year it looks they will grow to roughly ~$3.40 a share or slightly better. The consensus has earnings coming in within the range of $3.75 to $4.00 a share in FY2017 as revenues continue to advance by better than 20%. At just over $32.00 a share, further upside seems likely for the stock.
If the housing market continues its recent uptrend, these three home builders should continue to be beneficiaries.
Note: To get these types of articles on attractive small and mid cap stocks insiders are buying as soon as they are published, just click on my profile and hit the big orange "Follow" button and choose the real-time alerts option.
Thank You & Happy Hunting
Bret Jensen
Founder, Insiders Forum
Disclosure: I am/we are long BZH, LGIH, WLH.
I wrote this article myself, and it expresses my own opinions. I am not receiving compensation for it (other than from Seeking Alpha). I have no business relationship with any company whose stock is mentioned in this article.