Apple (NASDAQ:AAPL) does not report its sales by model so investors must look to third-party estimates to get any idea of what models are selling well and which are not. Consumer Intelligence Research Partners ("CIRP") does a post-launch analysis of sales of iPhones in the United States and reports that a smaller percentage of iPhone 7 sales comprise former Android OS users than in 2015's launch of the iPhone 6S and 6S Plus. The data indicate that most American iPhone buyers are upgrading rather than switching form another platform.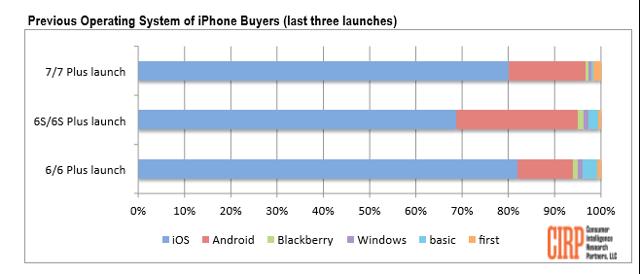 Source: CIRP
As Fortune puts it, Apple's iPhone 7 is not attracting many Android users.
I would have expected a higher switching rate in 2016 given the issues Samsung has faced with its Note 7 device. The fact is that the Samsung (OTC:SSNLF) brand seems to have suffered less damage than most expected, with Samsung users in the United States remaining loyal to the Samsung brand, per a recent poll.
Part of the explanation may be the newly released high-end Google (NASDAQ:GOOG) (NASDAQ:GOOGL) Pixel smartphone which appears to be finding customers. What hard data that does exist points to a reasonable level of demand for the new Pixel despite its relatively high price.
At the same time, the lower priced iPhone SE has not done very well in price-conscious India despite an initial surge, per data from Zauba.com.

Source: Zauba.com
KGI analyst Ming-Chi Kuo paints a particularly dreary outlook for the iPhone going into 2017.
There is another source of uncertainty arising from the forthcoming appointment of Donald Trump as president. Trump reportedly plans to encourage Apple to bring its manufacturing back to the United States and there is some evidence Apple is exploring relocating some of its supply base to the domestic arena. Imposition of a tariff on iPhones made abroad is a nagging risk.
Not everyone thinks iPhone sales are lagging. Supplier data points to modest strength.
I expected short-term strength in AAPL stock based on hopes for robust demand for the iPhone 7. There is some risk that demand may not materialize but the stock has been strong, and I think it may be wise to take advantage of the recent strength to reduce holdings.
Disclosure: I/we have no positions in any stocks mentioned, and no plans to initiate any positions within the next 72 hours.
I wrote this article myself, and it expresses my own opinions. I am not receiving compensation for it (other than from Seeking Alpha). I have no business relationship with any company whose stock is mentioned in this article.