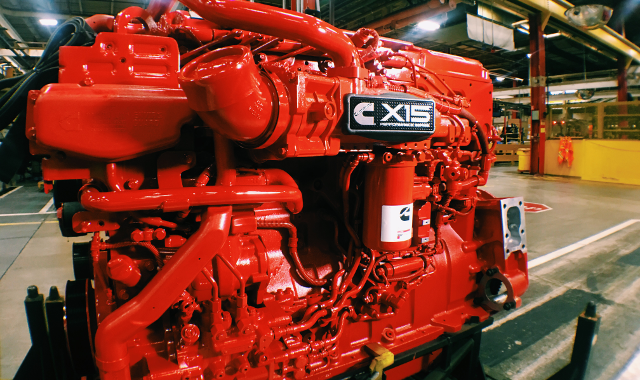 The engine-maker Cummins (NYSE:CMI) has never really featured on my watchlist in the past. Why I can't really say for sure. I can say, however, why it has come back on my radar: their new X15 engines. As they recently explained:
The new X15 builds on the current ISX15 product with the implementation of an optimized compression ratio, air handling system and combustion process to increase both fuel efficiency and performance capability. Customers will realize big savings through lower operating costs with up to 20% better fuel economy and 40% lower maintenance costs than 2010 ISX15 engines."
If their claims regarding fuel economy and maintenance costs are realised, it appears that they have managed to produce a compelling new product. With their decision to provide two X15 engines-one focusing on customers looking for "Performance" and the other "Efficiency"-also seems an astute move in an increasingly complex economic and environmental world for its clients.
Cummins, therefore, has piqued my interest. I thought it was an opportune time, as a result, to pitch it against my five free cash flow tests to see whether it holds attractions on a more fundamental level.
3M (NYSE:MMM) was the last company to get analysed this way. Although far from exhaustive, they give me a good indication of its competitive advantages, its FCF health and efficiency, as well as the debt and dividend position. Fair value based on FCF alone is also calculated to give a little taste of whether it offers value today. These tests merely mark the first step in what may develop into a more thorough analysis of the business in the future.
A Little About Cummins
Let's begin, however, by taking a broader look at Cummins as a business. Last year, a vast majority of their revenue was derived from the direct sales of their engines with the component and power systems segments taking up most of the rest. The distribution segment deals with a little of all the above through 17 directly-owned and 10 joint venture distribution companies: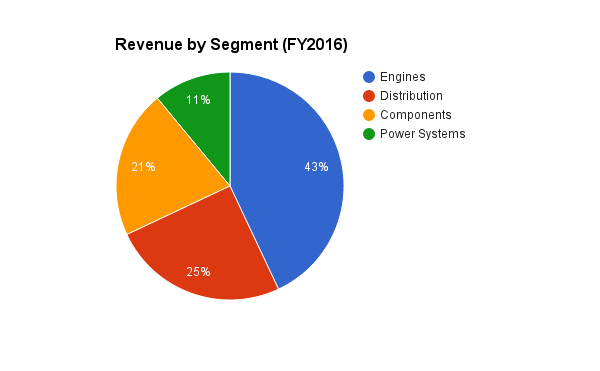 The net result is a very focused engine business with a strong position outside of its home market. Despite this, however, the lion's share of their revenue comes from their home market with a growing proportion from attractive developing markets: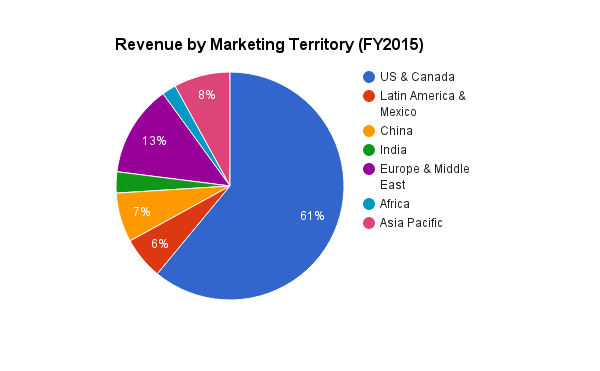 This is all very encouraging. Although deeply embedded in their home market, they are developing healthy footprints in markets with strong future growth potential. Even more pleasing to see is that in many cases Cummins have been in these growth markets for a long period of time (India, for instance, since 1962) and carefully use joint ventures.
What this suggests to me is that they both have strong local market knowledge themselves built up over many years and are taking advantage of indirect market knowledge through local operators and distributors. Developing markets are often very challenging, yet Cummins appears to have taken a measured, long-term approach to building up their position.
All told, therefore, Cummins looks like a focused business with a measured attitude towards global growth. This is great to see. Yet what I really want to see is a healthy set of FCF figures from the business. So let's take a closer look.
1: Positive FCF
To open all we are on the look-out for is that the company is FCF generative. To pass this test, therefore, we want to see the company generate positive FCF for each of the last 10 years. Cummins does well here. Despite having a somewhat erratic FCF profile, it has consistently generated positive FCF:

That is excellent in itself. Yet things look even better. The recent high-level of CapEx looks like it is about to slow down. Needless to say, developing new products like the X15 costs a lot of money. Yet new products finalized and going out for sale, this is set to fall noticeably.
At their Q3 2016 results, the company provided guidance of CapEx between $550 and $600 million. That is considerably below the recent figure just shy of $800 million. We will return to this detail later. For now, it is enough to see that Cummins has generated impressive positive FCF figures and thus opens with a robust PASS.
2: CROIC: Cash Return on Invested Capital
Next is a more difficult test: CROIC. CROIC-or cash return on invested capital-is calculated by dividing their FCF by their invested capital (that is, total debt and shareholders' equity). What it tells us is how efficiently it generates its FCF. A CROIC of 10% means that for every $100 of invested capital, it has generated $10 in FCF. Indeed, this is an attractive rate of return and the target I am looking for. Here we therefore want to see the average CROIC from Cummins at 10% or more.
So how does Cummins do? Again, very well. Their cash return on invested capital has been impressive over the last decade: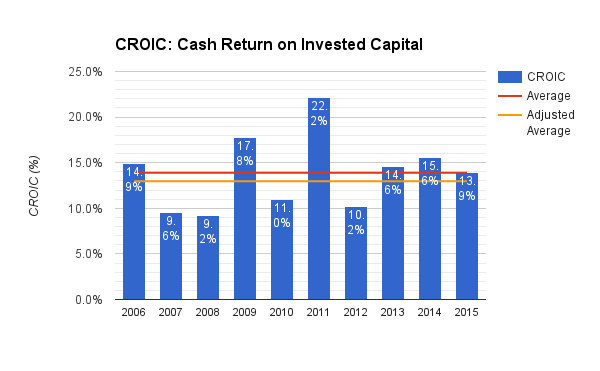 Indeed, the basic average has been 13.9%. However, I like to adjust for outliers (especially for free cash flow). These I define as any figure above 1.5 times or below 0.5 times the basic average. In this case, only 2011 would be considered an outlier. Adjusted the average to reflect this provides us with an average CROIC of 13%.
Although lower, clearly Cummins still comes out nicely ahead of the 10% target and thus earns another PASS.
3: FCF to Debt Ratio
Next we turn to the matter of debt. Cummins has historically maintained a very modest level of debt on its books. Looked at from a debt to equity perspective, in fact, it has not strayed above a figure of 29% in the last decade: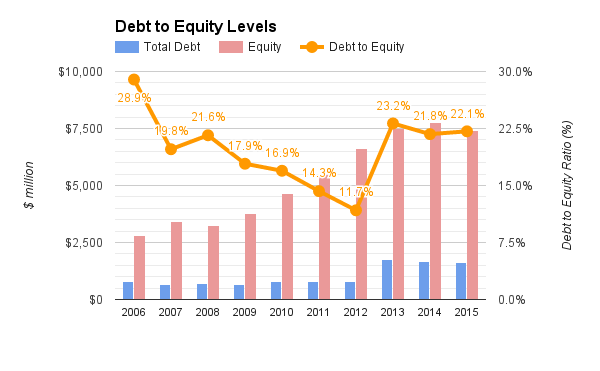 As impressive as this is, however, the situation is actually even better when we look at it from a net debt perspective. Cummins has consistently carried high levels of cash on its books. As a result, net debt (that is, taking cash away from total debt levels) has been negative since 2009 meaning that it has more cash than it has debt on its books: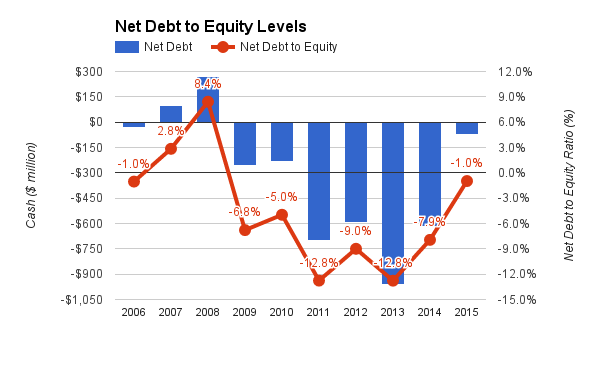 Already, therefore, I am getting the impression that Cummins is highly attractive from a debt perspective.
FCF, however, is the focus of these tests. As a result, I want to see Cummins with a healthy FCF to Debt level. 25% is my particular target. What this would mean is that-theoretically-Cummins could repay its entire debt (not net debt, I may add) using FCF alone in four years or less.
Cummins produces some compelling results on this front too: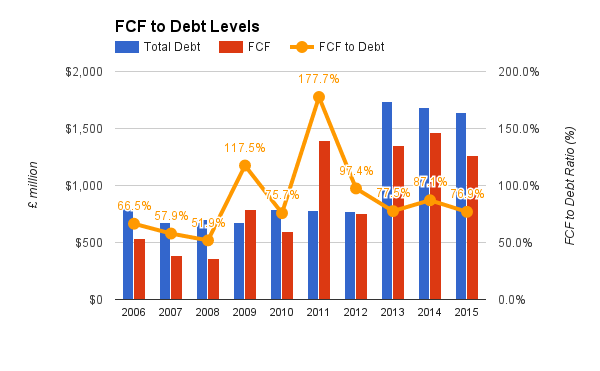 With a FCF to debt ratio of nearly 77% in 2015, Cummins could repay its debt load in a little over one year and three months. Considerably ahead of my target figures.
Cummins leaves another test with a very strong PASS.
4: FCF Yield
Next is the all-important dividend. Cummins has been growing its dividend rapidly in recent years. Head back to the start of this decade, the first quarterly dividend was just $0.175 per share. The last quarterly dividend was $1.025. That is quite some growth. A large part of that growth, however, has been fuelled by a rapidly expanding FCF payout ratio.
Cummins, wisely for a cyclical business, had historically maintained a very low payout ratio. So does this mean that Cummins has left its dividend exposed to a potential cut? Here I assess this by looking at their FCF dividend coverage. What I am after is two things:
A FCF Yield (the yield paid if their entire FCF was paid out as a dividend) of 3.5% or more; A FCF payout ratio of 75% or less.
So how does Cummins do? Again, very well: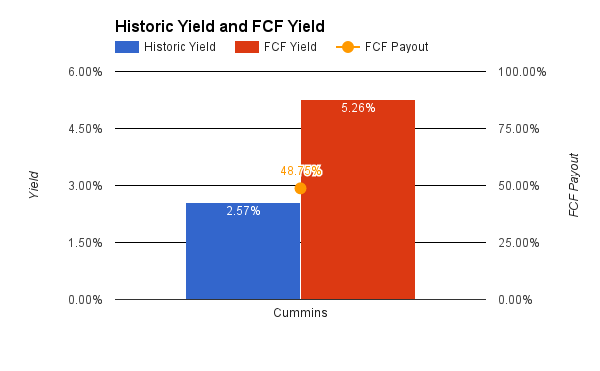 With a FCF yield of over 5.25%, Cummins easily sails past my 3.5% target. What is more, despite the payout ratio lifting from just 12% in 2006 to nearly 50% in 2015 it is still comfortably below my target payout ratio of 75% or less.
Cummins therefore picks up another comfortable PASS.
Bear in mind also that Cummins has since continued growing its dividend. 2016 is set to see a per share dividend of $4. As a result, whereas the historic full year yield is nearly 2.6%, Cummins most likely yield for 2016 (of which three quarters has already passed) is over 2.9%. Not bad at all.
5: FCF Valuation
Finally is the test which so many high-quality, cash-generative businesses have failed in the last few years: valuation. Instead of the more familiar PE ratio, here I use the EV/FCF (enterprise value to FCF) ratio. To pass this test Cummins just needs to come out with a share price below the FCF fair value calculated using this EV/FCF multiple.
To calculate this FCF fair value we need to first ascertain Cummins' historical EV/FCF average. As you'd probably expect, Cummins EV/FCF ratio has been erratic to say the least: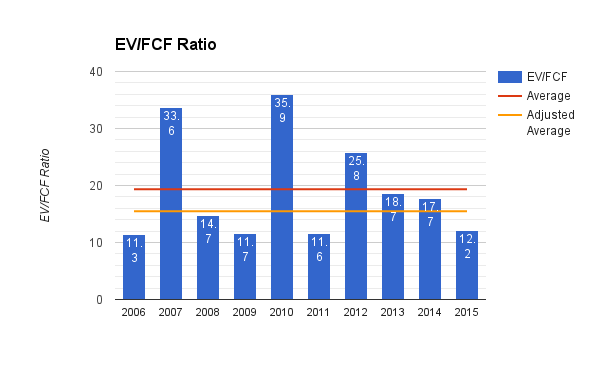 Nonetheless, its basic average had been around the 19.3 mark. Adjusting for outliers once again, however, gives us a new average of 15.5.
With this fair value multiple in hand, next we have to predict the FCF figure for the next two years. You can read more on exactly how I predict future FCF in an earlier article. Using this method suggests FCF figures of about $1.16 billion and $1.13 billion in FCF in FY2016 and FY2017, respectively. I then average these two FCF figures (making $1.145 billion) and feed this back into the EV/FCF calculation at the average historic multiple of 15.5.
Doing so gives us a fair value figure of about $101.25. At nearly $137 per share at the moment, this would suggest that Cummins is about 35% above fair value.
As it happens, however, I think one further adjustment is in order to get a true fair value. This is related to the CapEx figure. As I noted earlier, Cummins is expecting CapEx to fall from nearly $800 million to between $550 to $600 million. Adjusting predictions to reflect this gives us new FCF figures of $1.33 and $1.3 billion for FY2016 and FY2017. Plugging these into the fair value calculation gives us a new fair value price of about $116.50. Although closing the gap with the current share price, it is clear Cummins is still about 17.5% ahead of my FCF fair value price.
Whichever FCF fair value you prefer, Cummins is clearly still priced above my target here. Consequently, Cummins has to earn its first FAIL.
Conclusion
Cummins certainly comes across as a very impressive company. Despite its position within a highly cyclical industry, it is clearly a particularly classy performer. With strong cash flows and a seemingly cast-iron balance sheet it carries a lot of attractions for investors. Throw in a healthy, generously yielding dividend and it is little wonder why investors have been pushing up its share price strongly since its recent lows at the start of 2016: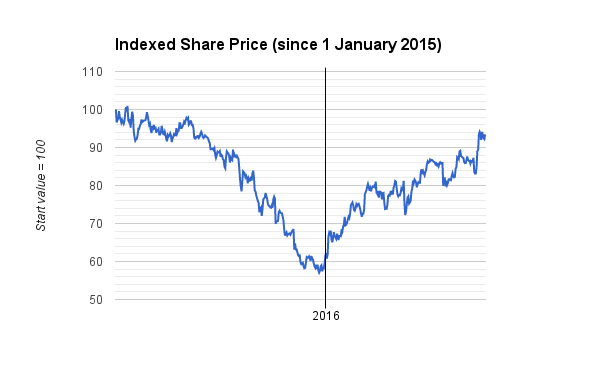 However, although the sell-off at the end of 2015 was clearly overdone it may be that the rally since has been a bit overdone too. At $137, Cummins is trading well ahead of my FCF fair value of $116. Yet it was only recently that it was trading around that level (the start of September 2016, in fact). For a little while yet Cummins looks likely to see pressure remain on its top line growth, but longer-term the situation looks good for growth to return.
The X15 engine, in particular, looks set to provide a generous fillip to growth for the business in the future. Increased efficiency and performance as well as a heightened sensitivity to the diverse demands of customers really does impress me. Yet I remain happy to wait for the share price to soften before seriously considering opening a position in this undeniably well-managed, high-quality business. What is certainly the case, however, is that Cummins has earned itself a place on my watchlist.
Notes
All graphs, tables and the calculations contained within them were created by the author. All data (unless otherwise noted) was collected from publicly accessible company filings and reports. Image reproduced from Cummins (cropped).
Interested in other high-quality, highly cash generative businesses? Please do consider subscribing to my new premium Seeking Alpha research service "UK Free Cash Flow Dividend Stars" focused on attractive potential investments in the United Kingdom.
Disclosure: I/we have no positions in any stocks mentioned, and no plans to initiate any positions within the next 72 hours.
I wrote this article myself, and it expresses my own opinions. I am not receiving compensation for it (other than from Seeking Alpha). I have no business relationship with any company whose stock is mentioned in this article.