After a blistering run into the summer, which I must confess I butchered for the most part, the gold bulls have since dropped back to earth with a plop, and we now appear to be at another inflection point in the metals. Bang on cue we have been bombarded with a litany of crazy opinion pieces, something I have actually enjoyed reviewing since it has been quite a while, and my takeaway is that not much in this sphere has changed in truth - the permabulls are still permabullish; the crash merchants continue to peddle doom, and (quite comfortingly really) the Ellioticians are still perched squarely on top of that fence.
I missed a good chunk of the rally this year, especially in the gold miners which quite disgustingly rallied "bigly" and more or less independently of the gold price at one stage, but once the obligatory self loathing and recriminatory period passed, I began to look at alternative methods of timing entries into the metals (and other markets) and now feel all the better for it. Some of that I'll talk a little about below, but before we get to the technical aspect, we should first consider the fundamentals currently in play since the sands of economic fortune appear to be shifting below our feet. Muhahahaa.
Is Gold A Long Term Hold?
The short answer to that question is yes. If you are prepared to weather a little volatility and most importantly take a long-term view, there is no doubt in my mind that gold (NYSEARCA:GLD) represents good value right here and now, and investors should have metals within their portfolio allocation. Gold has tended to act as a buffer in times of severe economic volatility serving as a hedge against stock market crashes and currency crises alike, and with the global political landscape in disarray at the same time as what could be described as a petrified bond market, one might argue that we are moving or have moved into a period of extreme economic uncertainty.
The downdraft in the 20-year US Treasury Bond (NYSEARCA:TLT) has been about as violent as I have ever seen it. We have now dropped over 16% since July, and the latest cascade saw an 8% one-week drop, the likes of which you will probably not see again for some time. We have been oversold on both the daily and weekly time frames for a number of weeks now, but have still not mustered a sustainable upside pop, and my long-term model says the chances are good that the bond bubble has finally burst. So with yields rising as fast as they are, it is fair to say that inflation expectations are marching higher, and we should expect tangible asset price gains in the future. Good for gold, right? Longer term sure, but short term, it may not be that straightforward.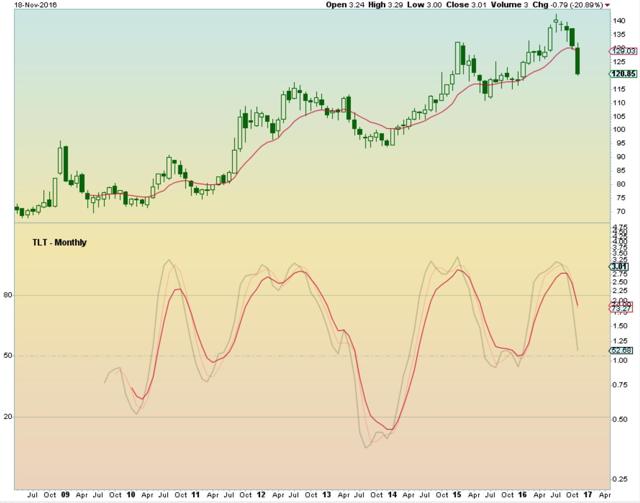 Author's own data/stockcharts.com
The reason for my hesitation is partly that negative yielding bonds was a primary driver of the move into gold this year, a driver that is seemingly no longer there, and mainly due to the move in the US dollar (NYSEARCA:UUP), which has had an equally seismic run, and rather counter-intuitively that run has been to the upside. You might think that if inflation expectations are rising, the dollar should be falling back (asset values and their currency denomination being opposite ends of the price scale), but this has not been evident in recent price action, and according to my model, the dollar is now on a buy on the monthly time frame with at least another six months of generally bullish trend ahead of us. The dollar is now very overbought on both the weekly and daily time frames, but every dip has been bought hungrily all the same.
In trying to explain this phenomenon, I believe we should consider four aspects. The first is the current amount of outstanding US dollar-denominated debt issued by non-US countries. These are countries that took advantage of comparatively lower interest rates in the US and auctioned bonds in dollars hoping to reduce the overall amount they would need to repay. If they are not engaged in an activity that generates dollars, they then need to convert domestic currency to make the interest payments. As the dollar rises in value, more of the domestic currency is required to repay the same dollar amount, and this in effect acts as a giant short position against the dollar itself. This is actually old news, and steps have been taken to reduce this risk, but current estimates still run at $3.2 trillion outstanding versus roughly $9 trillion 18 months ago.
The second is tied to the first, and that is the looming rate hike by the Federal Reserve when it meets in December. According to the latest figures, it is a foregone conclusion that "poor Janet" will increase the base rate by another 0.25%, and that will then increase interest payments for these countries when they come to roll over their bond books, and therefore further increase the amount of domestic currency being converted to repay the same dollar amount. I actually believe the market is front-running the hike, and we may see a temporary high form in the dollar when the announcement is made or just before, but that is just a gut feeling at this stage.
The third is tied to rising US Treasury yields, and the differential between the interest payable on European debt (for example) versus American debt. With rates this low for this long, many major institutions have been starved for yield and will surely be licking their lips at the thought of lending money to Uncle Sam and earning a coupon higher than had they lent their money to Italy or Spain or France. In essence, you are locking in a greater gain for less of the perceived lending risk. So despite the fact that TLT is being sold off right now, I still believe that at least some of the recent declines in the euro (NYSEARCA:FXE) and the gains in the dollar have come from this transfer of wealth from the eurozone into the United States, and until the ECB starts to curtail its own bond buying activities and match the US with rate hikes of its own, this is likely to continue.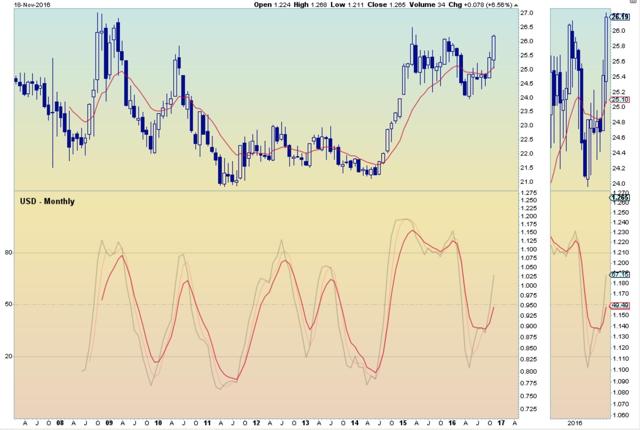 Author's own data/stockcharts.com
The final reason for a bullish dollar stems from the proposed changes that president-elect Trump may shortly introduce. He campaigned on the promise that he would reduce corporation tax rates and thereby encourage US-based companies to repatriate their overseas earnings currently held offshore and estimated to stand at over $3 trillion. Obviously, if that happens, we are likely to see strong support for the dollar as companies use the dips to convert more of their global cash reserves and bring it on home. Should these changes to the US Tax Code start to firm up in terms of proposals becoming reality, we should see the dollar continue to appreciate both before and after the law comes into effect.
So to summarize, on one hand, we may have rising yields and inflation expectations, political uncertainty and potentially loose global economic footing as capital reacts to this uncertainty, which are all good reasons to own assets such as the metals, but this is all being tempered by a stronger dollar that may indeed continue to appreciate for the foreseeable future. Although at some point we may see asset prices and the dollar rise together, for now, this is no doubt a potential headwind for commodities in general and the metals specifically. Certainly a conundrum, and something for us to think about anyway.
Metals Currencies Throw Yellow Flags
I have heard many people say that gold and silver (NYSEARCA:SLV) are just fine given that the US dollar is at new year-to-date highs and the metals have retraced only 50-60% of their year-to-date gains. That divergence is a plus for sure and a point well made, but when it comes to gold and silver, the two currencies you should actually be paying attention to are the Japanese yen (XJY) and the Australian dollar (XAD) as they have a far tighter correlation.
In terms of the yen, we may shortly about to be making a temporary low (USDJPY about to make a high), but my monthly model indicates that we may now have a major high in place, and in terms of the AUDUSD exchange rate, we have just seen a monthly sell signal trigger: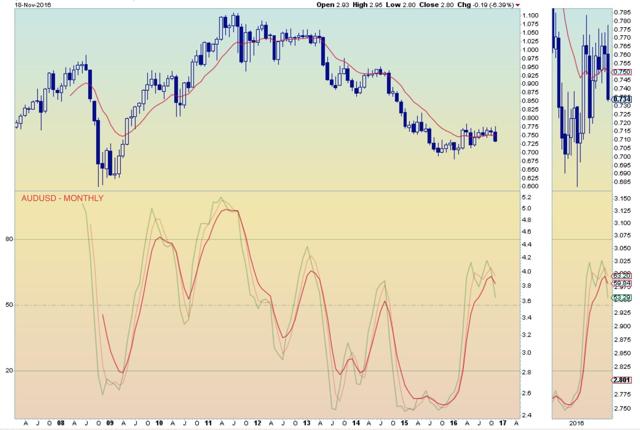 Author's own data/stockcharts.com
Price being elastic, we will see bounces along the way for the metals, but should these monthly readings continue, we may be looking at a bigger decline overall into next year. Short term, the Australian dollar has support at 0.72 and USDJPY has resistance in the 111-113 region.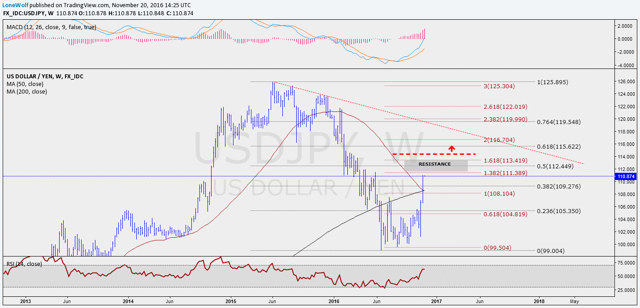 Technical Indications and Price Targets
For gold, we have support at 1,165-1,200, and you should note that we have already hit the upper end of that target zone. We are now oversold on both the weekly and daily time frames, and we are displaying a modicum of positive divergence in the MACD indicator on the daily chart: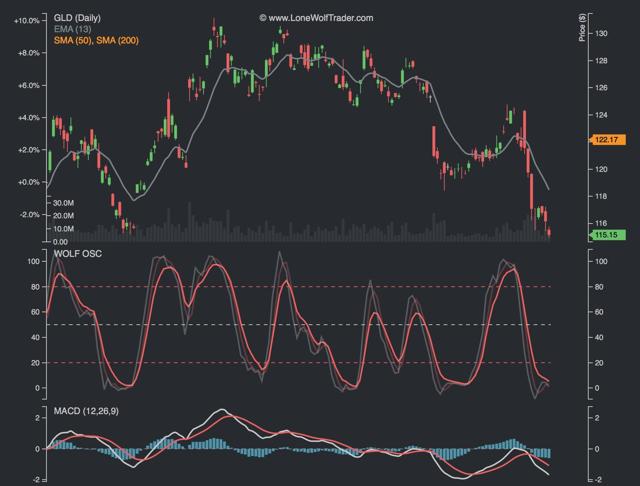 Chart courtesy of lonewolftrader.com
Assuming we can hold support, there is a good chance at a rally into the $1,255-1,290 range, and if we can exceed $1,300, perhaps something more, but for now, my primary expectation is an oversold bounce only. The key level to hold on all time frames is $1115 as trading below would increase the probabilities of new lows.
For the gold miner index (NYSEARCA:GDX), we have support in the 18.75-19.75 range and resistance between 24.50 and 26.25, which, if exceeded, would increase the chances of new highs. Above 23.50 would be a clue that we may not hit the lower end of that support range, but for now, our primary expectation is that minor new lows will be made in the coming weeks. The key level to hold here is 18, as trading below would increase the chances of new lows ahead at some point in the future.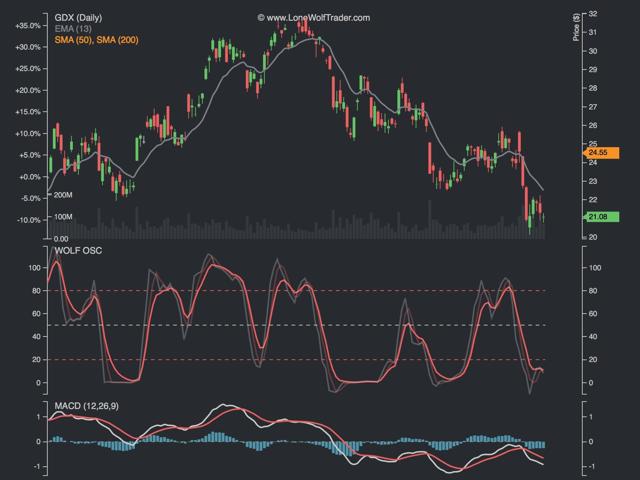 Chart courtesy of lonewolftrader.com
Like the metals, both the major index and the junior index (NYSEARCA:GDXJ) are oversold on the weekly and daily time frames, and a relief rally could start at any time, although I should note that our model indicates that they are still on sell signals overall.
We are currently porting the model onto a platform for all to see, which is what has kept me busy for the last six months. The GLD and GDX charts above are actually from our site, and can be viewed in multiple time frames. Once completed, we will make an announcement, but for now, I wish you all the best for your gold trading and investing, and the festive period rapidly approaching.
Disclosure: I/we have no positions in any stocks mentioned, and no plans to initiate any positions within the next 72 hours.
I wrote this article myself, and it expresses my own opinions. I am not receiving compensation for it (other than from Seeking Alpha). I have no business relationship with any company whose stock is mentioned in this article.