Subscribers received a sneak preview of this article.
ARMOUR Residential REIT (NYSE:ARR) carries a very high dividend yield and uses aggressive leverage to maximize their net interest spread income for each quarter. That leverage was critical to their exceptionally strong performance running from early June through the end of the third quarter. However, leverage can be both ways and when a mortgage REIT runs high on leverage with a significant duration gap between hedges and assets, it creates more potential for volatility in the returns. That is precisely the scenario I believe is unfolding during the fourth quarter.
Since ARR's results are so hard to project, I run "high" and "low" estimates for book value. At the "low" end, ARR would be suffering through a massacre. At the "high" end, it still would not be going so well. Consequently, I have to drop ARR into a clear sell rating. In previous coverage, I wasn't so concerned because my projections for damage to book value were still only moderate. Over the last couple weeks as the Treasury yields ran higher, the projected damage grew larger.
Rating Changes
This is a clear downgrade for ARMOUR Residential REIT.
Rating = Sell
Though the price declined over the last week, the portfolio appeared to be in a dangerous situation where book value could take a fierce hit. The company provides monthly updates, so we should know more soon. I'm operating prior to that update being published.
Since the losses I was projecting for ARR's portfolio were so intense, I pulled up their monthly presentations from October 2016 and June 2016 to verify that the positions were not substantially changed.
I think the net exposure remains close enough for the projections to be reasonable. ARR increased their allocation to fresh 30-year fixed rate securities from 11.3% to 18.1%. Meanwhile the weighted average net coupon for that section fell from 3.85% to 3.5%. That combination is going to be very dangerous. Remember that RMBS with a lower coupon rate usually decline in value faster when rates are increasing because they don't get as much of a benefit from lower projected prepayments.
I feel like that is probably complicated to read through, so I grabbed some charts to show what I'm talking about: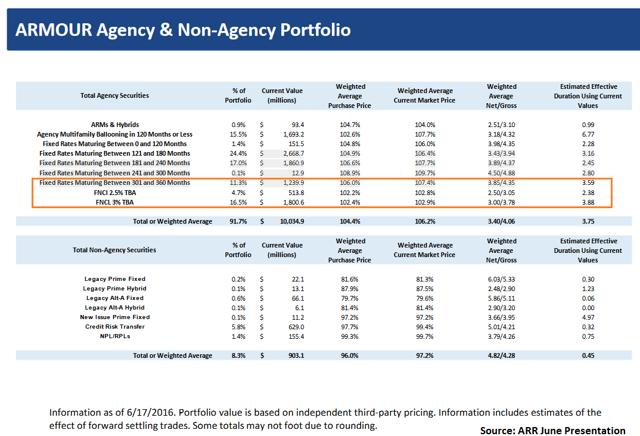 These are their positions in June. The orange box highlights the three categories I'm talking about. Those are the new 30-year fixed-rate RMBS and the two TBA positions.
On the positive side, their exposure to extremely low coupon MBS through TBA (To Be Announced) securities declined. The next chart comes from October. The green indicates the positive sign of less leverage in that TBA positions and the red indicates the danger from the larger settled position in the 30-year fixed-rate MBS: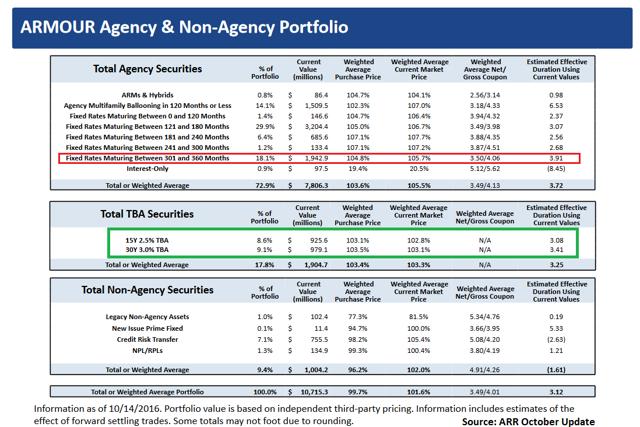 I'm considering those two factors to be roughly offsetting each other. Meanwhile, they slightly reduced their hedge portfolio but also bought some Interest Only Swaps. I haven't run the numbers yet to try to estimate how well those two changes will offset, but I'm comfortable in thinking the rough estimates on ARR should still be a respectable guide. They should publish the portfolio update soon, and it could be quite ugly. I think investors will see book value down at least a solid $1.50 since the quarter began and a larger decline still wouldn't surprise me.
How Bad Is It?
By my estimates the two mortgage REITs (within my coverage area) that should be posting the weakest TER (Total Economic Return) so far in the fourth quarter are ARR and CYS Investments (NYSE:CYS). Total economic return is the combination of the change in book value and the dividend paid during the quarter. ARR was a star quite recently, but now it appears the REIT is coming on much harder times due to the dramatic increase in the Treasury rate. In both cases, TER appears to be fiercely negative.
Conclusion
I'm projecting some pretty significant book value declines for ARMOUR Residential REIT. While shares of the common stock have declined some lately, it isn't enough for me to believe that ARR offers the same compelling opportunity that can be found in a few of the other mortgage REITs. Therefore, I'm dropping the rating on ARR to a sell rating. Over the weekend, shares closed at $22.18. On Monday they closed at $22.37. I see them as a sell at $22.18 and an even easier sell at $22.37.
Want to know when great income investments go on sale? Consider joining The Mortgage REIT Forum. For the cost of one lunch per month, you can get access to the research I'm using for managing my own investments. On average, I publish about 3 subscription articles per week. One is for calculating new estimated book value for several mortgage REITs and finding the current discounts to those estimates. Another covers the preferred shares for each mortgage REIT that has preferred shares. The third is used to either preview articles I'm working on for the public or to provide real-time updates on liquidity failures where prices for a small number of securities detached from other similar stocks. The most notable recent alert was when Resource Capital Corporation (NYSE:RSO) went on sale. The subscriber notice was up in chat before shares had rebounded to even $8.00.
Disclosure: I am/we are long RSO, RSO-B.
I wrote this article myself, and it expresses my own opinions. I am not receiving compensation for it (other than from Seeking Alpha). I have no business relationship with any company whose stock is mentioned in this article.
Additional disclosure: Information in this article represents the opinion of the analyst. All statements are represented as opinions, rather than facts, and should not be construed as advice to buy or sell a security. This article is prepared solely for publication on Seeking Alpha and any reproduction of it on other sites is unauthorized. Ratings of "outperform" and "underperform" reflect the analyst's estimation of a divergence between the market value for a security and the price that would be appropriate given the potential for risks and returns relative to other securities. The analyst does not know your particular objectives for returns or constraints upon investing. All investors are encouraged to do their own research before making any investment decision. Information is regularly obtained from Yahoo Finance, Google Finance, and SEC Database. If Yahoo, Google, or the SEC database contained faulty or old information it could be incorporated into my analysis. Tipranks: Assign sell rating to ARR.