Last week, Wells Fargo (NYSE:WFC) released its October 2016 report on customer activity in retail banking. The report was anticipated as a key set of data points into the performance and overall health of its retail banking arm, as the franchise attempts to continue its recovery from its sales practice scandal that came to the public's conscience in September. Among the key findings included a continued decline in checking account openings, a small increase in account closings, a stark drop-off in credit card applications, and a drop in its customer loyalty score.
Customer interactions with tellers were down 10% from October 2015 to October 2016 (i.e., in year-over-year (Y/Y) terms). Much of this was a product of an increased number of electronic transactions. Mobile banking session were up 7% Y/Y. Branch banker interactions were down 22% Y/Y, predominantly a result of a decline in new account openings.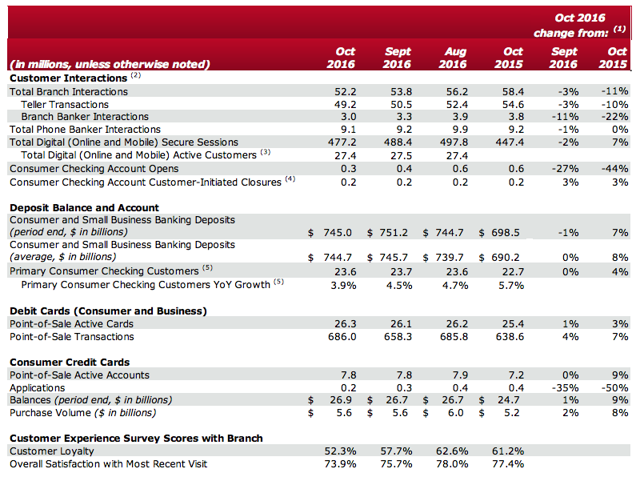 (Source: Wells Fargo)
The most conspicuous effects of the scandal have been seen in the consumer account openings and consumer credit card application figures. Account openings were down 27% from September alone and 44% Y/Y. New consumer credit card applications were down a whopping 35% from September and 50% Y/Y.
Customer loyalty scores were down from the 62.6% all-time high displayed in August 2016 to 52.3% in October (likely to be a multi-year low), based on the results from 140,000 October surveys issued at the branch-level. Despite the significant drop in account openings, account openings still managed to outpace account closures by a ~100,000 margin in October, with a fairly modest 3% month-over-month increase in customer-initiated account closures. (Normally the account opening-to-account closing margin hovers around ~400,000 accounts per month.)
Positive Elements
Although the slowdown will put a dent in the retail banking business's growth prospects, the company's consumer and small business banking deposits were up 7% Y/Y (measured at period-end), with no dip from September to October. Consumer credit card balances and purchase volume were up 9% and 8%, respectively.
Consumer and business debit card metrics - which are associated with actively open checking accounts - looked favorable. Point-of-sale active cards and point-of-sale transactions were up 4% and 7% Y/Y, respectively, and most encouragingly, 1% and 4% month-over-month.
Given the reputational damage sustained, these aren't bad figures and display a level of continued growth, even if they may have been higher in the absence of a highly public scandal. If anything, the misconduct revelation and subsequent curtailing of the company's marketing activities have hampered the onboarding of new customers, but existing unaffected customers have expectedly remained loyal to the bank. Bank customers have traditionally displayed a level of stickiness in the absence of service failures, pricing concerns, or convenience-related deficiencies with their existing bank, in addition to the general nuisance associated with the administrative burden of switching.
Scandal-Related Costs Are Still Likely to Remain Elevated
New CEO Tim Sloan, who took over in the second week of October for former chief John Stumpf, stated soon after taking the job that the retail business would very likely take a near-term dip before it would get better. Litigation accruals caused a 7% jump in expenses last quarter, with a $185 million fine coming from the Consumer Financial Protection Bureau ($100 million), city and county of Los Angeles ($50 million), and Office of the Comptroller of the Currency ($35 million), including full restitution of accountholders victimized or otherwise disadvantaged by the sales practices, which totaled $5 million. Costs are likely to remain elevated for an extended period in light of the various class action lawsuits and regulatory investigations coming against the firm.
Even with the loyalty displayed by existing customers, it will take an extended period to restore the retail banking arm's credibility to the public and impair the growth trajectory of a segment that accounts for approximately 57% of the company's revenues.
Conclusion
With the ongoing attention on the company's sales practices, management has committed to providing another customer activity briefing around mid-December with respect to November's statistics. It will be intriguing to observe whether the trends have bottomed with respect to consumer checking account opens and credit card applications - given the media storm has mostly subsided - or whether the downtrend persists. Management may be banking on a bottom by agreeing to release a consumer trends report mid-quarter (it usually doesn't) to show that the business is recovering a full month ahead of earnings, which may underwhelm on a year-over-year basis. It also shows a willingness to transparently release information as an act of public diplomacy.
Despite the sales saga, the company's stock recently made 2016 highs on the back of the post-election rally interpreting that the upcoming administration will rollback financial regulations within the U.S. and institute policies likely to reflate the economy to the betterment of the interest rate environment.
Disclosure: I/we have no positions in any stocks mentioned, and no plans to initiate any positions within the next 72 hours.
I wrote this article myself, and it expresses my own opinions. I am not receiving compensation for it (other than from Seeking Alpha). I have no business relationship with any company whose stock is mentioned in this article.