Since Donald Trump won the US election, the US dollar (NYSEARCA:UUP) has been on a tear. Lower taxes, the end of low interest rates, and the repatriation of international earnings are all predicted to cause the dollar to strengthen in 2017. But we don't think investors should accept this as a certainty. If there's one thing we learned in 2016, it is that currencies don't always behave as expected. Who's to say that 2017 will be any different?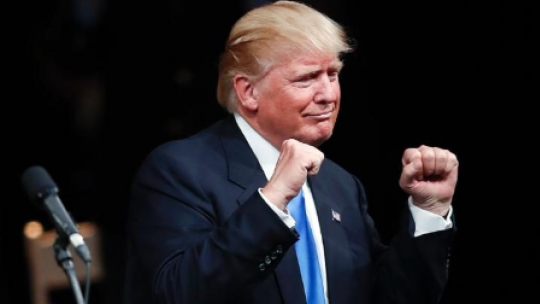 The Fed is almost certain to raise rates at its meeting next month. Barring a catastrophic economic event or a severe miss with the non-farm payrolls data next week, a hike to between 50 bps and 75 bps will occur. Traditionally, rate hikes strengthen a currency and rate cuts weaken a currency, but not always. As market strategist Jim Paulsen recently pointed out, since 1970, there have been five major increases in the Fed fund rate and each one resulted in the dollar falling in value.
Although all things equal, the US dollar should strengthen if rates rise, the fact that the S&P 500 (NYSEARCA:SPY) is nearing all-time highs and trading on some of the highest earnings multiples in recent years, as shown below, means that we see little value in US stocks as a whole. There certainly is value to be found if you look hard enough, but we wouldn't expect investors to see the index rally strongly next year. We do however feel there is value to be found in both emerging and international markets, which could result in money heading overseas and putting selling pressure on the dollar.

The iShares MSCI Emerging Markets (NYSEARCA:EEM) for example trades at just 11.5x forward earnings at present. While there is speculation that the strong dollar and some of Donald Trump's policies may hold back the emerging market's recovery, others and ourselves included are bullish, especially after its 7.5% decline since the election.
Let's not forget that emerging markets aren't all about trading with the United States. China is of lesser, but still massive importance to these markets. If the US steps back, we feel quite sure that China will take a big step forward to fill its void. Furthermore, Donald Trump has talked the talk when running for the presidency, but having won the election, his rhetoric has become a lot softer. Overall, we are optimistic things might not be anywhere near as difficult as portrayed.
Which is great because as bond yields rise, we believe investors will become less willing to pay a premium to own US stocks. As we said before, the S&P 500 is currently trading at 25x earnings versus the historic average of 15x earnings. Whether the market rerates to a reasonable multiple over several years or in a short, sharp, and sudden correction is open for debate. But one thing we feel sure of is that compared to emerging markets, there will be limited growth in the US market over the next few years based on current multiples.
If the S&P 500 was expected to put on a strong gain next year, then we could justify the premium. But the current mean forecast for the S&P 500 in 2017 is for it to finish the year at 2,286 points, roughly 4% higher than where it stands right now. While this is a reasonable gain, we don't believe it offers a good risk/reward ratio. If there are better expected returns elsewhere, we expect investors will go in search of them.
One final thing that has been touted as a catalyst for a stronger dollar is the tax amnesty that Donald Trump has proposed. With an estimated $2.6 trillion of corporate earnings stored overseas, bringing it back would be a huge bonus for the dollar. But actually most experts believe that a significant portion of these funds are already denominated in US dollars. So while it would get a slight boost from the portion of funds that aren't already denominated in US dollars, it wouldn't get nearly as much of a boost as first expected.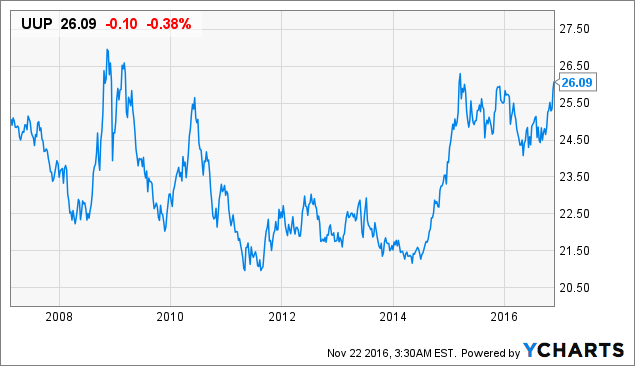 We feel this all adds up to the US dollar being a great short in 2017 and have targeted the UUP dropping to approximately $24.00. Which is equal to an 8% decline from the current price. We would however suggest that investors hold out until the Fed's interest rate decision next month to see how currency markets respond to the expected hike. We feel the dollar could drop immediately, but the largely unpredictable currency markets could yet surprise.
Disclosure: I/we have no positions in any stocks mentioned, and no plans to initiate any positions within the next 72 hours.
I wrote this article myself, and it expresses my own opinions. I am not receiving compensation for it (other than from Seeking Alpha). I have no business relationship with any company whose stock is mentioned in this article.