Up around 10% since the U.S. elections, and 14% since I wrote about the third quarter results, Citi (NYSE:C) has nevertheless underperformed other U.S. Banks since the U.S. elections. It's clear why. As a multinational with EM exposure, Citi faces the potential headwinds of long-term dollar strength and EM economic weakness that have emerged as the key theme under discussion following the Trump victory. The chart shows the composition of net income at Citi in recent quarters. There's lot of Euro and EM FX.
My greatest concern with Citi is the impact of a slowdown in China both on EM growth and sentiment, rather than major changes in GDP from changes to trading relationships under Trump. I think the president elect will find the room for dramatic, rapid change on that front is less than some of his rhetoric suggested he might believe.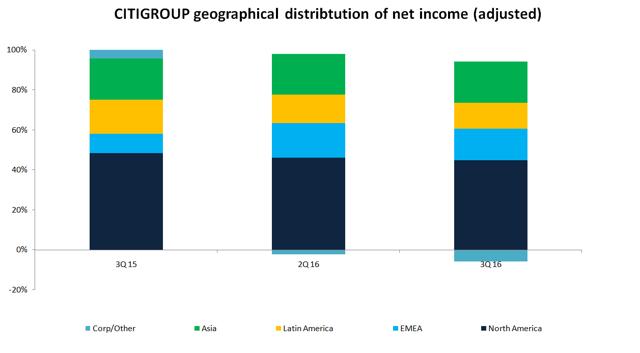 Source: Citigroup data
There's also much to be said in mitigation. First, international banks can hedge budgeted profits if they wish to accommodate what they see as long-term structural FX trends, which is also the case for rates risk. In any case, while the dynamics behind the strong dollar view are too powerful to ignore, it's important to remember that this theme will moderate short term given that the scale of Trump stimulus has yet to be determined and the strong dollar, to my own mind at least, already presents an obstacle for the Fed to raise rates in December.
After a move like this, it's useful to check in on the valuation and what might be in the price.
As we all know, a big driver of value at Citi is share buybacks. The company has just announced a top up to its buyback program of a further $1.75bn in value. Given that the company is buying stock way below book value, buybacks mean that BVS builds pretty rapidly. Here is a simple model of what 2016-18 should have looked look like on that score before Trump's victory: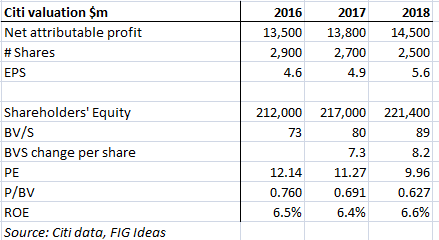 If we assume the market will give Citi a P/E of 12x out in 2018 (on $55.4), there is 21% upside in the shares over the next two years before dividends (of about 1% annually). Given the firm's stated intention of returning most or all of its earnings to shareholders, the earnings yield on 12x EPS (of 8.3%) seems to allow for healthy capital returns so is comfortable.
Note though that Citi would on the numbers above only be providing an ROE of 6.6% by 2018, similar to the level now. If we assume a 10% cost of equity, which is what Citi uses in its discussion of targets, then the stock looks a little rich this year at 0.76x BV and there's not much upside from 2018's P/BV of 0.63x to the warranted 0.66x. So the price has baked in some improvement already. The question is how much.
Let's play with a 9% improvement over the scenario for 2018 in the table above. Here are the numbers again: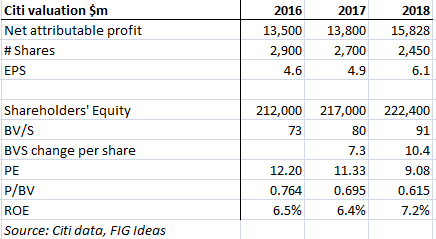 There's little question that Citi can get there. Opposite the pre-Trump scenario, greater asset size, more loans within total assets and steeper yield curves will give Citi volume, mix and spread benefits while non-interest income could reflect improving money velocity under Trump's economic plan in the latter part of 2017 and into 2018.
Efficiency is impressive at Citigroup anyway with a ~56% cost/income ratio leaving less room for operating leverage gains at the group than we find in Bank of America (NYSE:BAC), for example. Still, 13% higher revenue in 2018 from 2016 at a 56% cost income, and allowing similar volume growth to lift LLP costs for 2018 to $7.7bn, would deliver a bottom line of $15.8bn. This leaves tax at 32%.
The improved 7.2% ROE in 2018 would correspond to a price target of $65 by then, or 17% upside. A 12x P/E ratio out there would give us 33% upside. While the high level of capital returns at Citi justifies the market pushing P/BV beyond the level warranted by the ROE falling out of the model over the medium term, it's also worth remembering that the bank estimated in 2015 that a 100bps parallel shift in rates would lift its ROE to 11%. Obviously, nothing like this is in the price.
Disclosure: I/we have no positions in any stocks mentioned, and no plans to initiate any positions within the next 72 hours.
I wrote this article myself, and it expresses my own opinions. I am not receiving compensation for it (other than from Seeking Alpha). I have no business relationship with any company whose stock is mentioned in this article.