By New Deal Democrat
Real retail sales is perhaps my favorite of all economic data points. That's because it is so useful forecasting a number of different consequences. And it just got a little more useful.
Last week's consumer inflation for October was reported up a hot +0.4%. That means that October real retail sales which were up a nominal 0.8%, rose +0.4% in real terms: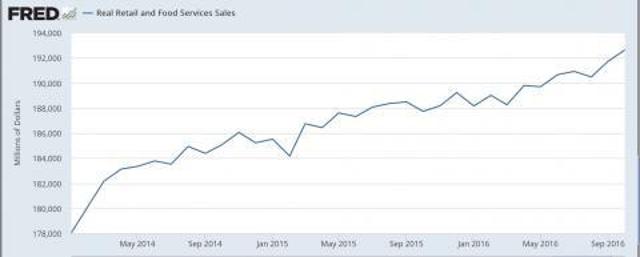 The last two months have seen a real surge in consumer spending. Since this is one of the important coincident indicators of the economy, it confirms in real time that we are not in a recession.
Another thing that real retail sales do is give us a clue as to the direction of hiring a few months ahead. The historical record is that consumer spending slightly leads hiring. No single month's data is crucial, but here's the trend: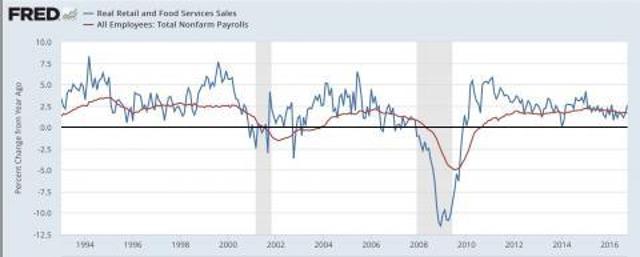 Thus, the recent improvement in real retail sales YoY implies some additional strength in YoY employment comparisons in the next few months.
Third, real retail sales per capita are a long leading indicator of the economy overall, tending to at very least plateau a year or so before the overall economy turns. Here is the most recent comparison: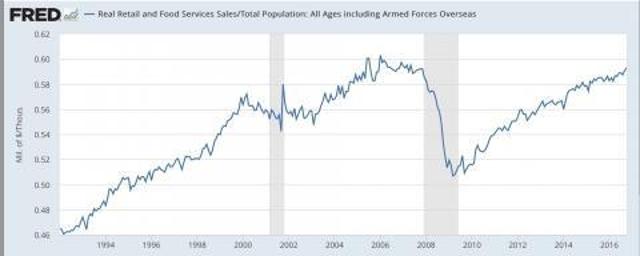 Finally - and here is the new part - Steve Hansen of Econintersect has claimed that real retail sales, compared with retail hiring, also functions as a leading indicator. Here's his graph, which only goes back 20 years:

When I see a shorter-term correlation like this, I am skeptical. So I did what I normally do, which is take the data back as far as possible, in this case to the 1950s, and here is what the earlier picture looks like: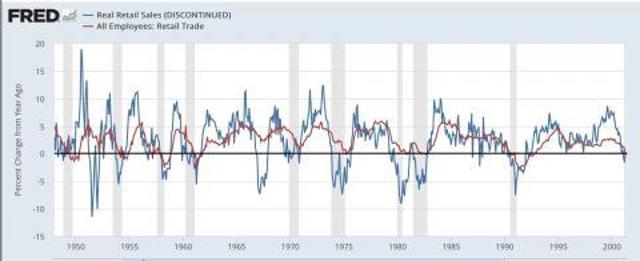 Then I look for false positives and false negatives. Here are the results:
Retail hiring was higher than real retail sales just prior to 10 of the 11 recessions during the period (1957 was the sole exception). In other words, there was only 1 false negative.
Real retail sales turned negative compared with retail hiring on 16 occasions over the last 60 years. Five of these were false positives. Two of those encompass almost the entire 1975-79 and 1982-01 expansions!
In other words, when retail hiring exceeds retail sales for more than one month, a recession ensues about 2/3's of the time. The recession has begun between 2 and 12 months later. So Hansen's metric is a useful addition to the toolbox, although noisy and by no means infallible.
Put this information together, and real retail sales are forecasting a period of better economic activity in the immediate future, while the mixed long leading signals suggest increased risks of a downturn about 1 year out.