Sales got off to a good start for Tesla (NASDAQ:TSLA) in Europe once the Model S made it on the market. Norway in particular, where government EV incentives are high and so are wages, became one of Tesla's main markets in the early years. This should not come as a surprise given that Norway is emerging as an EV sales leader, given very generous government subsidies.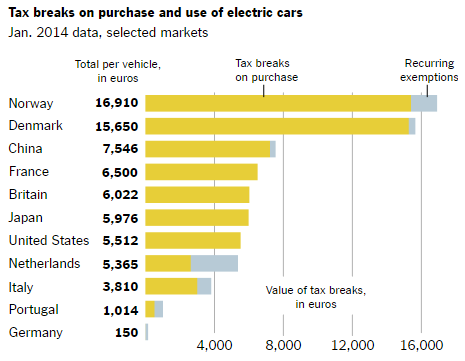 Source: New York Times
It has been reported by EV Obsession that Norway EV sales have now reached 30% of the total car market. Between the roughly $18,000 subsidy the government provides and the fact that Norwegians have an average net monthly salary of about $3,900, which is among the highest in the world, it should come as no surprise that EVs are doing alright in Norway. Unfortunately for Tesla, it seems to be falling behind in terms of market share in Norway. In 2013, Tesla managed to capture 25.2% of the market. This year, it seems that as of July, it only had 5% of the Norwegian EV market share. The early success of Tesla in Norway gave reason to many people to extrapolate a similar rate of success on other markets in Europe. The deterioration of Tesla's market share in Norway should give people reason for pause. This is especially so, given that some of the stiffer competition in the EV market in Europe and across the world has not yet begun.
The situation in the rest of Europe is not looking to be headed in a much better direction for Tesla. As of October of this year, it is sitting at only 9% of the total European market. In 2014, it had over 13% of European EV market share. Sales of the Model X and the future arrival of the Model 3 on the market are thought to improve Tesla's market share in coming years. At the same time, we are looking at a period when it is set to lose its range advantage over a large number of competitors. The era of Tesla competing against all-electric vehicles with a range in the 80-90 mile category is ending. A large number of EVs with a range over 200 miles is set to hit the market. The Chevy Bolt may be one of those EVs, which has been regarded as a main competitor to Tesla's Model 3 in the US, thus it is better known to the US public. GM (NYSE:GM) is also set to launch an Opel version of it in Europe. The Opel Ampera will have an EPA range rating of 238 miles and will start at $36,000, making it very comparable in range and price with the Model 3.
The Model X will have to contend with the Audi Q8 e-tron, with a range of 370 miles and a price of about $130,000, which as is the case with the Opel Ampera-e versus the Model 3, it is basically an almost perfectly matching competitor. All of these carmakers will have to also compete with what I regard to be a very successful mass-market concept in the form of the Renault Zoe. It is a platform that is constantly being improved on, in terms of range and other features. A new version recently unveiled will have a real world driving range of 186 miles, while on price it is almost half of what a Model 3 will most likely cost in Europe. It is currently Europe's best selling EV and it will not surprise me if it remains in the top spot in coming years. It is after all the only practical EV that the current average new car buyer in Europe can actually afford.
Supercharging network advantage about to get neutralized by EU standardization mentality
Aside from the loss of the range advantage, which as I pointed out, competitors are matching Tesla in price per range almost identically, meaning that competing with EVs with only half or a third of Tesla's range is a thing of the past, there is also the extensive supercharging network that Tesla invested in, which is about to take a severe blow as a means of supporting Tesla sales.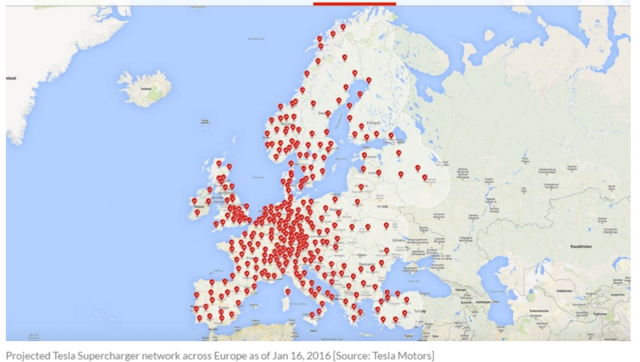 Source: Teslarati.com
Those who do not have a strong connection to Europe as I do may be forgiven for not fully understanding the reasons why I believe that it is very likely that Tesla will lose the advantage it currently has from its supercharging network in Europe. One of the favorite ways that the European Commission likes to keep itself relevant is through a series of product standardization rules meant to facilitate the social and economic integration of the continent. Standards ranging from product labeling to the shape of cucumbers and standardized cell phone chargers dictate how business is to be done in the EU, as well as how people live. These rules are an integral part of life in the EU. For instance, if one were to visit a Hungarian language forum in the summer when the Euro 2016 soccer championship was held, the joke on the forums was that Hungary is likely to be met with another EC infringement, because surely the Hungarian players must have eaten curved or irregular cucumbers before the game, which will be blamed for the fact that Hungary beat Austria in an upset. It is only when one is exposed to such cultural particularities in regards to Europe that one will even think to keep a lookout for evidence that perhaps EV charging systems will be standardized in Europe.
The European Electricity Industry has begun a bid to push for such a standardization a while ago. It is being seen as a way to facilitate the mass-sale of EVs on the European market, because once rules will be in place to make charging stations compatible with all EVs sold in Europe, EV ownership can become just as practical as owning an ICE vehicle. The most likely and very immediate market response to such a rule being implemented will be to make use of the existing gas station infrastructure and simply add EV charging stations alongside gas pumps. In this way, EV charging stations will surpass anything that has been attempted in terms of building out a network by the likes of Tesla.
In 2013, the EC decided on setting a mandate for EV charging stations, all of which should have one common plug, the Type 2. It also mandated that by 2020, each country in the EU should have a certain number of standardized EV charging stations, available to all electric vehicles. In France for instance, it was decided that 97,000 such sites should exist by 2020. For Germany, the EC decided on 150,000 such stations. It is clear that we are talking about a very extensive network of standardized EV chargers in the EU, which will eclipse the exclusive supercharger model pushed by Tesla. As of the beginning of 2016, Tesla had 590 supercharging stations worldwide.
The next step in Europe will be to have mandatory compatibility to the same charging system, which is likely to come soon. The mandate for an extensive, standardized charging network will most likely start to really show results as we approach the end of the decade. Germany, for instance, only passed legislation last year demanding that all new fast charging stations offer the Type 2 plug in addition to whatever other outlets they may offer. These regulations mandated from the EU center and now being implemented by EU states will likely render Tesla's supercharging network in Europe irrelevant within a few years. Tesla customers will still likely stop to charge their cars there, in addition to making use of standardized stations, but the idea that the network will continue to be an advantage in competing with other EV makers is becoming outdated.
Manufacturers take signal from market and EC and take future of EV seriously.
In an article I wrote a few months ago, I described the latest investments in places like Hungary meant to expand EV car and battery production in Europe. I focused on Samsung's (OTC:SSNLF) EV battery factory as well as Daimler's (OTCPK:DDAIF) new flex production line, which will be capable of producing EVs. Since then, Audi also announced it will produce EV motors in Hungary by 2018. The subject of my article was in regards to just how brutal EV competition is likely to become in a few years in Europe. I always knew that European carmakers will give away their intentions to start taking EV competition seriously when they start producing EVs, components and batteries in Eastern Europe. Now this moment has evidently arrived. It is what they do whenever they get serious about fighting for market share. In many cases, producing cars in Eastern Europe allows carmakers to save a few thousand dollars in labor costs on each car produced.
EVs are set to make a strong challenge on the European car market after 2020. It will take a long time, perhaps decades before EVs will reach the point of out-selling conventional cars, but with all the incentives and logistical support that the EU is set to offer by 2020, it would not surprise me if we will reach that point in Europe faster than in any major car market on the planet. Unfortunately for Tesla, it seems to be stuck in a position where its business model and product lineup are not suited to compete for the top EV maker spot in Europe.
The established carmakers may have seemed to be far behind in the past just because they were not yet convinced that it is time to make their move in the growing niche EV market. Now that they are, it turns out that they can easily out-compete Tesla. They have the supply chains, they have countless existing models they can electrify, which means that they can test the market and learn which direction they need to go in with new models. They even have the ability to produce EVs at a slight loss at the beginning in order to gain initial market share. As we can see from the current product lineup, there is really nothing that Tesla can offer in terms of range and other features that the big automakers cannot match or surpass at a comparable price. Now we see that Tesla's big investment in supercharger networks is about to become a lost sunk cost as EU legislation is set to make it largely irrelevant, as long as it remains an exclusive service provider for Tesla cars only. The supercharger network advantage is most certainly getting lost in Europe as we speak. With it, so will any chance that Tesla will ever gain a top spot in Europe, even after the much-anticipated start of Model 3 sales. By the end of this decade, Tesla's challenge in Europe will be to remain a relevant EV player.
Disclosure: I/we have no positions in any stocks mentioned, and no plans to initiate any positions within the next 72 hours.
I wrote this article myself, and it expresses my own opinions. I am not receiving compensation for it (other than from Seeking Alpha). I have no business relationship with any company whose stock is mentioned in this article.
Editor's Note: This article discusses one or more securities that do not trade on a major U.S. exchange. Please be aware of the risks associated with these stocks.