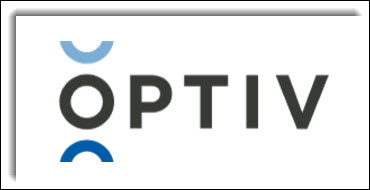 Quick Take
Security technology company Optiv (Private:OPTV) wants to go public and raise $100 million, according to an S-1 filing.
The company operates in the security consulting, third-party integration and managed services sectors, which are all growing rapidly in a significant threat environment.
We are awaiting final terms of the IPO, but I'm favorably inclined toward the opportunity despite the company's high debt load.
Company
Optiv is the result of a 2015 merger between Accuvant and FishNet. The combined company provides a suite of cyber security assessment, strategy, managed services and consulting to enterprises.
The two companies reported very little customer overlap as an important justification for the merger.
The CEO is Dan Burns, who co-founded predecessor company Accuvant in 2002. The Chief Security Officer is Jason Clark, who was previously chief security and strategy officer for Websense.
The company is majority owned by private equity firm Blackstone (58.5% pre-IPO) which backed Accuvant, Investcorp (24.6%), which backed FishNet, and Sverica (7.2%) which backed Accuvant, as additional institutional shareholders. CEO Dan Burns owns 2.19%.
Technology
Optiv provides a range of consultative solutions to enterprises facing cyber security threats.
The company has two reportable segments: Security Technology and Security Services
Security Technology
Client needs analysis
Product evaluation and testing
Product procurement
Security vendor management
Implementation and integration
Security Services
Security consulting
Security operations
Managed security services
Incident response
Support services
Strategic staffing
So, the company acts as a consultant, integrator and manager of enterprise information security needs to the degree that each enterprise needs.
Optiv says it has "served over 7,5000 clients over the past three years." In addition, it touts its deepening relationships with customers, stating that "Over the six years ended September 30, 2016, on average, our returning clients have spent nearly twice as much with us in the second year of our relationship."
Since its formation in early 2015, Optiv has acquired three companies for a total consideration of $39 million:
Advancive - Identity and access management
Evantix - SaaS application for managing third-party risk
Adaptive - InfoSec solutions integrator in Northeast U.S.
Market
According to a 2016 research report by Grand View Research on the Managed Security Services market, it expects the market size to exceed $60 billion worldwide.
Below is a breakdown of the managed security services market by geographic area: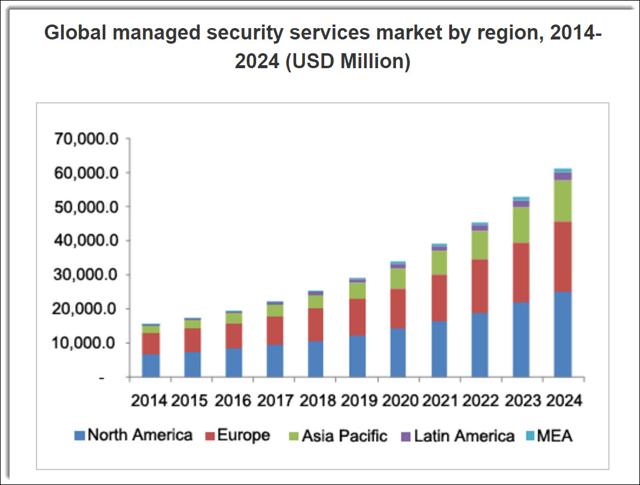 (Source: Grand View Research)
The industry growth of 16.5% CAGR from 2016 to 2024 will be driven by an increased BYOD (Bring Your Own Device) trend as companies continue to decentralize their employee and contractor bases.
Notably, small and medium-sized enterprise are expected to grow the fastest, representing a CAGR of over 17.5%. The report cites the staffing challenges of SMBs in finding employees capable of handling increasingly complex cyber threats.
Also, the Asia-Pacific region is expected to be the fastest growing region, at a 19% CAGR over the nine-year period.
Competition
Competitors in the managed security and services market include:
Dell SecureWorks
IBM (NYSE:IBM)
Symantec (NASDAQ:SYMC)
Verizon Communications (NYSE:VZ)
Trustwave Holdings
CSC (NYSE:CSC)
AT&T (NYSE:T)
NTT (NYSE:NTT)
BT (NYSE:BT)
Hewlett Packard Enterprise Co. (NYSE:HPE)
Financials
Optiv's recent financial results can be summarized as follows:
Uneven revenues due to "pushdown accounting" treatment in 2014; most recently a 4.4% decline so far in 2016
Increasing gross margin
Wide swings in cash flows and/or use
Below are the company's operational results for the past one and ¾ years (Audited GAAP):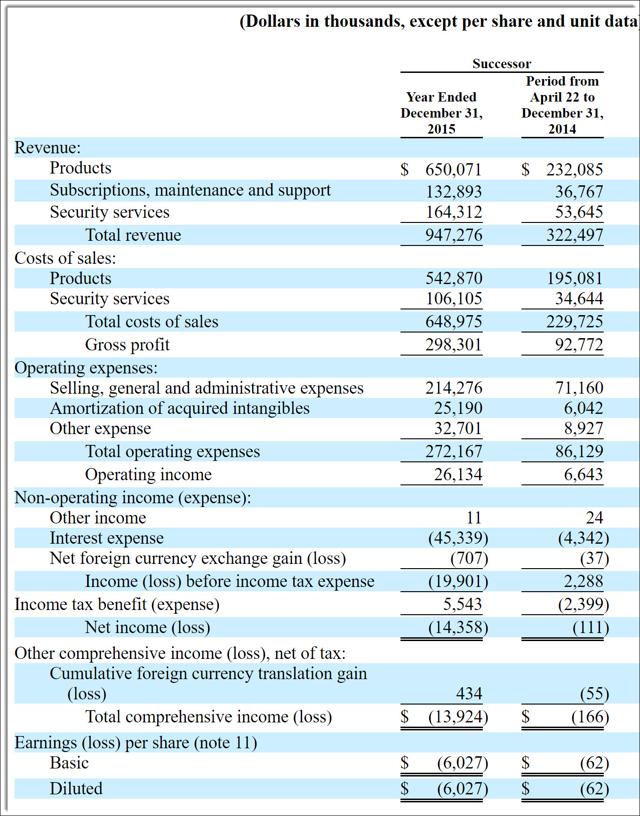 (Source: Optiv S-1 Filing)
Revenue
To Q3 2016: $644 million, 4.4% decrease vs. prior
2015: $947 million
2014: $405 million
Note: The company says "pro-forma" 2015 YoY revenue increased by 134% vs. 2014.
Gross Margin
To Q3 2016: 37%
2015: 31.5%
2014: 29%
Cash Flow from Operations
To Q3 2016: $33 million cash flow from operations
2015: $35.7 million cash used
2014: $24.9 cash flow
As of September 30, 2016, the company had $15.3 million in cash, $328.5 million in accounts receivable, $366 million in current liabilities and $689 million in long-term liabilities.
The long-term liabilities are likely a result of debt taken on to effect the merger of Accuvant and FishNet to create Optiv in early 2015.
IPO Details
Optiv intends to raise $100 million per its S-1 filing, although an item by IPO Renaissance indicates the IPO could be as high as $200 million.
The company says it will use the IPO proceeds to "repay a portion of our outstanding indebtedness and the remainder, if any, for general corporate purposes."
It did not say how much of the roughly $1.055 billion in current and long-term liabilities it would repay.
The company also did not state an expected price range for the shares nor how many shares would be offered or outstanding after the offering.
The lead left underwriter was not disclosed, but Morgan Stanley, Goldman Sachs, Barclays and Citi are bookrunners on the offering.
Commentary
Majority owner Blackstone has been angling to monetize its stake in Optiv.
A Bloomberg report in April 2016 indicated that Blackstone was preparing to either sell or IPO Optiv at a value believed to be $2 billion at the time.
The original merger between Accuvant and FishNet appears to be a sound move since there was little overlap in their respective customer bases.
However, the combined firm has in excess of $1 billion in short-term and long-term liabilities.
While revenues are approaching $1 billion and gross margins are healthy and growing, given recent macroeconomic developments, it is likely that the cost of debt service will rise in the near future, increasing the need for Optiv to improve its balance sheet.
I'm bullish on the managed security services sector as I agree with management that increasing complexity means that both small and mid-sized firms are having a hard time guarding against threats due to the increased threat environment and the difficulty in finding and retaining InfoSec talent.
We don't yet know the final terms of the offering, but Optiv is operating in a rapidly growing sector with a compelling offering. It's hard to mess that up.
I'll provide an update when we know more details about the IPO terms.
I write about IPOs, M&A, and billion dollar privately-held tech companies. If you want to receive future articles automatically, click the +Follow link next to my name at the top of this article.
Disclosure: I/we have no positions in any stocks mentioned, and no plans to initiate any positions within the next 72 hours.
I wrote this article myself, and it expresses my own opinions. I am not receiving compensation for it (other than from Seeking Alpha). I have no business relationship with any company whose stock is mentioned in this article.