Be mindful that due to this week's holiday, the EIA natural gas storage report will be released tomorrow, Nov. 23, at 12 p.m. ET.
We are keeping our estimate the same from last week Friday (we expect +4 Bcf for this week's storage report). Looking at overall gas supplies, U.S. production rebounded a bit and averaged closer to 71 Bcf/d. Wells that were shut-in before are being brought back, and we are seeing some of the production increase from that. Current natural gas producers' capex guidance indicates to us that 2016 exit production will be somewhere between 72.5 and 73 Bcf/d. So, market participants should expect overall U.S. natural gas production to increase in the coming months.
Canadian gas imports averaged less than 5 Bcf/d last week, so the decrease largely offset the increase in U.S. gas production. As of today, Canadian gas imports are now back above 5 Bcf/d. If the AECO basis differential widens, then we would expect Canadian gas imports to rise over the coming months. If the AECO basis differential tightens, then imports should average closer to 4 Bcf/d.
Looking at weather model updates overnight, the net was slightly bearish with HDDs revised lower for the week ending 12/2. Natural gas prices aren't moving much on the back of these revisions as injections were largely unchanged.
Currently, with normal HDDs for the weeks ending 12/9 and 12/16, storage draws on an absolute level will be quite astonishing. For example, the week 12/9 five-year minimum is -100 Bcf. With the current injection forecast, this five-year minimum will be shattered. As of right now, we expect that the storage draw won't even be remotely close to the five-year minimum.
In the comment section in a recent article, several "long-time" natural gas bears pointed out how we have ample storage to cover this winter. While it's correct that natural gas storage won't go to zero, but, relatively speaking, if natural gas storage is 300-400 Bcf under the five-year average, natural gas prices will react as if this means "not enough supply" and prices will spike as a result.
Geckoi Capital came out with their new storage forecast today, and although the EOS estimates are volatile in nature, both of us currently expect April storage to be materially below the five-year average. So the question is: What will happen to natural gas prices if, by January 2017, storage is below the five-year average?
Remember that on an absolute basis, we are only ~200 Bcf in surplus storage. The current injection forecasts for 12/9 and 12/16 are enough to wipe out 140 Bcf of that "surplus." What will cushion the rest of storage if weather continues to be just "normal"?
Eight- to 14-Day Outlook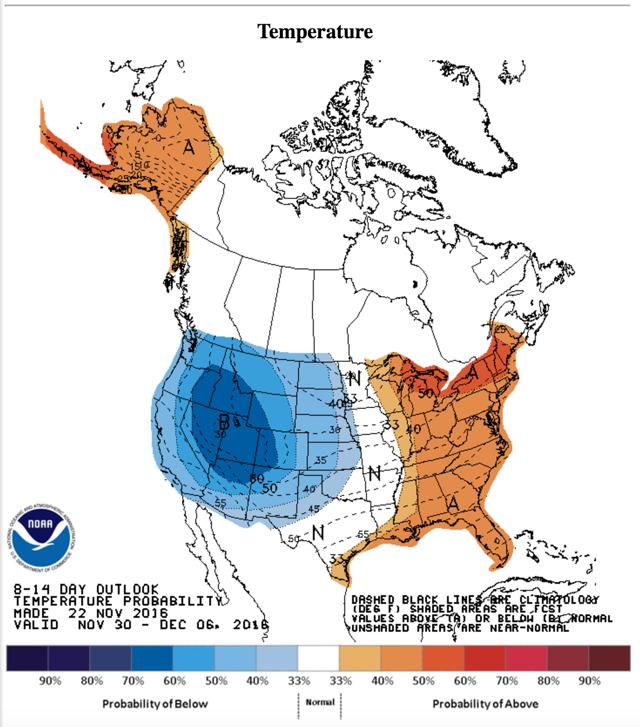 Disclosure: I/we have no positions in any stocks mentioned, and no plans to initiate any positions within the next 72 hours.
I wrote this article myself, and it expresses my own opinions. I am not receiving compensation for it (other than from Seeking Alpha). I have no business relationship with any company whose stock is mentioned in this article.