Shareholders of Frontier Communications (NYSE:FTR) have been in a world of hurt. The stock is down nearly 25% year to date and down over 50% since its early 2015 high. This decline has pushed the dividend yield for this telecom company to nearly 12%. Typically, yields this high are a major red flag for investors as it suggests that a cut in the payout is looming. However, I do not think Frontier will be cutting its dividend just yet.
Dividend is covered by free cash flow
Frontier has been generating decent amounts of cash. TTM adjusted free cash flow through Q3 2016 (which adjusts for the costs related to the CTF acquisition made in late 2015 from Verizon (NYSE:VZ)) have come in at around $848 million. Given the $458 million in dividend payments for that period, the adjusted dividend payout ratio is right around 54%. This metric at least suggests that the dividend is on pretty solid ground.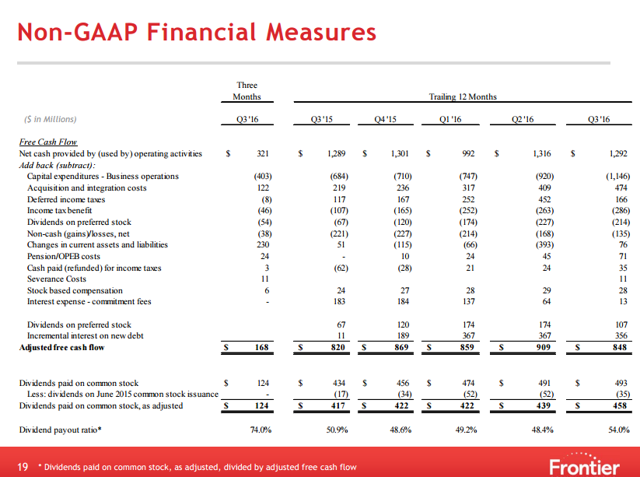 Frontier does have some 19.25 million convertible preferred shares outstanding (FTRPR) which will be converted into common stock in 2018. This is set to increase the share count by around 385 million (assuming a 20 to 1 conversion), or 32%. But this will not really hurt the dividend payout ratio.
Each preferred share currently pays $11.25 per year in dividends while each common share pays just $0.42. At a 20 to 1 ratio, the max ratio allowed, this equates to a dividend of $8.40 per preferred share, a savings of $2.85 each. In total, Frontier stands to save nearly $55 million per year from the conversion. Doing some quick math, this would also improve Frontier's payout ratio to 52% versus the current 54%.
Frontier has a major PR problem
One reason Frontier has a low payout ratio is due to its low capital spending. Just $1.2-1.3 billion is expected to be spent in 2017 on capex, which is flat from 2016 levels.
While Frontier's largely legacy wireline asset base does not need much in the way of upgrades, many of the acquired Verizon assets, especially the broadband connections, have proven to be in worse shape than expected. A recent article from the LA Times points towards consistent underinvestment which has led to degraded internet and TV services. Frontier has since been barraged by many complaints by dissatisfied customers leading it to actually stop adding customers until the issues are resolved.
Frontier will need to juggle its cash flow carefully
Frontier seriously needs to boost spending to improve its network reliability and get some top-line growth. Though, Frontier also needs to set aside cash for some upcoming debt maturities given its high leverage (debt to EBITDA above 4.4x).
$509 million in maturities are due in 2017 and $733 million are due in 2018. With $331 million of cash on hand, Frontier needs to generate around $911 million to address this debt. This seems doable given the current levels of cash flow, but Frontier is walking a thin line.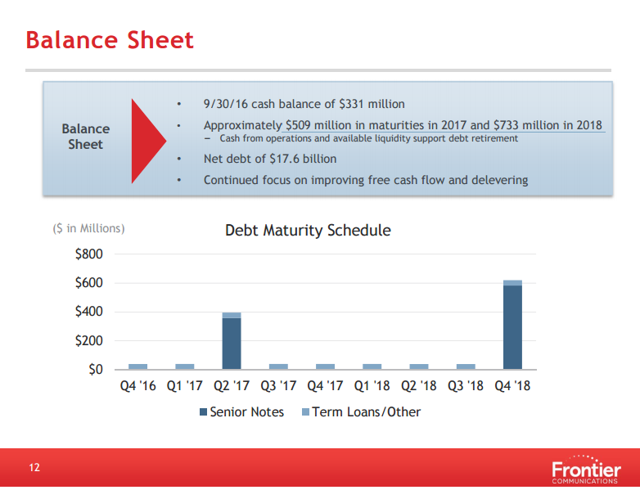 Conclusion
I cannot recommend Frontier over sector giants like AT&T (NYSE:T) and Verizon that offer lower, but healthier, yields in the 5% range, with better growth prospects to boot. The easy money on the short side has already been made - Frontier was overpriced when it was around $5 per share.
However, you are getting a 12% yield at current prices and thus I have started a small speculative position. The dividend seems okay for now, but may need to be cut if Frontier wants to boosts capex spending. Keep in mind that you are taking on a lot of risk by holding this name. But, the risk/reward here seems pretty balanced now. I will sell if Frontier yields under 10%.
Note: If you liked this article, please consider following me. It really helps a lot and will allow you to get more of my work even faster. Thank you.
Disclaimer: The opinions in this article are for informational purposes only and should not be construed as a recommendation to buy or sell the stocks mentioned. Please do your own due diligence before making any investment decision.
Disclosure: I am/we are long FTR, T.
I wrote this article myself, and it expresses my own opinions. I am not receiving compensation for it (other than from Seeking Alpha). I have no business relationship with any company whose stock is mentioned in this article.