Here's something you don't see every day: As Saudi Arabia and Iran hash out their differences, Iraq's foreign minister, Ibrahim al-Jaafari, said today that "Iraq should be allowed to increase oil production." The statement follows the reason because Iraq needs every dollar given that it's in a costly war with ISIS. Here's the issue: We think very little attention is paid to this, whether it's because the media doesn't understand it or people simply ignore this simple fact.
Here's a chart of Iraq's oil production: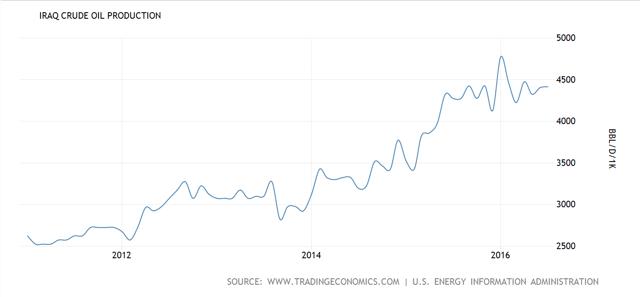 The production chart is nice and upward sloping. Well, here's a chart of Iraq's foreign reserves: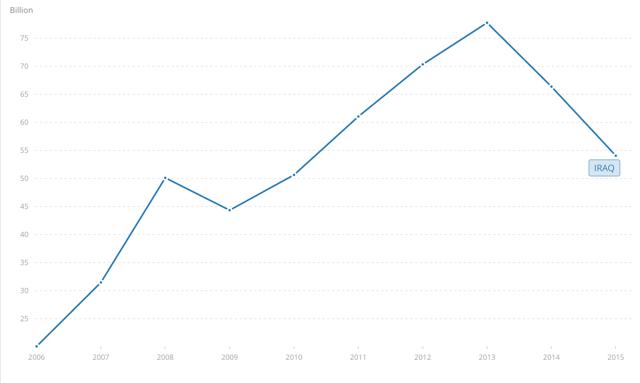 Despite growing production from 3 million b/d to close to 4.5 million b/d (a 50% increase), Iraq's foreign reserve continues to plummet and is already below $50 billion as of October of this year.
It doesn't take a rocket scientist to realize that growing oil production isn't the solution here. Oil prices are simply not high enough for Iraq to balance its budget, and growing production through short-term solutions like high-grading wells and forcing IOCs to take shortcuts for immediate cash flow are not solutions here. Someone really needs to teach Iraq how math works, because the only way to offset the revenue decline is if its production doubled.
The World Bank estimates that Iraq's deficit as a percentage of GDP is approximately 12% this year, and it was 13.5% last year. If oil prices continue to be around $50, Iraq's deficit won't be going away as budget cost cuts have already rippled through the country and citizens are protesting for a new government. For some reason, people seem to ignore the fact that this budget deficit won't be covered anytime soon, and Iraq will simply run out of money in five years. The current decline is approximately $7 billion a year, so if Iraq is to have any chance of surviving the oil downturn, it had better start cutting costs drastically or growing production to over 6 million b/d.
However, here's the ironic part: Incentives for the politicians are to stay in office for as long as possible, so budget cuts won't come nearly as fast due to fears of social backlash. Using this type of thinking and given current media reports, Iraq's only solution to filling this fiscal gap is to grow oil production. But how can they grow oil production without capex?
Here's some very simple math to think about:
Iraq produced 4.5 million b/d, and conventional production declines 4%-6% a year. So let's call it 5%.
4.5 million b/d x 5% = 225k b/d of natural decline each year.
Capital efficiency for conventional production is $30,000-$35,000. So, let's take $32,500. (Capital efficiency is the cost to replace 1 b/d of production.)
$32,500 x 225k b/d = $7.312 billion
That's the cost to just keep production flat!
Now, if it wants to grow production to 6 million b/d, it would need to produce 1.5 million b/d more.
1.5 million b/d x $32,500 = $48.750 billion
Notice how the cost of growing production to that amount equals the foreign reserve? See the issue now?
To put it more frankly, Iraq doesn't have the money to grow production, and it won't grow production because it doesn't have money. That's why Iraq is so desperate to see oil production go higher - because the current deficit implies that Iraq will completely be out of money by 2022. Obviously, the 50% higher oil production did very little to help the fiscal deficit, and it thinks it can grow more production to offset this deficit.
As we said in our weekly oil outlook, Iraq is like the adventurer stranded at sea. Drinking saltwater does not quench the thirst, and drinking more of it will make the thirst worse. That's exactly what Iraq is doing, and when reality sets in, Iraq will fold the terrible hand it was dealt and succumb to Saudi Arabia's demand. Reality hurts, and Iraq knows it's in a downward spiral.
Disclosure: I/we have no positions in any stocks mentioned, and no plans to initiate any positions within the next 72 hours.
I wrote this article myself, and it expresses my own opinions. I am not receiving compensation for it (other than from Seeking Alpha). I have no business relationship with any company whose stock is mentioned in this article.