GameStop (NYSE:GME) stock is down 39% over the past one year. Sentiment is highly negative. The bear case is as convincing as it is frightening. Investors are afraid that brick-and-mortar retail in general is doomed. Internet retail competition from the likes of Amazon (NASDAQ:AMZN) and others is said to be the death knell for physical retail.
Next, there are the fears that digital downloading will replace physical video games. Some analysts have linked GameStop to Blockbuster. Even the mere mention of Blockbuster is frightening for GameStop investors, considering the former's eventual bankruptcy.
The negative sentiment seems universal.
However, I'm still not convinced. I do not think physical retail will go the way of the buggy whip, nor do I think GameStop is the next Blockbuster.
The Next Blockbuster? Not So Fast
Drawing the conclusion that GameStop is the next Blockbuster seems like a natural connection, but I believe it is a misguided one. There are important differences between the two situations.
First, it should be noted that Blockbuster and GameStop were in two different businesses. The reason why Blockbuster went out of business is because Netflix (NASDAQ:NFLX) upended its core movie rental business with Internet streaming. Digital video game downloading is not quite the same thing.
For one, digital downloading of video games requires a high-speed Internet connection. Even so, it is a timely process to download complex games with long story lines and high-level graphics.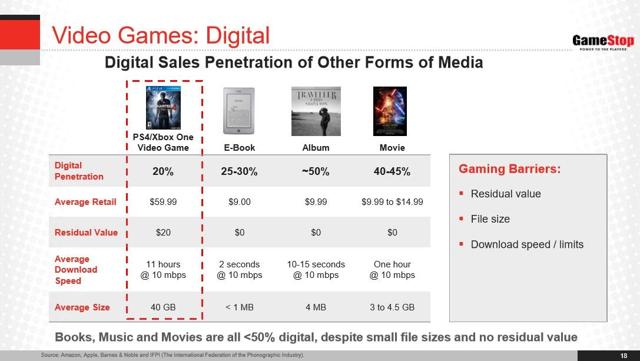 Video games are much larger files than movies. There are many parts of the country where it would be much quicker to go to a nearby GameStop store than to wait for downloads to get done. This is a much different consumer experience than streaming a move or television show on Netflix, which happens instantaneously.
Next, GameStop has a unique value proposition for its customers, which is the trade-in business. Yes, it is frustrating to trade in a video game and receive a fraction of what it costs. But this is how the company generates such high margins on that side of the business. And the fact remains that consumers continue to demand the ability to trade-in games, which is not possible with digital downloads.
To be sure, this does not mean GameStop is safe forever. Over time, it is likely that digital downloading could threaten physical gaming, if and when downloading times decline. But this is why management is aggressively repositioning the business model. By 2019, the company projects half of its annual profits will come from non-physical categories.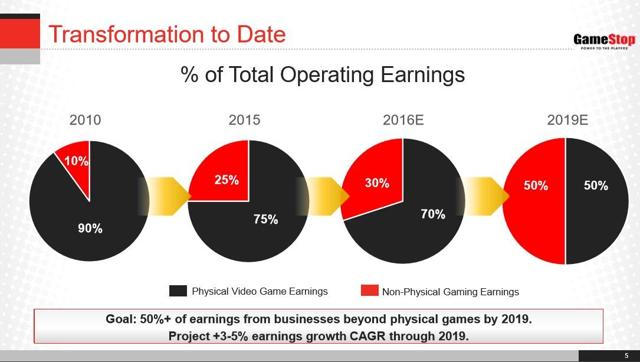 GameStop's Fundamentals Aren't as Bad as Feared
GameStop shares got hit hard when the company released its preliminary third-quarter earnings. The actual results more or less matched expectations. Same-store sales fell 6.5%, which brought net sales down 2.8%. On the surface, this seems to vindicate the bearish thesis. But I think there is more to this story.
Indeed, software sales fell 8.6% last quarter, but I believe this has much less to do with digital downloads and more to do with a lack of compelling new video game titles. Also, sales fell this year because the prospect of new Xbox (NASDAQ:MSFT), PlayStation (NYSE:SNE) and Nintendo (OTCPK:NTDOY) consoles set for next year impelled gamers to put off buying consoles. This drove a 21% decline in hardware sales.
GameStop's revenue and earnings per share should stabilize going forward, once the new consoles and related video game sales hit store shelves. And with regard to digital downloads, I don't believe digital should be viewed as a threat. They can actually help the company, because digital games carry much higher margins. For example, software gross margin last quarter was 24.3%; digital margin was 78.3%.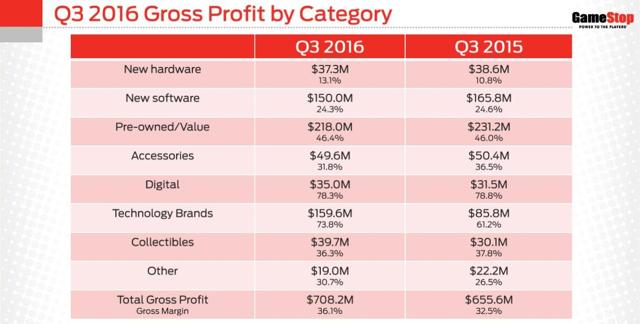 GameStop may not fully replace its lost software sales with digital sales, but it appears it won't have to, given the much higher margins. This is why the company's gross profit actually increased 8% last quarter to $708 million.
Final Thoughts
It is certainly frustrating to see a stock continue to decline. But those who understand GameStop's business model, competitive advantages and long-term strategy should be thankful for the market's short-term panicking.
The share price decline has created an excellent opportunity for value and income investors. GameStop is dirt-cheap, with a P/E of 6 and a 6% dividend yield.
The company's turnaround will take time, and investors will need to be patient. But the potential rewards are compelling. If GameStop's earnings stabilize, the stock could easily warrant a P/E of 10-12, based on management's full-year guidance of $3.65-3.80 per share. At the midpoint, a P/E of 10-12 would imply fair value of $37.25-44.70. That would generate as much as 85% return from the stock's November 22 closing price.
And the share price decline has elevated GameStop's dividend yield to over 6%. In a low-rate environment, that is a huge yield which should be sustainable, given the company's consistent profitability and growth outlook.
For these reasons, I recently added to my position in GME on November 22 for $23.46 per share.
Disclaimer: This article represents the opinion of the author, who is not a licensed financial advisor. This article is intended for informational and educational purposes only, and should not be construed as investment advice to any particular individual. Readers should perform their own due diligence before making any investment decisions.
Disclosure: I am/we are long GME.
I wrote this article myself, and it expresses my own opinions. I am not receiving compensation for it (other than from Seeking Alpha). I have no business relationship with any company whose stock is mentioned in this article.