In a highly-fragmented "arts and crafts" industry, Michaels Companies Inc (NASDAQ:MIK) is the largest, and the prospect of a steady quarterly dividend after the company pays down its debt may prove to be a profitable speculation for investors with long-term horizons.
At 10.65 EV/EBIT*, the company is currently cheap. And even though the balance sheet sports $2.8 billion in debt, market averseness to that debt creates an opportunity for investors who focus on the fact that Michaels generated $827 million EBITDA in 2015 and is historically "predictably profitable and predictably growing." Combined with the accretive acquisition of Lamrite in February and a constantly replenishing cash balance, EBITDA should continue to rise over time through acquisitions of smaller craft retailers, organic store growth, and increased efficiency within the company, notably through the utilization of newly-acquired wholesaler Darice.(* EV/EBIT calculation: $4.9 billion "market cap" + $2.8 billion "total debt" - $115 million "cash and equivalents" = $7,585 million "EV" ÷ $712 million "EBIT" = 10.65)
The real cherry on top however is the possibilities available to the company once debt has been decreased substantially, which judging by the strong cash flow, can be serviced within the next 5 years.(Calculation: $2.8 billion "total debt" ÷ $827 million 2015 "EBITDA" = 3.36 "years to completely service debt").
In my conservative projections, a buyer of Michaels' stock today at $24 can potentially net a 5% dividend in the future along with a 69% capital appreciation. The criteria for this to scenario to come to fruition is as follows:
1. Michaels paid an average interest expense of $210.4 million annually over the past 5 years. Taking that fact, let's now make a mathematically reasonable assumption: once the $210.4 million interest expense disappears because debt was paid off, Micahels would then generate at least $493 million net income per year, even without growing the business.
Calculation: $572 million "2015 income before tax" + $210.4 million "interest expense average over the past 5 years" = $782.4 million "adjusted income before tax" x 37% "5 year average tax rate" = $289.488 million "37% tax rate".
Here is the table I used to figure out the tax rate, for your reference:

So, $782.4 million "adjusted income before tax" - $289.488 million "37% tax rate" = $493 million "adjusted net income".
2. Now, if 50% of this adjusted net income is paid out as a dividend, that would be a 5% dividend yield, if you purchased stock at $24 per share.
Calculation: $493 million "adjusted net income" x 50% "payout rate" = $246.5 million "dividend payout" ÷ $4,933 million "current market cap" = 5% dividend yield.
Calculation 2, to cross-check: $246.5 million "dividend payout" ÷ 205.8 million "shares outstanding" = $1.20 "annual dividend per share" ÷ $24 "price per share" = 5% dividend yield.
3. The stock price would also deserve to rise once debt is paid off. Accounting for today's EBIT multiple of 10.65, the scenario I have described would end up implying a stock price of $40.49 per share, a 69% increase from the current $24 per share.
Calculation: $782.4 million "adjusted EBIT" (same as above's 'adjusted net income before tax', because there's no more interest payments) x 10.65 current EBIT multiple = $8,332.56 million "EV placeholder necessary to do this calculation" ÷ 205.8 million "shares outstanding" = $40.49 price per share.
Caveats
1. Of course, the company may simply choose not to pay a dividend. However, with already-deep market penetration and only debt stopping Michaels from issuing a dividend, it's hard to see what else Michaels would choose to do with the constantly replenishing cash balance once debt is paid off. The most logical course of action is to issue a quarterly dividend. Even if a series of buybacks or acquisitions precede the dividend, regular cash flow should eventually be returned to shareholders via dividend if management is worth their salt.
2. My calculations do not account for further company growth despite the high likelihood of it occurring. This is mostly due to blatant conservativeness (what could be more conservative than completely discounting growth?) and partly because it's likely to be an inaccurate calculation. The only guidance management gave in respect to the Lamrite acquisition is a top-line-accretive $200 million. You can do these calculations yourself, but it is difficult and unreasonably time-consuming considering there is already significant upside on the extinguishment of debt alone. Furthermore, the prospect of a 69% capital appreciation in share price and a potential 5% dividend to top it all off should present enough margin of safety to excite most investors without the urge to try and dig further. In another year, these calculations will be easier to make, but for now, I wouldn't see it as a sin to leave it alone.
Accounting for further growth would only make this investment idea more attractive, rather than sour it, which makes this point less of a caveat as it is an "increased margin for error" in terms of potential upside.
a. I believe my price target of $40.49 and estimates of a 5% dividend yield are fair and would still stand relevant in the face of numerous unforeseeable developments. In reality, a lower dividend payout percentage could still be offset by organic or bolt-on growth.
So in the end, I believe an end-game annual dividend payout of $246.5 million is reasonable, no matter how the company gets to that point, whether it's a 50% payout on $493 million net income or a 30% payout on $821.7 million (the latter would imply 66.7% increase in net income, or an average of 13.3% net income growth per year, which is feasible considering the company grew net income at an average rate of 26.05% over the past 5 years.)
3. Michaels' stock is held almost entirely by institutions. The stock price has declined from a peak of $31.37 in June to today's $24 per share. Institutions can cause the stock price to fluctuate greatly.
4. Only investors with long-term horizons can participate in this investment idea. Short term traders are likely to be exposed to volatility which they cannot withstand.
Company Overview For Unfamiliar Investors
Michaels operates a total of 1,356 arts and crafts retail stores which consist of 1,209 Michaels stores, 112 Aaron Brothers stores, and 35 Pat Catan's stores. Michaels also owns Darice, an international wholesaler.
Both Pat Catan's and Darice were part of the Lamrite West acquisition in February 2016, where Michaels paid $150 million in cash to acquire Lamrite. Michaels' management expects Lamrite to generate $200 million in revenues for the company in 2016.
In August 2016, Michaels acquired Hancock Fabrics' intellectual property and customer database for $1.3 million.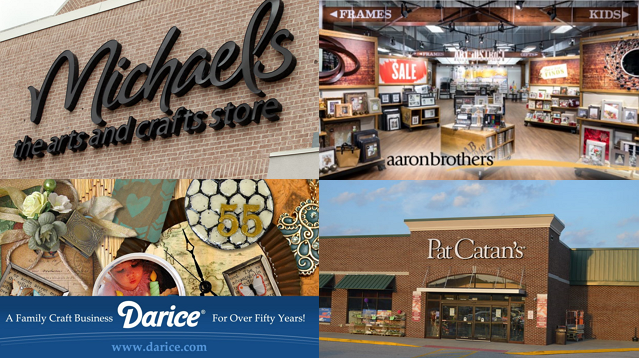 Michaels' all-cash acquisition spree this year is a testament to the company's robust cash flow generating capabilities. The company generated $827 million EBITDA in fiscal 2016 before the Lamrite acquisition. This ever-accumulating batch of dry powder can be used to acquire much smaller craft store chains, which are Michaels' only real competitors. (Big box retailers such as Wal-Mart and Target simply do not hold the same variety of inventory that Michaels and subsidiaries do, and according to Michaels' Q2'16 earnings call, big box retailers did not significantly promote their arts and crafts products, although smaller crafts competitors did.)
Below is a table highlighting Michaels' outstanding historical performance on the top and bottom line over the past 5 fiscal years.

Note: Michaels' fiscal year ends on the last Saturday of January.
Disclosure: I am/we are long MIK.
I wrote this article myself, and it expresses my own opinions. I am not receiving compensation for it (other than from Seeking Alpha). I have no business relationship with any company whose stock is mentioned in this article.