In the first part of this series, I gave some explanations why Vodafone (NASDAQ:VOD) shares performed so poorly in 2016. I also shared my concerns about the company's growing debt and questioned its capabilities to generate sufficient cash flow. Despite all the negatives, there are still good reasons to invest, particularly now that the stock tumbled, and the yield is high.
Vodafone's Dividend
The dividend is the main reason for me to invest in the telecom sector, and Vodafone is currently the highest-yielding telecom stock in my portfolio. Vodafone declares an interim dividend in November which is paid at the beginning of February, followed by the final dividend declared in June and paid in August. In FY16, the dividend for the ordinary shares was raised by 2% to 11.45 pence (3.68 pence interim and 7.77 pence final dividend).
Now that Vodafone reports and also declares dividends in Euros, the dividend was converted using the exchange rate of March 31, the end of Vodafone's FY16 (1 Euro = 1.2647£). Retrospectively, using this conversion rate was a good decision for shareholders, since the British pound tanked after the Brexit. The full-year FY16 dividend in pence was converted into 14.48 Euro cents (4.65 interim and 9.83 final). Vodafone has recently declared a new interim dividend of 4.74 Euro cents for FY17, a 1.9% increase compared to last year.
At today's exchange rates, the interim dividend corresponds to 4.98 US cents, and the final dividend should rise to 10.72 US cents (assuming another 1.9% increase). Because one Vodafone ADS represents ten ordinary shares, the annual FY17 dividend for VOD amounts to $1.57 (at current exchange rate).
Vodafone's Dividend compared to its US Peers
With the 1.9% dividend raise, Vodafone is in good company with AT&T (NYSE:T) and Verizon (NYSE:VZ). AT&T will very likely increase the quarterly dividend early next year from $0.48 to $0.49, and Verizon has just raised the dividend by 2.2%.
Needless to say that VOD performed worse than its US peers in the 52-week comparison. Although much of AT&T's and Verizon's gains from earlier in the year have disappeared, their shares have still outperformed VOD by more than 30%.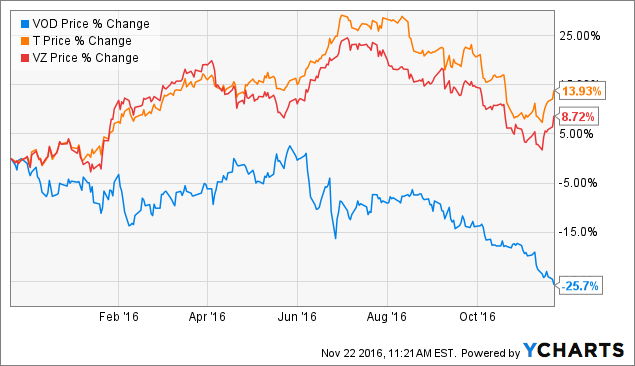 One consequence of VOD's tumble is that the yield spread between the three stocks has increased further.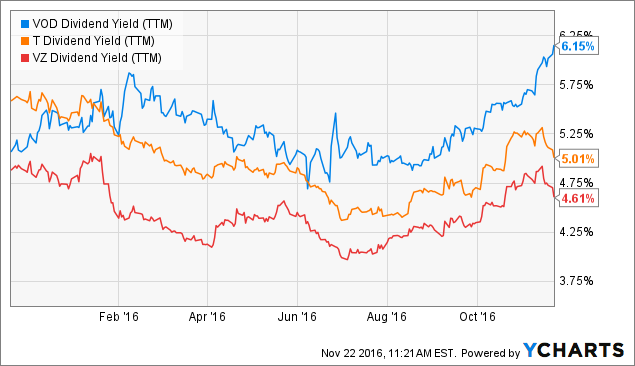 VOD Dividend Yield (NYSE:TTM) data by YCharts
Until the end of last year, AT&T had a clear yield advantage, but today Vodafone offers more than 100 base points more.
Dividend Sustainability
In the first part of the article, I have addressed Vodafone's issues, first of all cash generation. Net debt exploded between the end of FY14 and today. During this period, Vodafone spent many billions on acquisitions and for "Project Spring".
The timing of Vodafone's acquisitions and the multiples that were paid are debatable. The return on investment measured in additional cash flows has fallen below expectations. Nevertheless, I consider the strategy to expand the company's offering and to focus on bundles as a necessary move for a leading wireless provider. Vodafone's two big mistakes are that the company did not start with the acquisitions earlier, and that it distributed too much of the Verizon Wireless proceeds to shareholders.
Project Spring, the upgrade of Vodafone's wireless network, was a bare necessity, also because the company had neglected investments in the network's quality in the years before.
The consequence is that Vodafone has accumulated around €40B ($44B) in net debt again. Based on an expected EBITDA of €16B, the net debt/EBITDA ratio is now 2.5. This is not great, but a level which is still acceptable, particularly in comparison to its European and US peers.
There is no immediate danger for the dividend, and Vodafone remains committed to grow the dividend annually. Vodafone can be considered a Dividend Aristocrat with a history of growing the dividend (in British pounds and now in Euros) after the initiation of the first payment in 1999.
Cash Flow Improvements
After the completion of "Project Spring", capital expenditures fell to €4.0B in 1HY17 compared to €5.1B one year earlier. Lower investments, but also growing underlying EBITDA should become the driver for better cash generation in the future.
There is time for cautious optimism, since Vodafone seems to be on track to reach cash flow neutrality in the second half of FY17 for the first time since years. However, the system remains fragile, and a lot will depend on how much cash is required to keep the pace in the highly capital intensive industry. The costly upgrade to 5G is only a question of time, and investments in spectrum are required on a regular basis.
If Vodafone could reduce net debt by the end of FY17, it would be a good sign, not only for the dividend, but it could also increase investor's confidence and possibly become a catalyst for the share price.
Conclusion
Nobody seems to like telecom stocks any more, particularly European ones, therefore I consider Vodafone as an attractive contrarian investment opportunity. US investors additionally benefit from a strong dollar.
Today's losers are often tomorrow's winners, and Vodafone offers one of highest yields among all major telecom stocks. With a balance sheet more or less in line with the sector average, I do not see any immediate reason why the dividend should not be sustainable in the foreseeable future.
Disclaimer: Opinions expressed herein by the author are not an investment recommendation, any material in this article should be considered general information, and not relied on as a formal investment recommendation. Before making any investment decisions, investors should also use other sources of information, draw their own conclusions, and consider seeking advice from a broker or financial advisor.
Disclosure: I am/we are long VOD, T.
I wrote this article myself, and it expresses my own opinions. I am not receiving compensation for it (other than from Seeking Alpha). I have no business relationship with any company whose stock is mentioned in this article.