Post-election, yields on 30-year Treasury Bonds have risen almost a half-percentage point to 3 percent. There's no sugarcoating this move, as the surge in yields resulted in losses of 8 percent in just 10 days. Now an 8 percent move in a gold stock, or a tech stock or a commodity futures contract is not a big deal - in fact they happen on a daily time frame frequently. But an 8 percent move in the bond market over s short period of time is a big deal because they just don't happen that often.
Below is a daily chart of TNX, the CBOE 10-Year US Treasury Yield (all price charts courtesy of StockCharts.com). As you can see, the TNX bottomed in early July at 1.33% and began to climb for three months before moving above the 200 day simple moving average (sma) in October. It's noteworthy that for all of 2016 TNX has been below its 200sma. That move from the lows to the 200sma cross was a 30% increase in rates, not a small move by any standards. In fact, this move in yields is the largest weekly move since January 2009.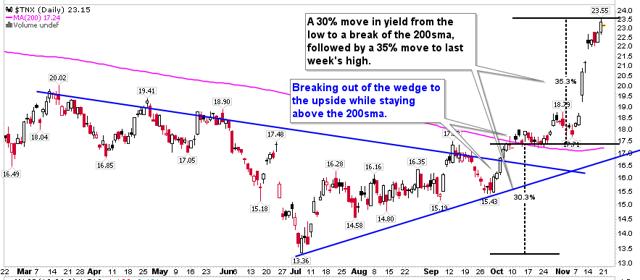 After crossing the 200sma and chopping for a month, yields took off again, ramping over 35% in just 8 days since the election. Remember that the prior 30% move took 3 months to lend some perspective on just how fast and aggressive these last 8 trading days have been. What does this move in interest rates mean in the real world? According to a Reuters story published on November 14, "Bank of America Merrill Lynch's Global Broad Market Index fell 1.18 percent this week, the steepest percentage drop since June 2015, which is equivalent to more than $1 trillion."
For rates to move higher, bond prices must move lower and that means that there are more sellers than buyers. We know that one of the largest holders of US Treasury Bonds, China, has been a seller for a while now: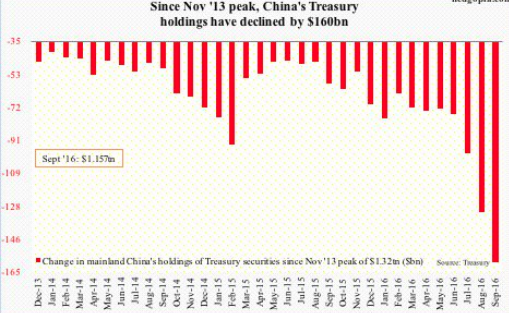 But China is not the only seller. As this table from ETC.com shows, 5 of the top 10 ETF outflows last week came from selling in bond ETFs: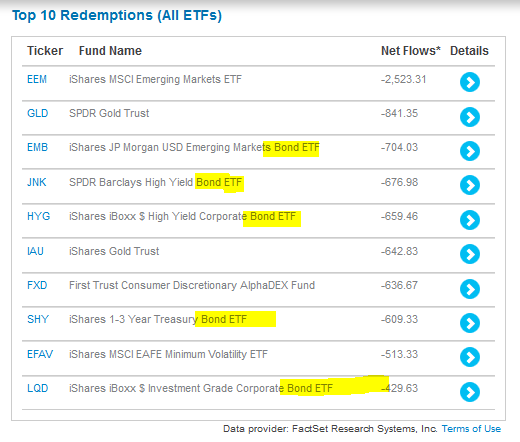 Getting back to the Reuters story mentioned above, note that it begins with this sentence: "Donald Trump's stunning victory for the White House may mark the long-awaited end to the more than 30-year-old bull run in bonds…." May mark the end of the long-awaited end to the bond bull is a pretty strong statement. But one thing I know is that to be a successful investor over the long run, you must adapt to the belief that you cannot predict the market. Now I am no bond trader, never have been and probably never will be, but I do have a pretty good grasp, after 30 years of experience, looking at charts and understanding what I am seeing.
Below is a monthly chart of the TNX 10-year yield going back to 1980. As you can see when we pull back from the shorter term daily chart we looked at above, the TNX appears to have double bottomed at lows in 2012 and 2016. Currently it has moved back over the 50sma and is approaching the 100sma, something that has only been marginally crossed over the past 35 years. My take on this chart is that until the TNX can first eclipse both the 100sma and the down trend line in place since 2008, it really hasn't broken out to the upside. And to really mark a reversal, I would expect to see TNX move above the down trend line that has been in place 1980.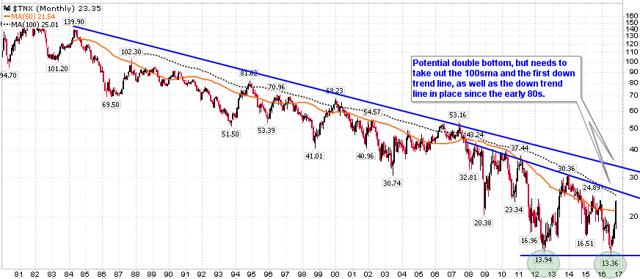 Switching from the 10-yield to the 30-year Treasury Bond (NYSE:USB), we can get another perspective on this move in rates. The USB has been in a bull market since the early 80s. As you can see, USB has been in a clearly defined channel, working its way from the low 40s to a high of 176, where it bumped up against the top of the channel. But as you look at this chart, you can also see that there have been 6 occasions where USB moved from the top of the channel to the bottom before reversing and heading higher again. And, as the dotted line shows, the 100sma has worked as support over the entire run.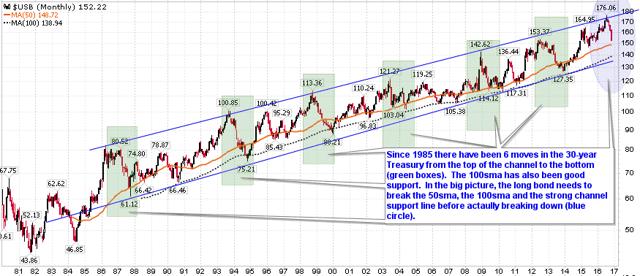 Why all this concern over a move in long term interest rates? Well, interest rates are important across the global economy. It's not just mortgages that are affected, but lending overall, from auto loans to student loans to corporate loans. Interest rates affect payback analysis for construction projects as well as the interest rate you pay on your credit card. Interest rates also affect the stock market, currency markets and the price of commodities. Obviously interest rates are key to most things economic and affect all investment portfolios in one way or another. But the question I ask myself when looking at long term interest rates is whether a trend change has occurred or is this move in price just another move from one side of a channel to another. Pundits will continue their arm waving and you will continue to see headlines about the bursting of the bond bubble. It could be true that the bubble has been popped and rates will soon be working their way back to levels we haven't seen for a long time. But it could also be that this move is just another correction in a bull market. Time will tell. It's important to your financial health to not try and predict the future, but to look at the evidence and understand what the market is saying.
Disclosure: I/we have no positions in any stocks mentioned, and no plans to initiate any positions within the next 72 hours.
I wrote this article myself, and it expresses my own opinions. I am not receiving compensation for it. I have no business relationship with any company whose stock is mentioned in this article.