Introduction
Valero Energy Corporation (NYSE: VLO) is a Fortune 500 international manufacturer of transportation fuels and other refined oil products. The company is headquartered in San Antonio, Texas but holds a total of 16 refineries capable of producing more than 3 million barrels per day of oil products. On top of this, the company has 10 ethanol plants producing 1.2 billion gallons per day and a 50 megawatt wind farm.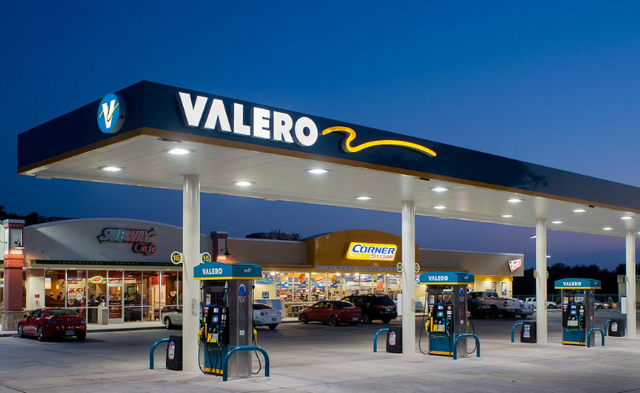 Valero, with a market cap of almost $30 billion, is one of the largest refining companies. However, the company has also had fairly strong performance since the start of the oil crash. Valero's stock price peaked at $55 per share in mid-2014 before dropping to less than $45 per share in late-2014 as the oil rut started. However, as investors realized the company's earnings would remain strong, its stock price increased to a peak of just under $73 per share in late-2015.
Currently, Valero's stock price of just under $65 per share is more than 15% above the company's pre-crash highs. On top of this increase in stock price, Valero has also continued to offer investors a strong dividend yield that is presently at 3.73% while trading at a P/E of just 13.59 or just over half the market average. As we will see through this article, despite this growth in stock price, Valero still has significant room to continue growth.
Valero Overview
Now that we have discussed Valero overall including the company's recent stock price performance, it is now time to begin with an overview of Valero.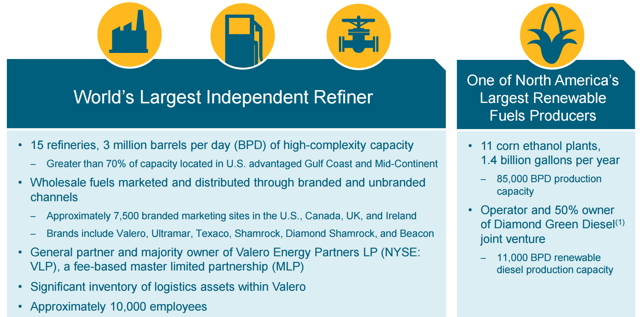 Valero Refinery Overview - Valero Investor Presentation
Valero is the world's largest independent refiner. The company's 15 refineries with 3 million barrels per day of high-complexity capacity is centralized along the Gulf Coast and Mid-Continent. This shows the strength of Valero's portfolio with the company locating its refiners near sources of demand allowing its profits to increase. On top of this, Valero is the majority of owner of Valero Energy Partners LP (NYSE: VP) a fee-based MLP valued at almost $3 billion.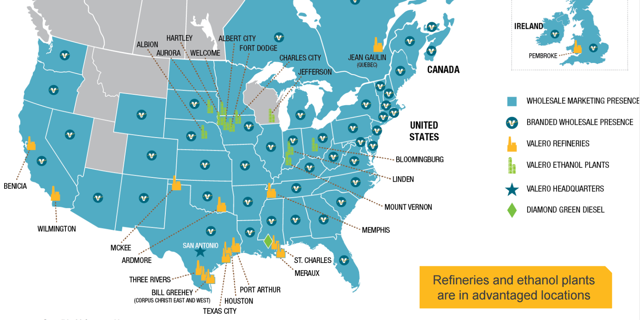 Valero Asset Distribution - Valero Investor Presentation
This next image provides an overview of Valero's refineries and ethanol plants along with the company's major wholesale presences. Take a look at where the major consumption locations of refined products are in the United States and elsewhere and match them up with the location of Valero's refined products. This will provide a better overview of the strength of Valero's portfolio.
As we can see, Valero has two major refineries located on the West Coast near the Bay Area and San Diego. With LA in between, there is almost 20 million people in this region making it one of the largest consumption areas of refined products in the United States. The rest of Valero's refiners are located on the Gulf Coast or in the lower midwest United States near major shipping centers of oil along with major production centers of oil in the United States.
Looking at Valero's ethanol plants, we see that the majority of these are located in the American midwest, the largest source of corn production in the United States. By locating Valero's ethanol plants near the source, this lowers Valero's costs to produce these materials. Lastly are Valero's wholesale locations which are spread throughout the United States in major production centers.
Overall, this shows Valero's incredibly strong position in the American oil industry.
Current Macro Environment
Now that we have an overview of Valero, it is now time to discuss the macro environment Valero faces. Despite the company's strong performance from the start of the crash, it is still affected by the overall oil markets.

Oil Market Overview - Valero Investor Presentation
Valero anticipates that the oil markets will continue to remain oversupplied. There will continue to be large amounts of crude oil and especially natural gas flowing into the markets. This oversupply, at least in the immediate term, should help to keep oil prices low. Low oil prices will encourage people to purchase more gas-guzzling cars and be less careful with their gas and natural gas usage increasing petroleum demand.
In terms of marketed demand, on top of this growth from lower price products, the worldwide GDP is expected to continue growing. Major markets with a rapidly growing GDP such as India or China should see their car usage increase. This should help demand for Valero's products increase, increasing the refining spread, and therefore Valero's earnings.
As a result, we can see from our overview of the current macro environment, that Valero is currently in a strong market environment.
Valero Capital Allocation
Now that we have an overview of Valero along with the strong macro environment that the company currently operates in, it is now time to discuss how Valero has been allocating capital.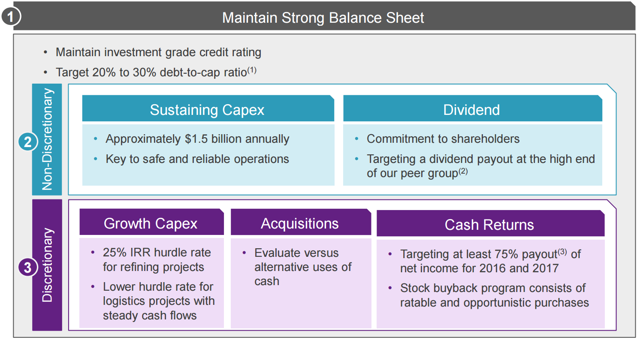 Valero Balance Sheet Management - Valero Investor Presentation
Valero's present focus is to maintain a strong balance sheet holding onto an investment grade credit rating while targeting a 20-30% debt-to-cap ratio. Given that this is the ratio normally held by the top oil majors in terms of the maximum amount of debt they are comfortable with, Valero has the financial strength of an oil major.
On top of maintaining this financial strength, Valero is continuing to invest in growing its business. The company needs to spend $1.5 billion annually to sustain its current assets. By spending this money rather than deferring it, Valero is reducing the chance of accidents. However, the company is also spending on growth projects with an enormous 25% IRR hurdle rate. This should allow the company to generate increase future strong returns.
Valero is also planning on rewarding investors for sticking to the company. The company is targeting a 75% payout of net income to investors from 2016 to 2017. This will be paid out through a combination of dividends and share buybacks helping to reduce the company's future dividend costs. This will also increase the company's EPS helping the company's share price to increase in the future.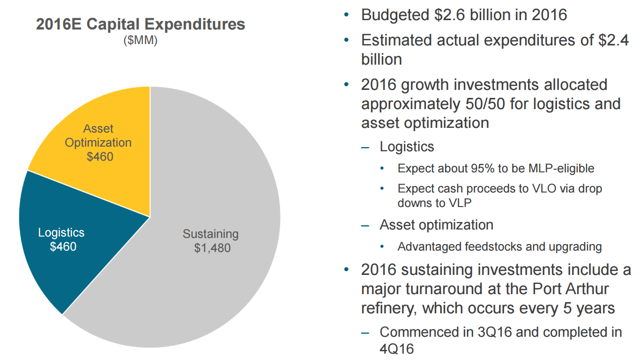 Valero Capital Expenditures - Valero Investor Presentation
Now that we have discussed Valero's overall capital allocation goals, it is now time to finish up by discussing the company's specific 2016 capital expenditure goals. Valero plans on spending a total of $2.4 billion in 2016 ($2.6 billion budgeted) equivalent to almost 10% of the company's market cap. As we saw above, ~$1.5 billion of this is needed as sustaining capex, which the company takes strong pride in to maintain its assets in tip-top shape.
However, on top of this, the company is planning on spending almost another $1 billion in growth investments split roughly 50/50 between logistics and asset optimizations. Roughly $0.5 billion of these investments are eligible to be dropped down to the company's MLP providing Valero with immediate cash returns. However, the company also plans on spending another $0.5 billion on asset optimization.
Taking the company's own 25% IRR hurdle for investments, this growth can be expected to generate the company $hundreds of millions, which will reward investors over the long run.
Conclusion
Valero, and refiners in general, is one of the few companies that has done surprisingly well since the oil crash started. The company has managed to continue rewarding investors as its stock price has continued to grow. And on top of this growth, Valero has exciting prospects for the future.
Valero has a P/E ratio of <15, which in the present market environment with an average P/E ratio in the mid-20s, is an astoundingly cheap investment. The company continues to provide investors with a dividend of approximately 3.5% while buying back stock. These stock repurchases allows the company's EPS to continue growing, providing investors with stronger future returns.
As a result, we can see that Valero is the king of refiners and a strong investor at the present time.
Disclosure: I am/we are long VLO.
I wrote this article myself, and it expresses my own opinions. I am not receiving compensation for it (other than from Seeking Alpha). I have no business relationship with any company whose stock is mentioned in this article.