5 Gold Explorers to Put on Your Radar for 2017
Part of my gold investing strategy for 2017 will be to locate and buy shares of high-potential gold exploration stocks, which give investors big leverage to the price of gold. When chosen correctly, these stocks can produce returns that exceed not only the price of gold (NYSEARCA:GLD), but also the benchmark gold miners index (NYSEARCA:GDX), the junior gold miners index (NYSEARCA:GDXJ), and the global X gold explorers ETF (NYSEARCA:GLDX).
Gold explorers are part of the reason my real-life gold portfolio has outperformed the indexes this year. For example, NuLegacy Gold (OTCQX:NULGF) is one gold exploration stock that makes up close to 5% of my total holdings; year-to-date, the stock has returned 166%, but at one point, shares were up over 400%, outperforming all indexes (I bought shares at $.15 and then sold part of the position at over $.30 just a few months later, and now hold the remaining position). Another example is Orca Gold (OTCPK:CANWF), which makes up about 2% of my portfolio; the stock is up 157% year-to-date, compared to a 74.58% gain in the GDXJ. (I am still long and bullish on both tho
However, I should note that while gold explorers can produce pretty big returns, the risk is very large, too. Gold explorers are not producing any cash flow from operations, so they must issue new equity to continue operating, and there's no guarantee they will be able to do so. There's also no guarantee their gold deposits will turn out to be worth anything - maybe there is less gold in the ground then management believed, or the grades turn out to be much lower than anticipated. Or perhaps the company does not receive operating permits for the project. The investment could go bust for several reasons, so I think it's important to be aware of the risks and only invest money you are willing to lose. Personally, that means less than 20% to 30% of my total gold holdings.
Here are five gold exploration stocks I think investors need to put on their radar for 2017.
#5 Balmoral Resources (OTCQX:BALMF)
I previously listed Balmoral Resources as one of three gold explorers investors should put on their radar back in September. As a reminder, Balmoral's 100% owned Martiniere gold deposit is located on the Detour Trend in the Abitibi region of Quebec, just 45 kilometers east of the 15+ million ounce Detour Lake mine operated by Detour (OTCPK:DRGDF) and close to Hecla Mining's (NYSE:HL) Casa Berardi gold mine. Martiniere contains three near-surfact gold deposits: Bug North, Bug South and Martiniere West.
Drill results have been exceptional at the Bug North deposit, as past drilling has returned results of 273 g/t over 3.88 meters, 35.15 g/t over 4.15 meters, and 19.55 g/t over 44.45 meters. But the company just recently announced new drilling at Bug North which grabbed my attention.
Balmoral says that the latest gold intercepts are the deepest intercepted to date and increase the vertical extent of Bug North by 140 meters, or by 36%. Drills included 48.55 meters of 1.07 g/t gold, while two higher grade sections returned 1.57 meters grading 6.66 g/t gold and 6.43 meters grading 4.36 g/t gold, including 1.50 meters grading 10.75 g/t gold. These aren't the highest-grade drills from Balmoral, however, they confirm that the deposits remains open for further expansion.
Drilling is ongoing at Martiniere as Balmoral has committed $4 million in exploration with this drill program; meanwhile, nine drill holes are still pending at new targets located near the Bug Lake Trend and West Zone. With over $13 million in working capital, the company is well-funded and should not have to issue equity until at least mid-2017. Meanwhile, insiders and management have skin in the game, as they own 5% of the company.
For these reasons, I think Balmoral is set to outperform in 2017.
#4 Sandspring (OTCPK:SSPXF)
Sandspring is a gold explorer but holds the most advanced project on this list. A total of 180,000 meters of drilling has been completed to date at its 100%-owned, 6.9 million ounce Toroparu gold project in Guyana; feasibility study work is underway at the deposit.
According to a pre-feasibility study, the mine is projected to produce 228,000 ounces of gold annually over an initial 16-year mine life (and 246,000 ounces of gold over the first four years). Using a gold price of $1,200 per ounce, it carries a net-present value (5% discount) of $384 million (after-tax) and an internal rate of return of 16.1%. While pre-production capital is high at $464 million, the company has secured 30% of the financing, or $135 million, in from Silver Wheaton (NYSE:SLW), which bought a 10% gold stream and 50% silver stream on all metals produced at Toroparu.
This streaming transaction with Silver Wheaton was a game-changer in my opinion, as I see the deal as a major third-party validation of Toroparu. While it reduces Sandspring's expected cash flow and earnings over the life of mine, it also reduces Sandspring's capital requirements by 30% and enhances the project's overall economics, as you'll see below.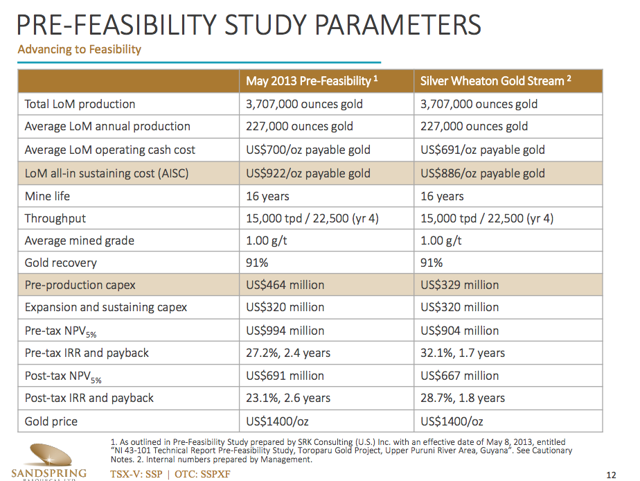 (Credit: Sandspring Resources)
Sandspring also released some pretty good news recently when it announced new high-grade drill results at the Sona Hill prospect. This is a high-grade satellite gold deposit that is located just 5 kilometers southeast from the 6.9 million ounce Toroparu deposit. Highlights of the drill results include 30.4 meters of 3.56 g/t gold, including 9.4 meters of 9.85 g/t gold, and 6 meters of 5.91 g/t gold, including 1.5 meters of 14.1 g/t gold.
These results are very encouraging because a high-grade resource at Sona Hill could add production and enhance Toroparu's project economics, with higher and potentially lower-cost production. A 7,000-meter infill drilling program in 75 diamond drill holes will be completed at Sona Hill, with the goal of an initial resource estimate next year.
With $8.3 million in working capital, the company is well funded and has no immediate needs to raise money. Insiders of Sandspring own 15% of the company, which is a very positive sign. With a market cap of just $35 million, I think the stock looks undervalued here and should be bought by investors seeking leverage to gold prices.
#3 Treasury Metals (OTC:TSRMF)
Treasury Metals is focused on developing its 100%-owned Goliath gold project in Northwestern Ontario, Canada. A new resource estimate gives the deposit 1.16 million ounces of gold in measured and indicated resources, plus 341,300 ounces in inferred resources, at average grades of 2.8 g/t.
The mine is expected to produce 80,000 ounces of gold equivalent annually at cash costs under C$700 per ounce and all-in sustaining costs between C$800 - C$950 per ounce; initial capital requirements are also expected to be very low, at C$92.5 million, according to the preliminary economic assessment, given the deposits proximity to excellent infrastructure, including power lines, highways and a local workforce.
Recent drilling at Goliath was successful, as Treasury intersected high-grade, visible gold at its infill drilling program, which focuses on converted underground "Inferred" resources to the higher confidence "Indicated" category. Results included 7.99 g/t Au and 4.48 g/t Ag over a sample length of 7.25 meters, including 14.61 g/t Au and 6.21 g/t Ag over 3.79 meters.
(Credit: Treasury Metals)
I'm a fan of Treasury Metals also because of the company's undervaluation compared to peers. You can above see that similar companies with producing mines are trading at valuations several times higher than Treasury. For example, Atlantic Gold, which is in the construction phase, is projected to produce 87,000 ounces of gold annually, but trades at a P/NAV of .48X, compared to Treasury, which trades at .34X.
Once in production, it's possible Treasury could command a valuation similar to Richmont Mines (NYSEMKT:RIC), which is producing 92,000 ounces of gold annually, but carries a market cap of C$650 million (compared to Treasury's C$62 million) and trades at a P/NAV of 1.45X. The stock would more than triple from current levels to reach that valuation, which I think shows you the upside of shares here.
Meanwhile, insiders own approximately 15% of the company, according to Treasury's corporate presentation, which I think is a major vote of confidence in the company. Treasury Metals has huge upside in my opinion and is well-deserving of a spot on this list.
#2 SilverCrest Metals (OTC:SVCMF)
SilverCrest Metals is a name that may sound familiar. That's because the company was formed following the acquisition of SilverCrest Mines by First Majestic Silver (NYSE:AG). Shareholders of SilverCrest Mines received new shares of the company, which holds the Las Chispas, Cruz de Mayo, Angel de Plata, Huasabas and Estacion Llano exploration properties located in northern Mexico, plus First Majestic's Guadalupe property in Durango, Mexico.
However, SilverCrest's main focus is at Las Chispas and the historical Valera mine located nearby, and it's clear why. Recent drill results returned "bonanza" grades of up to 40.9 gpt gold and 610.0 gpt silver, or 3,677.5 gpt silver equivalent over 0.3 meters. Drilling results released in September also returned high grades of up to 822.2 gpt silver equivalent. A phase 2 surface and underground drilling program is commencing this month; the company just announced a C$10 million bought deal financing at C$2.20 per share, and net proceeds will mainly be used to continue Phase II of the exploration program at this deposit. Therefore, SilverCrest has the cash it needs to keep exploring this property.
Drilling assay results, including various sampling assay results are being compiled and incorporated into a maiden resource estimate for the Las Chispas project in late Q2 2017. I expect a positive resource estimate given the drilling success achieved to date, and I expect management to release a more detailed plan for Las Chispas at that time.
Meanwhile, insiders have significant amount of skin in the game as they own 14% of the shares outstanding. Management has an outstanding, proven track record, as this is the same team that built SilverCrest Mines into a $150+ million company before it was bought out by First Majestic at a big premium.
This could be another company that gets bought out at a premium by a mid-tier silver or gold producer in the future. I'm certainly willing to bet on this management team and its track record. For these reasons, I think this is a gold/silver explorer that needs to be on your radar.
#1 Pure Gold (OTC:LRTNF)
Last but not least is Pure Gold, which owns 100% of the Madsen Project, located in Red Lake, Ontario, a prolific mining jurisdiction that has seen more than 28 million ounces of gold produced to date. Nearby mines include Goldcorp's (NYSE:GG) Red Lake, Campbell and Cochenour mines.
Madsen is one of the high-grade undeveloped gold projects in the world, with mineral resources of over 1.2 million ounces at grades north of 10 g/t gold. This is a past-producing mine, and it contains $200+ million worth of permitted mine infrastructure (according to management's estimates), so the project could not be located in a better place. Historical production at Madsen is 2.5 million ounces of gold, with grades of 9.9 g/t.
Pure Gold is aggressively exploring Madsen with four drill rigs active on the property. Recent drill results at Madsen include high-grade intercepts of 76 g/t gold over 2.1 meters at Russet South, and 25.4 g/t gold over 8 meters at a new target at Madsen. Three of the four drill rigs are currently focusing on the McVeigh and Austin horizons, where recent drills returned grades up to 41.3 g/t gold at Austin and 67.5 g/t gold at McVeigh.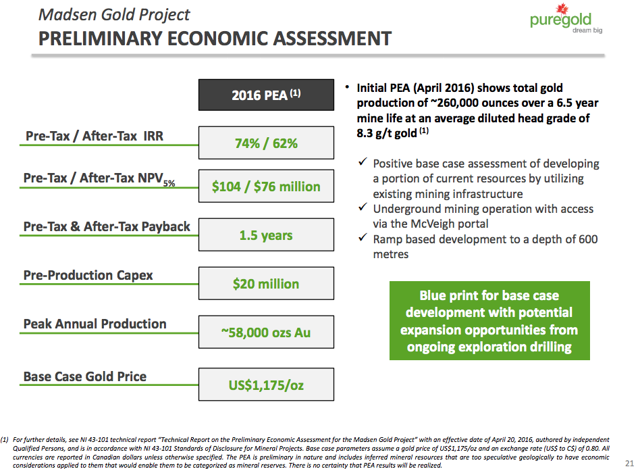 (Credit: Pure Gold Mining)
A preliminary economic assessment was released in April of 2016, but uses a very conservative gold price of $1,175 per ounce and only figures in a portion of the current resources (the PEA only uses 260,000 ounces of the 1.2 million ounce resource).
Still, the PEA gives the project a pre-tax net present value (5% discount) of $104 million, with just $20 million in pre-production capital required (given the existing infrastructure owned by Pure Gold). With an updated PEA using more current gold prices and a larger resource base, I expect much higher values for this project.
Meanwhile, management as insiders own 4.5% of the company. This isn't as much as the other stocks mentioned here, however, should note that major gold producer AngloGold Ashanti (NYSE:AU) also owns 12% of Pure Gold.
I'm bullish on the long-term prospects of Pure Gold, as I expect this gold explorer to draw considerable amount of interest from gold producers, including AngloGold Ashanti and the nearby producing Goldcorp. The location and exploration upside of this project is exceptional, and Pure Gold's ownership of mining infrastructure is a huge bonus. I expect the stock to outperform peers as a result.
Disclosure: I am/we are long NULGF, CANWF, SLW.
I wrote this article myself, and it expresses my own opinions. I am not receiving compensation for it (other than from Seeking Alpha). I have no business relationship with any company whose stock is mentioned in this article.
Editor's Note: This article covers one or more stocks trading at less than $1 per share and/or with less than a $100 million market cap. Please be aware of the risks associated with these stocks.