One of the primary themes that has supposedly been driving the U.S. stock market higher since the outcome of the U.S. presidential election was determined as the notion of corporate tax reform. Under this policy shift that is expected once the new administration has taken office, corporate tax rates are expected to be cut from 35% to 15%. In addition, a corporate repatriation holiday at a special 10% tax rate has also been rumored. With these expected policy changes in mind, it is worthwhile to consider exactly what companies are likely to be most influenced by this policy change along with the potential impact on the broader market.
An estimated $1.4 trillion in overseas profits are believed to potentially benefit most from any future corporate tax holiday legislation. This is a potentially enormous injection of money coming back into the U.S. economy.
But as discussed in a recent article, a key point is worth remembering when it comes to profit repatriation if past precedent is any guide.
Put simply, it is unlikely that the overseas profits that would come back to the United States would be used for capital expenditures. Instead, the vast majority of this money would likely be used by individual companies to fund dividends and share buybacks. The only exception would be if any future legislation included qualifications that required the repatriated profits to be used for additions to property, plant and equipment or activities related to infrastructure. Of course, adding such qualifications likely would meaningfully discourage the total amount of profits that would actually be repatriated.
Recognizing that the benefits of repatriation will most likely be concentrated almost exclusively within the companies that are bringing back their profits from overseas, it is worthwhile to consider the following.
What are the companies that are set to bring back the lion's share of the $1.4 trillion in profits parked overseas?
How have these companies reacted since the outcome of the U.S. presidential election was determined before the market open on Wednesday, November 8.
What upside, if any, can we expect from these companies going forward from here?
The Repatriates
The following are the ten companies that are estimated to have the most in profits parked overseas:
Apple (NASDAQ:AAPL) - $181 billion
General Electric (NYSE:GE) - $119 billion
Microsoft (NASDAQ:MSFT) - $108 billion
Pfizer (NYSE:PFE) - $74 billion
IBM (NYSE:IBM) - $61 billion
Merck (NYSE:MRK) - $60 billion
Johnson & Johnson (NYSE:JNJ) - $53 billion
Cisco Systems (NASDAQ:CSCO) - $53 billion
Exxon Mobil (NYSE:XOM) - $51 billion
Alphabet (NASDAQ:GOOG) (NASDAQ:GOOGL) - $47 billion
Putting this all together, nearly 60% of the estimated $1.4 trillion in money expected to be targeted for repatriation is concentrated in these ten companies. It's worth noting that another 26% comes from the ten next companies on the list, which highlights how concentrated this corporate profit repatriation activity will potentially be if corporate tax reform legislation does come to pass.
So how have these companies performed since the election outcome was determined? Relative to the S&P 500 Index (NYSEARCA:SPY), the results have actually been rather poor.
Only two of the top ten repatriates - General Electric and IBM - can be considered winners thus far since the election. But given that General Electric's effective tax rate is already so low, one has to wonder whether GE's strong post-election performance may instead be driven by expectations about potential infrastructure stimulus. (And if recent indications have any merit, that stimulus may end up turning out A LOT less than the $1 trillion amount analysts were throwing around immediately after the election. It turns out that if infrastructure projects are not actually ready to be done, it's difficult to spend government money on them. So figure that the market didn't consider this during its recent surge higher, but I suspect this won't be the last item the market turned out to get WAY ahead of itself in the post-election period).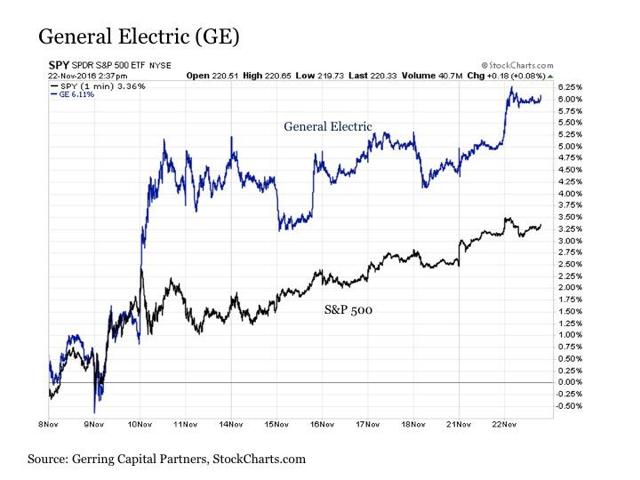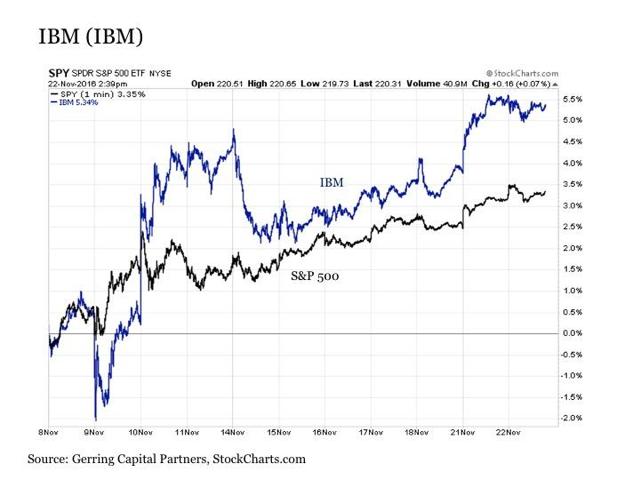 Two other companies on the list - Pfizer and Merck, exploded out of the gates, only to fade back to earth. But their initial gains were almost exclusively driven not by potential profit repatriation but instead by the sudden post-election notion that the scrutiny on drug pricing was likely to be considerably less under the new administration. Of course, it appears that the market may have since come to the realization that the major branded pharmaceutical companies were never likely to be the primary target for drug pricing challenges anyway, as this heat was set up to be more directed at the generic providers.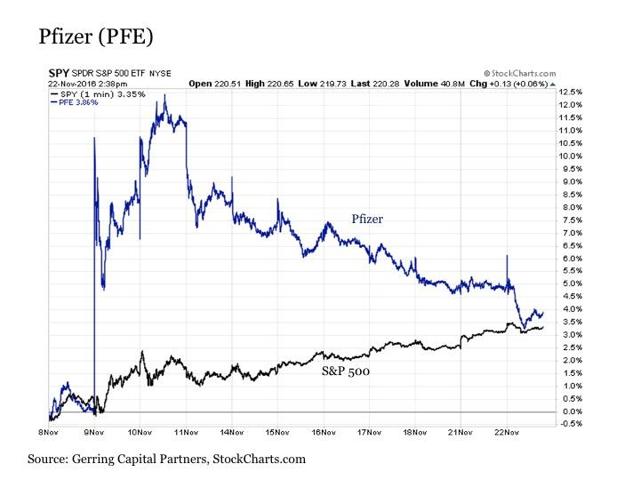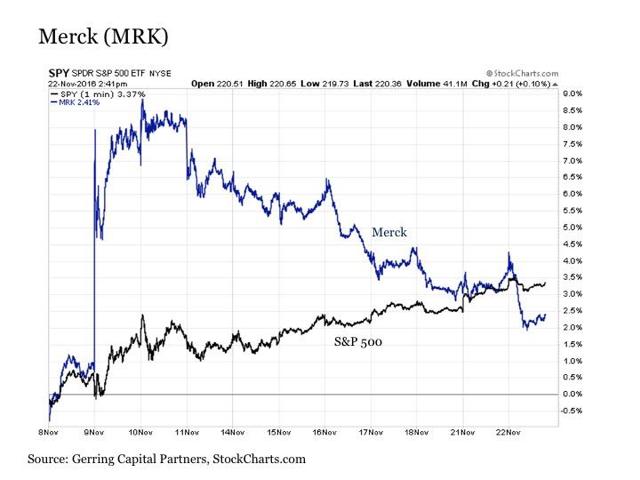 As for the other six, they have all trailed the market to varying degrees. Johnson & Johnson was hardly even able to join its health care counterparts to the upside in the initial post-election euphoria, as it has been trending steadily lower ever since.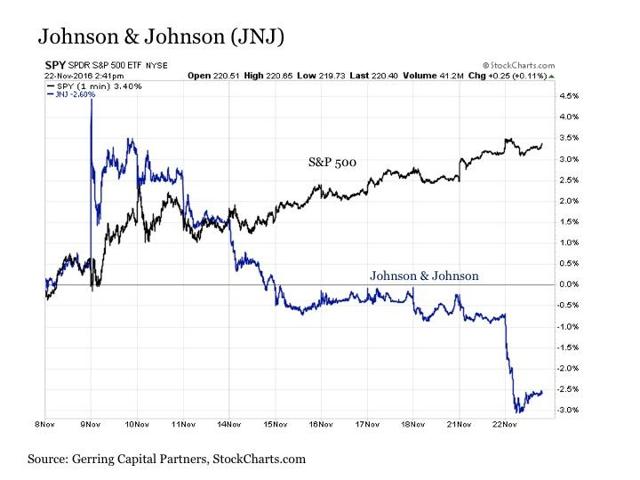 Cisco Systems had at least been tracking with the market until their latest quarterly report disappointed expectations.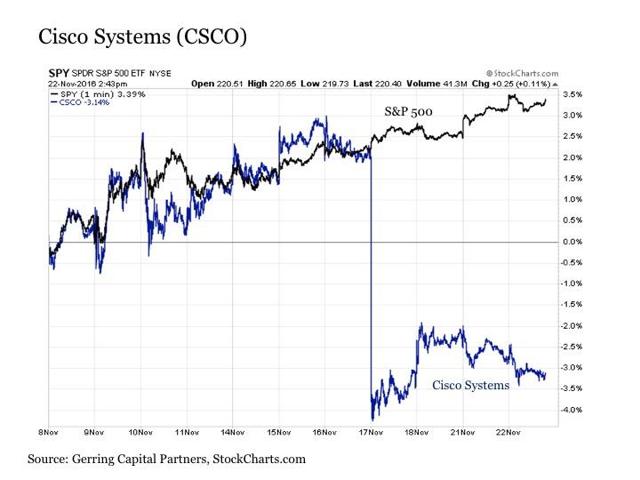 Exxon Mobil has also been moving generally with the market with greater price volatility, but these moves are much more correlated with the swings in oil prices than any reaction to potential profit repatriation.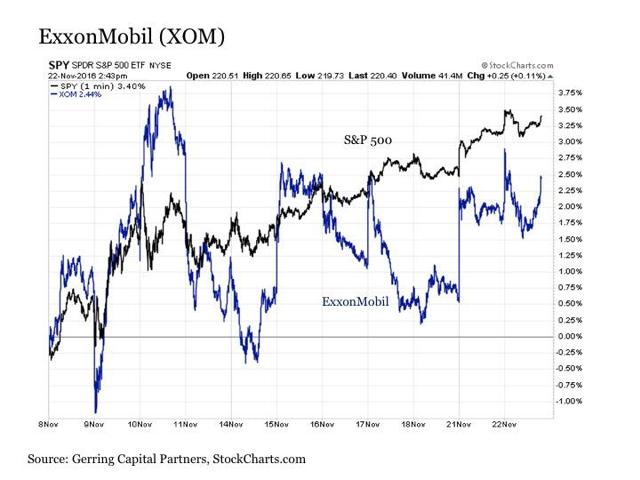 Then there has been the performance of the three tech giants in Apple, Microsoft and Google that rank first, third and tenth on the list, respectively, and combined make up 25% of the entire profit repatriation pool. Put simply, these are the companies whose investors one might reasonably expect to be most excited by the prospects of a tax holiday. But instead, each of these three stocks moved steadily lower for the first five trading days after the election and have been working their way back to varying degrees in the days since.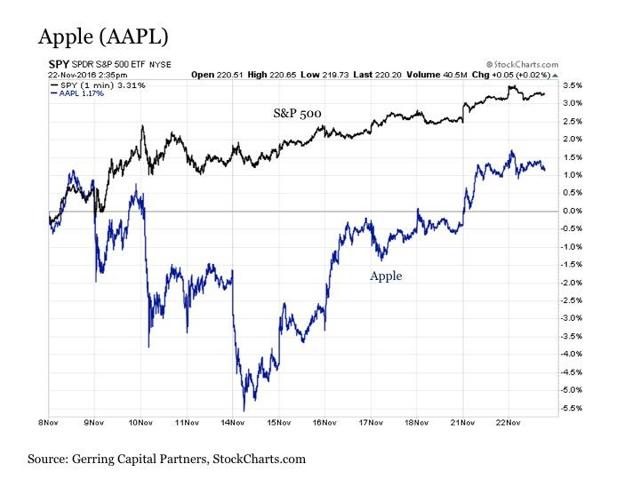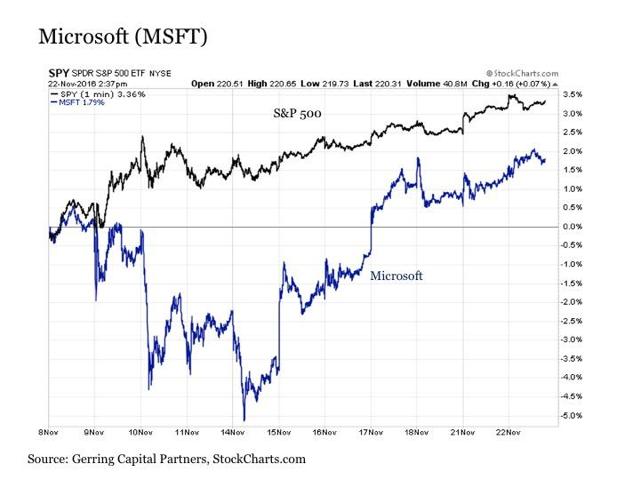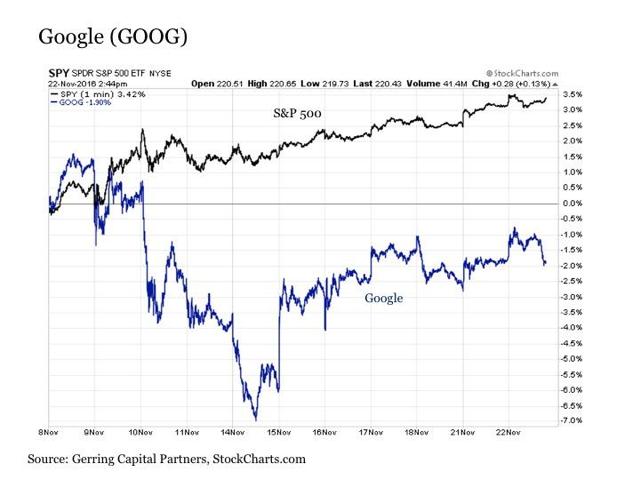 The Bottom Line
So what is the key takeaway here? We have heard a lot of talk in the financial media and from analysts that one of the reasons to be excited about the prospects for the stock market going forward is the flood of profits that are expected to be repatriated from overseas, thanks to corporate tax reform. But past repatriation holidays have shown and the corporate activities since the financial crisis have convincingly reinforced that any profits that are repatriated are not likely to get spread around into the economy, but instead are likely to flow toward dividends and share buybacks. In short, only the companies that are doing the repatriation are likely to benefit from the tax holiday.
But when focusing on the stocks of the companies that are likely to benefit most, virtually no evidence can be found that investors are even thinking about pricing in any potential upside from such future policy changes. And in a market that seems to reactively price in just about everything and more before it has even an inkling of confirmation that government officials that have not yet even been appointed much less selected will begin to explore such policies, the fact that we are seeing essentially no direct reaction from the most direct beneficiaries of corporate tax reform is highly notable.
All of this leads to two important points. First, while the financial media and analysts may be saying stocks are going higher because of expectations about a future policy change such as the repatriation of profits resulting from corporate tax reform, it does not mean that stocks are actually going higher for this reason. Second, in areas where the market is currently going higher in anticipation of a future policy change such as infrastructure or any other number of dreams that analysts are suddenly believing will come true, this has set up these same areas of the market for potential future downside risk once any future policy solution, if it is ever actually pursued, inevitably ends up being much different in reality sometime in the future.
So be careful when chasing dreams of future policy under a new administration such as profit repatriation. For any potential upside may ultimately prove to be nothing more than a mirage at the end of the day.
Disclosure: This article is for information purposes only. There are risks involved with investing including loss of principal. Gerring Capital Partners makes no explicit or implicit guarantee with respect to performance or the outcome of any investment or projections made. There is no guarantee that the goals of the strategies discussed by Gerring Capital Partners will be met.
Disclosure: I am/we are long PFE,MRK.
I wrote this article myself, and it expresses my own opinions. I am not receiving compensation for it (other than from Seeking Alpha). I have no business relationship with any company whose stock is mentioned in this article.