Introduction
I recently launched a Silver Miners Portfolio service and committed a significant amount of time to evaluating various silver mining companies. As part of my research I decided to review the prospects for the zinc price since zinc is a significant byproduct for many silver miners. In this article I take a detailed look at the zinc market and formulate a price outlook.
Usage & Demand
This infographic from Visual Capitalist provides a nice way to quickly digest the broader zinc industry. Some of the facts below were taken from it.
Zinc is the 4th most used metal behind iron, aluminum, and copper.
Zinc is widely used as an anticorrosive coating to galvanize steel. In China, more than 56% of the zinc consumed is used for galvanizing steel for infrastructure, property construction, and car production.
Zinc is used in alloys. It is combined with copper to make brass. It is also combined with other metals to make alloys for automotive, electrical, and household materials.
Zinc is used in the production of zinc oxide, which is used in rubber manufacturing and as a protective skin ointment.
Zinc is still a prominent metal used in batteries. Zinc is one of the two main ingredients used in alkaline batteries.
Like silver, zinc has a multiplicity of industrial uses and demand is highly correlated with global industrial production and gross domestic product ("GDP") growth, as the following two charts show: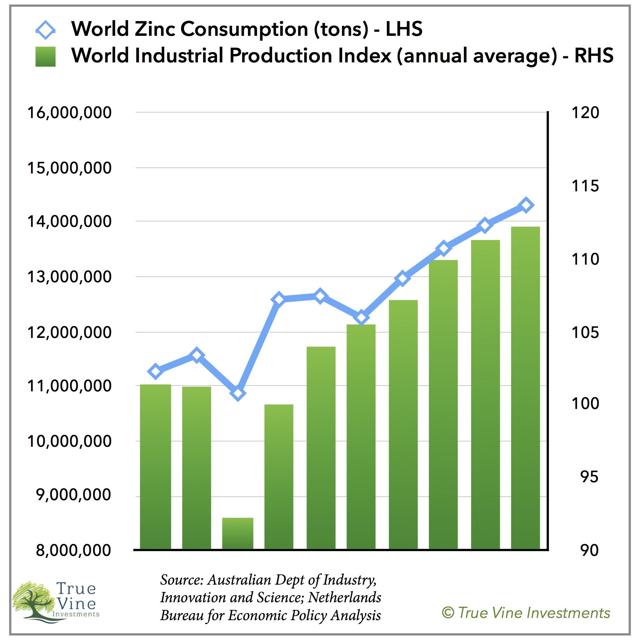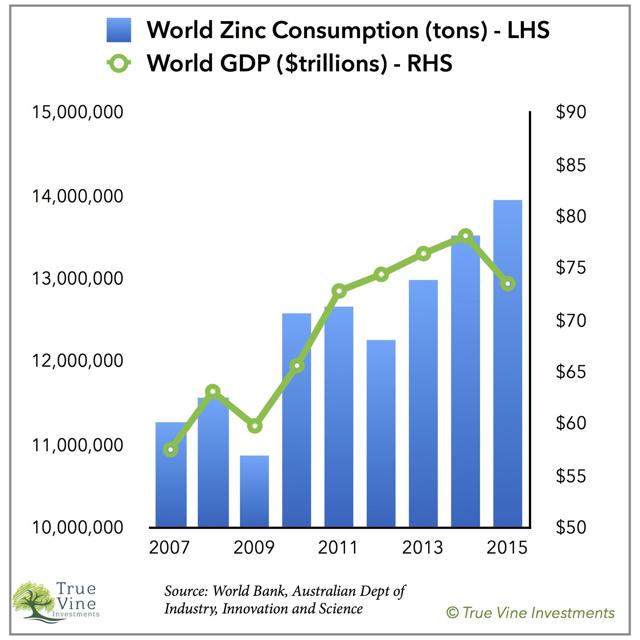 As you can see on these charts, annual world demand for zinc is currently running at about 14 million tons.
In a recent investor presentation, Trevali Mining (OTCQX:TREVF) estimates that zinc consumption will increase by approximately 3 million tons over the next five years. This seems reasonable given current trends for world industrial production and GDP growth.
Mine Production
According to the U.S. Geological Survey ("USGS"), world zinc production in 2015 was 13.4 million tons. The top ten producing countries and their associated production in million tons were as follows:
| | |
| --- | --- |
| Country | 2015 Production |
| China | 4,900,000 |
| Australia | 1,580,000 |
| Peru | 1,370,000 |
| United States | 850,000 |
| India | 830,000 |
| Mexico | 660,000 |
| Bolivia | 430,000 |
| Kazahkstan | 340,000 |
| Canada | 300,000 |
| Ireland | 230,000 |
These 10 countries produced a total of 11,490,000 tons in 2015, which was 86% of total world production. China is the dominant producer accounting for 37% of overall production.
The largest zinc mines in the world (with 2015 production in tons) are Vedanta's Rampura Agucha in India (641,000) and Teck Resources' Red Dog in Alaska (567,000). Both of these mines also have exceptionally high grades (e.g., 10% to 20% Zn). Also notable is Glencore's combined operations at Mount Isa and McArthur River in Australia which together produced 751,000 tons in 2015. Outside of these mines, world production is diversified and spread amongst a large number of relatively smaller mines.
The following table provides a list of the top zinc producing companies (as far as I could determine, these are the top 10 publicly traded zinc producers):
| Company | 2015 Zinc Production |
| --- | --- |
| Glencore (OTCPK:GLCNF, OTCPK:GLNCY) | 1,445,000 |
| Vedanta Limited (NYSE:VEDL) | 985,000 |
| Teck Resources (TCK) | 658,000 |
| MMG Limited (Hong Kong listed) | 540,000 |
| Zijin Mining (OTCPK:ZIJMF, OTCPK:ZIJMY) | 417,000 |
| Boliden (OTCPK:BDNNF, OTCPK:BDNNY) | 299,000 |
| Volcan Compania Minera | 285,000 |
| Compania Minero Milpo | 269,000 |
| Industrias Penoles (OTCPK:IPOAF) | 265,000 |
| Nyrstar (OTC:NYRSF, OTCPK:NYRSY) | 234,000 |
| | |
| Top 10 Total Production | 5,397,000 |
(Note: investors interested in an almost pure play on zinc, may want to look at the Canadian junior, Trevali Mining (TREVF), which derives about 2/3s of its revenue from mining zinc.)
These top 10 producing companies had total production of 5.4 million tons in 2015 which represented 40% of total world production. The production of these 10 companies combined with that of China's state-owned operations accounts for the majority of the world's production.
Price Outlook
A decade ago, zinc prices soared to over $4,000 per ton, after trading at around $1,000 per ton for years, as Chinese consumption soared and zinc stocks on the London Metals Exchange ("LME") evaporated. This led to a period of expanding mine production and zinc stocks on the LME and Shanghai Futures Exchange ("SHFE") eventually soared from 2011 to 2014. This oversupply kept a lid on prices until more recently. The following chart comes courtesy of Teck Resources and reveals these longer term trends: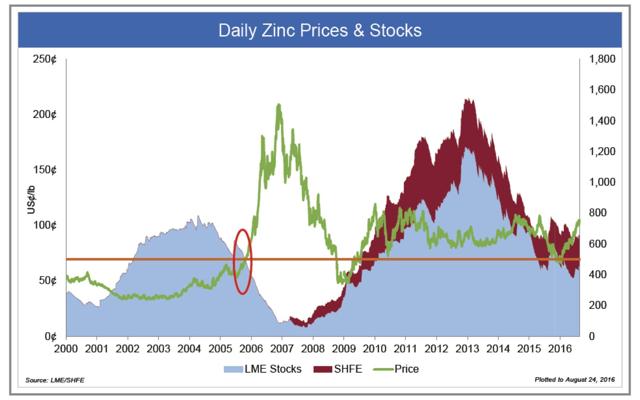 Zinc stocks have come down as demand has generally exceeded smelter production over the last several quarters. The two main drivers behind this recent shift to slight undersupply, declining stocks, and rising prices was the closure of MMG's Century mine in Australia and production cutbacks at Glencore's Mount Isa and McArthur River operations, also in Australia. Century's closure took 500,000 tons of production off the market, while Mount Isa and McArthur River withdrew 290,000 tons of production (for now at least). A recent investor presentation from Boliden shows that year over year mine production has been down by 9% to 13% over the last several quarters, while demand has exceeded smelter production by over 40,000 tons in each of the last 3 quarters.
The following chart shows how zinc prices have rallied during 2016 to a new multi-year high: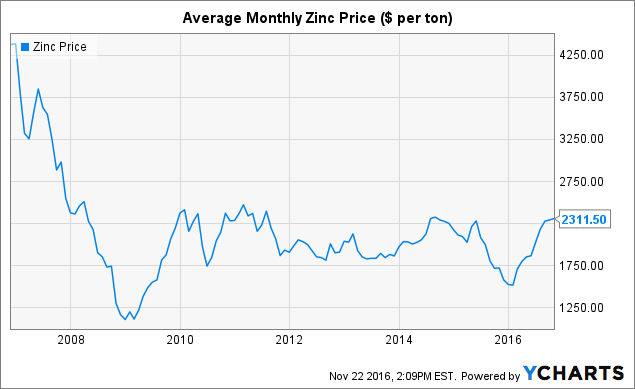 Zinc Price data by YCharts
This chart goes all the way back to the early 1980's and provides more historical price context: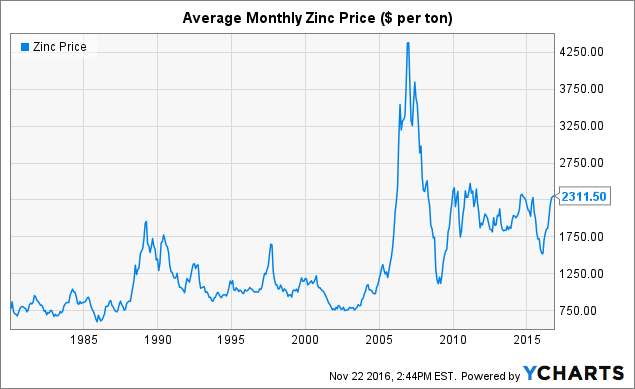 Zinc Price data by YCharts
At present, zinc is trading for around $2,550 per ton. Zinc prices, like those of many other metals, have spiked higher on the post Trump election infrastructure spending bounce. At these prices, half of global production is earning margins greater than 50% over cash costs. If prices remain at these levels, I would expect zinc miners to consider investing in production increases. The key producer to watch is Glencore. They have the ability to scale up production relatively quickly at their Australian mines.
Strategic Conclusion
As previously stated, the focus of my analysis of the zinc market was to develop my own price expectations to model for various silver producers who derive byproduct revenue from the metal. I expect the conditions of the zinc market being slightly undersupplied to keep prices above $2,000 per ton for the foreseeable future. This also means that byproduct silver production from primary zinc mines is more likely to increase than decline. This is important because 32% of total silver production comes as a byproduct of primary lead & zinc mines.
I am forecasting an economic downturn about a year from now, after which I expect inflation to begin accelerating significantly. A few years from now, the conditions will be ripe for zinc prices to experience a strong rise as significantly higher prices will be needed to spur the level of production necessary to meet rising global demand. Primary silver miners that produce a lot of byproduct zinc should experience a relative tailwind in the years ahead.
Promoting Quality Discussion
In order to promote quality discussion about the topics I address in my Seeking Alpha articles, I have decided to give away a free copy of my book, The Truth On Investing: From The Darkness Of The Crowd To The Light, to the individual who provides what I think is the most thoughtful comment on the article (U.S. residents only). This can also be a quality view that is opposed to my thesis. I will pick this person about a month after the article is published to allow time for comments. If there are no exceptional comments, then no book will be given out. Thanks for reading and hopefully contributing to the discussion.
Important Regulatory Disclosure
I am an investment adviser and owner of True Vine Investments, a Registered Investment Advisor in the State of Pennsylvania (U.S.A.). I screen electronic communications from prospective clients in other states to ensure that I do not communicate directly with any prospect in another state where I have not met the registration requirements or do not have an applicable exemption.
Any investment advice or recommendations involving securities referenced in this article is general in nature and geared towards a readership of sophisticated investors. This article does not involve an attempt to effect transactions in a specific security nor constitute specific investment advice to any particular individual. It does not take into the account the specific financial situation, investment objectives, or particular needs of any specific person who may read this article. Individual investors are encouraged to independently evaluate specific investments and consult a licensed professional before making any investment decisions.
All data presented by the author is regarded as factual, however, its accuracy is not guaranteed. Investors are encouraged to conduct their own comprehensive analysis.
Positive comments made regarding this article should not be construed by readers to be an endorsement of my abilities to act as an investment adviser.
Disclosure: I/we have no positions in any stocks mentioned, and no plans to initiate any positions within the next 72 hours.
I wrote this article myself, and it expresses my own opinions. I am not receiving compensation for it (other than from Seeking Alpha). I have no business relationship with any company whose stock is mentioned in this article.
Editor's Note: This article covers one or more stocks trading at less than $1 per share and/or with less than a $100 million market cap. Please be aware of the risks associated with these stocks.