Investor bullishness for Glu Mobile (NASDAQ:GLUU) is picking up. After the stock bottomed at $1.73 earlier this month, the company made a number of fundamental changes that will very likely boost the company's prospects. The company hired a new CEO, bought Crowdstar, and is starting to gain traction for the 'Design Home' game.

There are four reasons Glu Mobile's move away from the freemium app business model will raise the company's prospects.
1/ New CEO
Glu Mobile hired Nick Earl as CEO. Earl worked at Glu for nearly a year, gaining an understanding of the company before leading it. At SCE Worldwide Studios, he led the launch of a Top 10 hit, Marvel Contest of Champions. Before that, Earl worked at Electronic Arts (NASDAQ:EA) for more than a decade. EA's inflection point was in 2013. As the user base for consoles grew and game players became more comfortable with DLCs (downloadable content), profitability at EA soared. Take-Two (NASDAQ:TTWO) and Activision (NASDAQ:ATVI) are similarly benefiting from digitally delivered games and upgrades: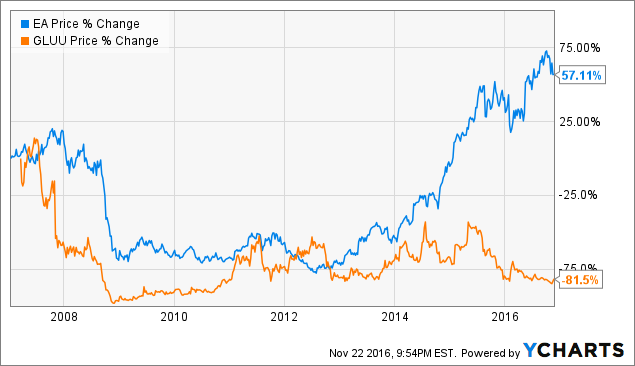 As a mobile game developer, Earl has many challenges growing Glu to the same size as the established companies. If the company weans itself from slow-growing freemium games and focuses primarily on the gaming experience, usage will grow, revenue will increase and profits will improve.
2/ Acquisition of Crowdstar
Glu's announced it acquired controlling interest in Crowdstar on November 3. The $45.5 million valuation will add meaningfully to the company's revenue base over time. Already, Covet: Fashion is ranked #80 on Apple's (NASDAQ:AAPL) App Store. Investors should expect revenue growing thanks to this app's success. Design Home's clean layout, challenging missions, and most importantly, inexpensive in-app upgrades should lift Glu Mobile's bottom line.
Glu forecasts Design Home will lose $1 million this year, due to the heavy investment in the product.
3/ Strong bookings in third quarter
Glu Mobile's third quarter bookings of $51.3 million met the company's high-end of guidance. The top bookings included:
Tap Sports Baseball: $9.1 million Gordan Ramsay Dash: $8.3 million Cooking Dash: $8 million
Since Kim Kardashian bookings dipped, Glu will have to consider phasing out the expensive upfront royalty payments to stars. Unless the payout to famous names is tied to the game's success, Glu cannot afford to continue operating with this model.
Glu lost $31 million (EBITDA) in the third quarter.
4/ High cash balance
Glu ended the third quarter with $147.5 million. With its book value per share at $1.86, the market is valuing the company at just a trailing $148.5 million or $0.41 per share. Cash flow fell 10.5 million during the quarter, but the market is clearly overly bearish on Glu's growth prospects. Note that with the acquisition factored in, Glu forecasts it will end the year with $80 million in cash, or $0.61 per share in cash.
Takeaway
Glu Mobile's broader app diversification benefits the company and its shareholders. It is lessening its reliance on games. It is including fashion and home products through the Crowdstar acquisition. By applying the mistakes it made with the freemium game market, chances are good the Crowdstar products will find success under Glu's leadership.
Please [+]Follow me for continued coverage on value stocks. Click on my name next to my avatar at the top of the article. Thank you for reading.
Disclosure: I/we have no positions in any stocks mentioned, and no plans to initiate any positions within the next 72 hours.
I wrote this article myself, and it expresses my own opinions. I am not receiving compensation for it (other than from Seeking Alpha). I have no business relationship with any company whose stock is mentioned in this article.