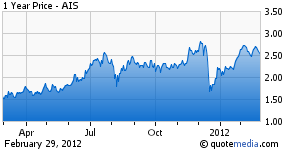 The recent hiring and appointment of John "Jack" Howarth as VP of Investor Relations at Antares Pharma (AIS) is a clear signal where its CEO Paul Wotton sees the company heading. Wotton stated:
"'We are very pleased that Jack is joining Antares during this significant growth period for the Company as we focus on developing and commercializing drug/device combination products,' said Paul K. Wotton, Ph.D, President and CEO" (Ibid).
Indeed, Antares is entering a 'significant growth period' and Jack's hiring has sparked a lot of speculation on the company's direction. Apparently, Jack is a highly skilled specialist and has a history of working for firms that eventually merge or are bought-out by much larger firms; Pfizer's (NYSE:PFE) acquisition of King being the most recent example. With Pfizer's undisclosed partnership with Antares announced in December 2011, and Pfizer's ongoing litigation against Teva (NYSE:TEVA) over the Antares' VIBEX epinephrine auto-injector, one wonders if Jack's hiring is more than a coincidence, or could he be coming to Antares on Pfizer's behalf? Or is this similar to when Bristol-Myers-Squibb (NYSE:BMY) bought out Inhibitex? As SA author Scott Matusow observed:
"This should also explain in part, why Bristol-Myers Squibb Co. (BMY) paid about $2.5 billion in cash for Inhibitex. BMY is one of the larger pharmas that will be losing patent protections soon. However, I am not so sure this was money wisely spent by BMY, as I believe there are better companies out there with better drugs in development."
Perhaps Antares will be to Pfizer, what Inhibitex was to Bristo-Myers-Squibb? After all, Pfizer has a big patent cliff on the horizon.
Needless to say, I do believe Wotton when he says Antares has entered a 'significant growth period'. The day after Howarth's hiring, Howarth's name followed up as the key contact to two investor conferences coming up in March. Clearly Howarth has a very large investor network and he has been brought in by Wotton as a 'heavy-hitter' at a strategic growth moment in Antares' history.
Yet Howarth's addition is not the only bit of news that has investors jockeying their accounts for early March. Opinions vary, but general sentiment suggests that the Q4 2011 earnings report will further confirm the strong revenue growth track that has been going on for over three years now. With Anturol's FDA approval and Pfizer's undisclosed partnership coming in December, many investors expect to see additional revenue such as a milestone payment from Watson (WPI) and a contract payment from Pfizer. I personally expect to see continued revenue growth coming from the company's marketed hGH injector products with Ferring and Teva. With Jazz (NASDAQ:JAZZ) assuming the marketing of Elestrin, we may also see a small improvement in market penetration.
In other words, whether Antares moves to net positive or not in Q4 2011, there is conservative optimism that the company will have finished 2011 is excellent financial condition.
But there is more on the near-term horizon for Antares. Pfizer v Teva wraps up its court litigation in early March and I'm inclined to think the resolution will not be long to follow. That Intelliject reached its own out-of-court resolution with Pfizer, I'm inclined to think that VIBEX epinephrine will enter the market in no less than the next 12 months, but that is my opinion as I have studied the various court papers. As to whether VIBEX epinephrine will enter the market, the logical conclusion is, yes, but the timing and terms will be forth-coming I think in the near-future.
I am also looking for an updated report from Wotton on the VIBEX 'QS' program. Investors in Antares are well-versed in the VIBEX methotrexate [MTX] product currently under development, but Wotton has indicated that once the company has secured its 'QS' intellectual property, it will inform the investment community of the next project.
I for one have been following the progress of a key patent related to VIBEX 'MTX' entitled "Hazardous Agent Injector System" that entered the 'National Phase' in Australia on 13 October 2011 and more recently in Europe on 25 January 2012; I would also note that it appears that Japan is next. It is confirmed fact that Antares has achieved a global footprint for its VIBEX methotrexate program and if I understand SA authors Larry Smith and Scott Matusow correctly, it will be worth a significant amount of revenue growth for the firm.
Finally, Watson stated that it expected to launch Anturol in early 2012. My understanding is Watson has expanded its manufacturing operations in Utah that includes gel products. I fully expect to read that Anturol has entered the marketplace in the March-April time-frame which with the shelf-stocking phenomena, I expect to see a good royalty bump for Antares in Q2 2012.
One other comment - While technical analysis of penny-land stocks is somewhat speculative, the recent double-top at $2.79 and $2.74/share and now the retrace into the $2.50's appears to me to be a great entry point. I would tend to think these near-term catalysts are going to have a positive effect on the share price.
Disclosure: I am LONG AIS. Investors buy and/or sell at their own risk. After 72 hours of publication, I am free to buy/sell any stock mentioned in this article according to SA policy.