After listening to Navios Maritime Holdings' (NYSE:NM) conference call and digesting the numbers as best as I could, I came away with an impression, an opinion, as to the ongoing safety of my rather substantial investment and interest in this company's fortunes. Aside from the usual public relations about the size, breadth, and comparative low-cost operations of NM and its subsidiaries, I was more interested in the prospects of its long-term viability, which I will now discuss.
The first, and in my opinion the most important number I got from another source, The Bloomberg BDI Index: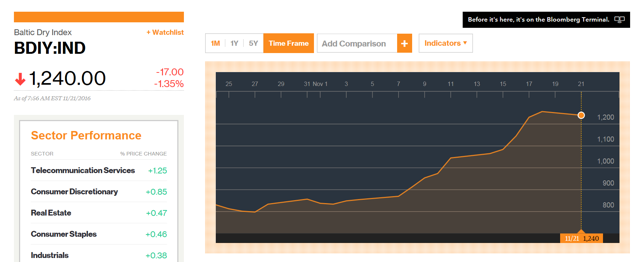 That chart, as far as this investor is concerned, is a very pretty picture that bodes well for the drybulk sector of shipping and NM and its subsidiary NMM in particular. Because of the current 1240, and if that number continues to rise, I am encouraged that my preferred investment is secure and will eventually pay off handsomely.
As for the conference call and related financials:

Of the above financial highlights, it was the liability management that most interested me. The bond repurchases, preferred buybacks, and the continued reduction of expenses again encouraged this investor, as expounded upon below:
Series G and Series H ADS Exchange Program

On November 8, 2016, the Company announced the completion of its offer to exchange its Series G and Series H Cumulative Redeemable Preferred Shares. A total of 24,431 Series G and Series H were validly tendered representing an aggregate nominal value of $61.1 million. We reduced our annual dividend obligation by $5.3 million and we also eliminated $4.0 million of accrued dividends. The consideration for the exchange comprised of $8.7 million in cash and the issuance of a total of 7.6 million shares of common stock representing a 28% to par cost.

Low Cost Structure - $1,274 Expected Reduction in 2017 Daily Cash Break-even

Navios Holdings is expected to achieve a reduction of $1,274 in 2017 daily cash breakeven based on the following initiatives:

Reduction in bank debt cash requirements by $11.4 million for the next 15 months
Reduction of annual interest expense by $4.8 million though its $58.9 million unsecured bond repurchases
Reduction in cash breakeven of its chartered-in fleet following the chartering of seven new vessels at an average daily charter-in cost of $6,827 for 2017"
Yes, I am fully aware that NM continue to lose money as stated in their recent financial release, Navios Maritime reports Q3 results that showed a net loss of $22.4 million, and a decline of the revenue from dry bulk vessel operations for the three months ended September 30, 2016 was $49.7 million as compared to $63.6 million for the same period during 2015. However, as far as I'm concerned this is ancient history, which I firmly believe is about to change, specifically because of that first number and chart I spoke of, the current 1240 BDI rate. I state this because the current report concerns those numbers of the last quarter, which were based on a substantially lower BDI rate, again ancient history. In this case I prefer to look forward to a brighter day for the drybulk shipping sector and NM in particular. I liked this company so much, I invested quite heavily in it. Could I be wrong? Certainly. Have I been wrong before? Yes again. Do I believe I'm wrong now? Not according to these latest numbers.
Disclosure: I am/we are long NM-G, NM-H.
I wrote this article myself, and it expresses my own opinions. I am not receiving compensation for it (other than from Seeking Alpha). I have no business relationship with any company whose stock is mentioned in this article.