By definition, dividend kings are the most elite group of dividend growth companies. Many investors are familiar with the dividend aristocrats, which are S&P 500 companies with at least 25 consecutive years of dividend increases. That list currently includes just over 50 businesses. But what about those super-powered dividend payers that have seen 50 or more years of increases? It is enough of a feat to remain in business for more than 50 years; it is quite extraordinary to have been able to distribute and increase their payouts for a half century. The list now counts 18 companies and are named the Dividend Kings. In these recent weeks, I'm reviewing the 18 Kings.
Today, I will analyze Parker-Hannifin (NYSE:PH).
What Makes Parker-Hannifin a Good Business?
Parker-Hannifin is another industrial player manufacturing various parts for industrial buyers. The company is divided into two segments: aerospace, covering both military and commercial aircraft manufacturers; and diversified industrial, where PH sells its other parts through an independent distributor network trained by Parker-Hannifin. Both segments represent about 50% of revenue. The company specializes in highly technical parts, aftermarket parts and services. As is the case with many industrial companies, PH's financial performance relies on various cyclical markets. For example, PH revenues were affected lately by the slowdown of the natural resources industry.
Revenue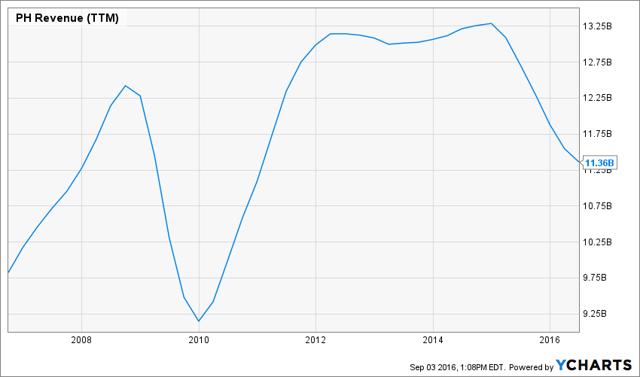 Revenue Graph from Ycharts
It is without any surprise that PH's revenue slowed down in 2015-2016 due to many cyclical sectors. However, after their latest quarterly results, it seems that the company is about to go back on an uptrend. As a result, PH's stock price went up by 25% in 2016.
How PH fares vs My 7 Principles of Investing
We all have our methods for analyzing a company. Over the years of trading, I've been through several stock research methodologies from various sources. This is how I came up with my 7 investing principles of dividend investing. Let's take a closer look at them.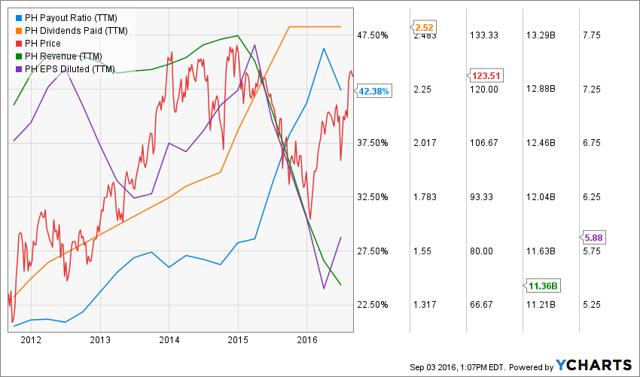 Source: Ycharts
Principle #1: High Dividend Yield Doesn't Equal High Returns
My first investment principle goes against many income-seeking investors' rule: I try to avoid most companies with a dividend yield over 5%. Very few investments like this will be made in my case (you can read my case against high dividend yield here). The reason is simple: When a company pays a high dividend, it's because the market thinks it's a risky investment - or that the company has nothing else but a constant cash flow to offer its investors. However, high yield hardly comes with dividend growth, and this is what I am seeking most.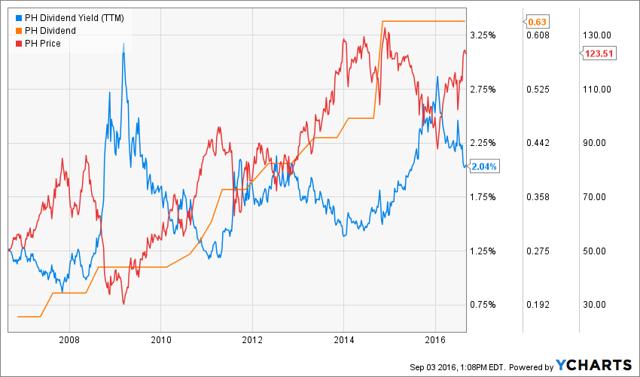 Source: data from Ycharts.
As is the case with many Dividend Kings, PH is not one of the most generous dividend-yielding companies. Despite the fact the dividend payment rose 15% CAGR over the past 5 years (source: Ycharts), the dividend yield barely breaks the 2% bar. This leaves PH in a secure zone as far as my first principle goes. PH meets my 1st investing principle.
Principle#2: Focus on Dividend Growth
My second investing principle relates to dividend growth as being the most important metric of all. It proves management's trust in the company's future and is also a good sign of a sound business model. Over time, a dividend payment cannot be increased if the company is unable to increase its earnings. Steady earnings can't be derived from anything else but increasing revenue. Who doesn't want to own a company that shows rising revenues and earnings?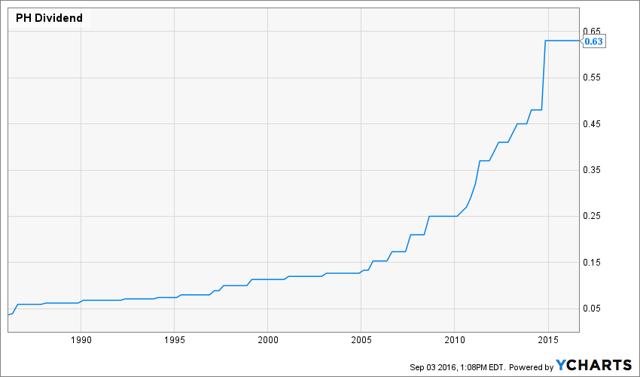 Source: ycharts
You can clearly see how management follows the company's cyclical activities with regular dividend increase punctuated by strong hikes here and there when more money is available. PH has successfully increased its payout for 56 consecutive years. PH meets my 2nd investing principle.
Principle #3: Find Sustainable Dividend Growth Stocks
Past dividend growth history is always interesting and tells you a lot about what happened with a company. As investors, we are more concerned about the future than the past. This is why it is important to find companies that will be able to sustain their dividend growth.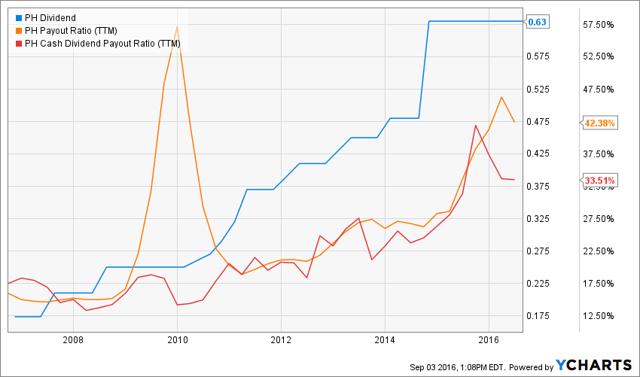 Source: data from Ycharts.
The company has been quite conservative with its payout ratios. Over the past 10 years, management has been able to keep both at almost the same level. There is a recent increase due to important dividend growth in 2015. However, with payout ratios of 42% and 33.5%, the dividend is safe for several years and PH meets my 3rd investing principle.
Principle #4: The Business Model Ensure Future Growth
PH is not only a high tech part manufacturer. The company has also positioned itself as a system integrator being able to design customer parts and systems to help their clients. This is a great competitive advantage as it creates stronger relationships with their clients. The switching cost is now too important for most clients as they would rather continue dealing with PH instead of looking for another option. Parker benefits from a very wide distribution network with 13,000 independent sellers and an industrial retail network of 3,000 Parker stores. Each point of distribution includes fully trained employees able to assist customers through the wide Parker product offering. Finally, the company invests massively in R&D to keep its edge against the competition. Annually, PH invests 3% of its sales into R&D to keep its expertise ahead of its peers.
PH shows a strong business model and meets my 4th investing principle.
Principle #5: Buy When You Have Money in Hand - At The Right Valuation
I think the perfect time to buy stocks is when you have money. Sleeping money is always a bad investment. However, it doesn't mean that you should buy everything you see because you have some savings aside. There is a valuation work to be done. In order to achieve this task, I will start by looking at how the stock market valued the stock over the past 10 years by looking at its PE ratio: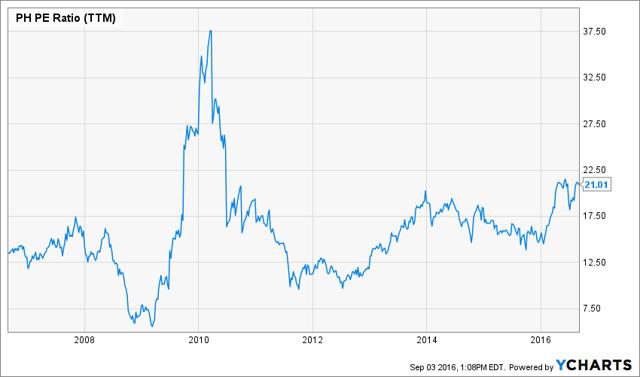 Source: data from Ycharts.
The recent higher PE ratio could be explained by the fact the company is solid and has been around for a long time. Investors tend to be more lenient with strong companies going through a difficult cycle. Therefore, the stock price doesn't lose much while earnings have slowed down. It looks to me that many investors felt it was the right time to buy PH at the beginning of 2016 and revenues and earnings should be positive in the upcoming year. Still, the price paid seems a little bit high.
The second analysis I use is the double stage dividend discount model. I use a 9% discount rate as PH is a very solid company with low payouts and strong balance sheet. As the past years have been good for dividend investors, I will use a dividend growth rate of 7.5% for the first 10 years and a terminal rate of 7%.

Here are the details of my calculations:

Source:Dividend Monk Toolkit Excel Calculation Spreadsheet
While the stock price rallied by 25% since the beginning of the year, it seems there is still room for growth. According to the DDM, the fair market value stands at $140.74 while the stock trades around $125. PH meets my 5th investing principle.
Principle #6: The Rationale Used to Buy is Also Used to Sell
I've found that one of the biggest investor struggles is to know when to buy and sell his holdings. I use a very simple, but very effective rule to overcome my emotions when it is the time to pull the trigger. My investment decisions are motivated by the fact that the company confirms or not my investment thesis. Once the reasons (my investment thesis) why I purchase shares of a company are no longer valid, I sell and never look back.
Investment thesis
PH's stock price has been hurt since its highs of 2014 and 2015, it is definitely a good time to buy more of this dividend king. The company shows a strong business model based on highly skilled employees advising customers. By continuously investing in their R&D, they contribute to building a solid brand while clients are less likely to shop elsewhere. For existing clients, the switching cost becomes too important leading to a very stable core business. Parker Hannifin is definitely a strong company to consider for the long haul.
Risks
As with any cyclical industrial company, PH is relying on its main industry to grow. If there would be any slowdown in the aerospace industry, for example, PH would automatically suffer from this situation. When we hit a recession, clients are trying to reduce their costs, hurting PH margins through tough negotiations along with keeping their inventory to low level, impacting PH overall sales capacity.
PH shows a strong investment thesis and meets my 6th investing principle.
Principle #7: Think Core, Think Growth
My investing strategy is divided into two segments: the core portfolio built with strong & stable stocks meeting all our requirements. The second part is called the "dividend growth stock addition" where I may ignore one of the metrics mentioned in principles #1 to #5 for a greater upside potential (e.g. riskier pick as well).
Having both segments helps me to categorize my investments into a "conservative" or "core" section or into a "growth" section. I then know exactly what to expect from it: a steady dividend payment or higher fluctuations with a greater growth potential.
Parker-Hannifin will grow from one cycle to another, but it doesn't show an important growth vector that would put it in the "growth" category. PH has been a solid dividend payer for over half a century, and conservative investors will definitely well served by this dividend king. PH is a core holding.
Final Thoughts on PH - Buy, Hold or Sell?
Overall, I think PH is still a buy at this price. Ideally, you would have picked up this gem at the beginning of the year, but it's not too late if you get on board now. The company is about to climb out of a down cycle, and the dividend payment will continue to increase for several years to come.
Disclaimer: I do not hold PH in my DividendStocksRock portfolios.
Disclaimer: The opinions and the strategies of the author are not intended to ever be a recommendation to buy or sell a security. The strategy the author uses has worked for him and it is for you to decide if it could benefit your financial future. Please remember to do your own research and know your risk tolerance.
Disclosure: I/we have no positions in any stocks mentioned, and no plans to initiate any positions within the next 72 hours.
I wrote this article myself, and it expresses my own opinions. I am not receiving compensation for it (other than from Seeking Alpha). I have no business relationship with any company whose stock is mentioned in this article.