Introduction
Marathon Petroleum (NYSE: MPC) is an American petroleum refining, marketing, and transportation company headquartered in Findlay, Ohio. The company was a subsidiary of Marathon Oil (NYSE: MRO) before it was spun-off in 2011. Since then, Marathon Petroleum has more than doubled to its present market cap of just under $30 billion.
Marathon Petroleum Logo - Marathon
Marathon Petroleum has done fairly well from the start of the market crash given the market that the company has been forced to operate in. Marathon Petroleum's stock price peaked before the crash at just under $44 per share. From that point, the company's stock price peaked at just under $60 in late-2016 before dropping by 50% in early-2016.
However, since that crash, Marathon Petroleum's stock has recovered by more than 50% to present prices of just under $48 per share. At the same time, the company continues to have a P/E ratio of just over 22 close to the market average. The company also continues to offer investors a very respectable dividend yield of just over 3% and has a strong history of shareholder returns.
As we will see in this article, Marathon Petroleum is an interesting oil retail play.
Marathon Petroleum 3Q 2016 Earnings
Now that we have an overview of Marathon Petroleum along with the company's recent performance, it is now time to discuss the company's recent earnings.

Marathon Highlights - Marathon Investor Presentation
Overall, Marathon Petroleum has recently announced a large number of strategic initiatives centered around enhancing the company's shareholder value. The company is undergoing an aggressive dropdown strategy to its subsidiaries. This should allow the company to continue to grow and earn increasing amounts of money. As a result, shareholders should see increased rewards over the long run.
In 3Q 2016, Marathon Petroleum managed to record 3Q 2016 earnings of $0.27 per diluted share giving the company an annualized P/E of just under 50. However, this takes into account a $0.31 one time impairment charge related to the Sandpiper Pipeline project. While this impairment is a significant amount of money to Marathon Petroleum, in the long-term scheme of things, it is a small blip.

Marathon Earnings Comparison - Marathon Investor Presentation
And while Marathon Petroleum's earnings have taken a large hit, the 3Q and 1Q were abnormally weak due to impairments. In fact, the company's 2Q 2016 earnings were more in-line with its other earnings with the company experiencing no change from 2Q 2015. Taking the company's 2015 earnings of $5.26 / share, Marathon Petroleum is currently trading at a rock bottom P/E of less than 10.
This provides a much better overview of how cheap Marathon Petroleum is and how the company is an interesting oil retail play than its 3Q 2016 earnings alone.
Marathon Petroleum Cash Flow
Now that we have a deep understanding of Marathon Petroleum's recent quarterly earnings, it is now time to discuss the company's cash flow.

Marathon Cash Balance Change - Marathon Investor Presentation
Despite earning more than $1 billion in operating cash flow for the quarter, Marathon Petroleum's cash balance took a significant hit. Mainly the rest of the company's debt expenses and capital expenditures (which should help the company provide increased earnings over the long run), the company saw its cash balance decrease from $1.75 billion to $0.71 billion.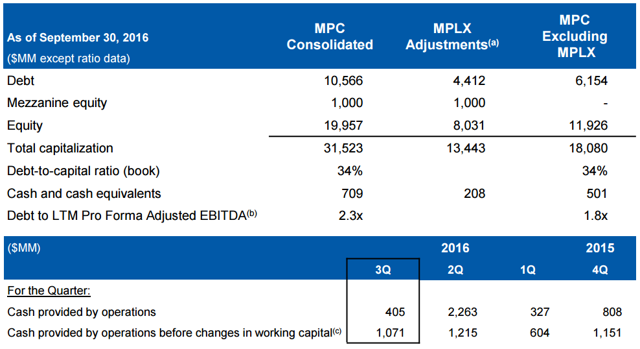 Marathon Cash Flow - Marathon Investor Presentation
In fact, as we can see here, Marathon Petroleum has seen cash provided by operations (before changes in working capital) at more than $1 billion for 3 out of the last 4 quarters and this can be expected to continue. Given Marathon Petroleum's strong inclination towards growth spending, the company's cash pile might take a hit in the immediate term, however, we can expect Marathon Petroleum to continue rewarding long-term shareholders through growth.
Overall Oil Retail Industry
Now that we have discussed Marathon Petroleum's 3Q 2016 results along with how the company has been performing from a cashflow perspective, it is now time to finish up by discussing the overall oil retail industry.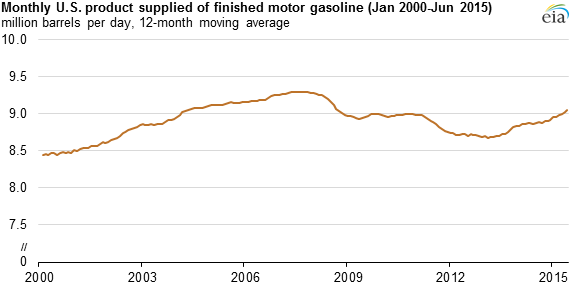 U.S. Gasoline Supply Growth - EIA
You can see above that the supplied production of motor gasoline has been steadily increasing. In fact, since the start of the 2014 market crash, gasoline demand has trended upwards. Consumers, not recognizing that gasoline is a cyclical market, tend to buy vehicles that consume more fuel during downturns in the gasoline market. As a result, these purchases mean that we can expect gasoline demand to be higher in the coming years.
As we can see above, from just before the oil crash in roughly 2013, to 2015, gasoline supply grew by half a million barrels or more than five percent. Assuming the growth rate stayed the same, from 2015 - 2017, we can expect gasoline to grow by another few percent. This growth should allow Marathon Petroleum to continue to see its earnings and rewards to shareholders grow.
Conclusion
Marathon Petroleum has done fairly well as a retail company from the start of the oil crash. Since the company's spin-off from its parent company almost half a decade ago, its market cap has more than doubled. At the same time, the company provides a dividend yield of more than 3% and based on its 2015 EPS has a P/E ratio of less than 10.
And based on its 3Q 2016 earnings, Marathon Petroleum is having a tough time. However, the company's 3Q EPS was abnormally low as a result of an impairment charge. We can expect these earnings to recover in the coming quarter and the company's cash flow to remain strong.
As a result, in the present environment, Marathon Petroleum is an interesting oil retail play.
Disclosure: I am/we are long MPC.
I wrote this article myself, and it expresses my own opinions. I am not receiving compensation for it (other than from Seeking Alpha). I have no business relationship with any company whose stock is mentioned in this article.