I've been increasingly bearish on Adams Resources & Energy (NYSEMKT:AE) for several quarters now. The Marketing segment - AE's key driver - continues to see volume decline and spreads compress. The Transportation business is nearing break-even, and the Oil & Gas business is basically immaterial at this point, even given a $174 million market cap at Tuesday's close of $41.19. Capital allocation remains questionable: AE has invested several million dollars in two medical billing businesses, and hasn't even raised its dividend despite having over $18 per share in cash and a substantially lower need for working capital after the plunge in oil prices.
Quite clearly, the market doesn't share my concerns: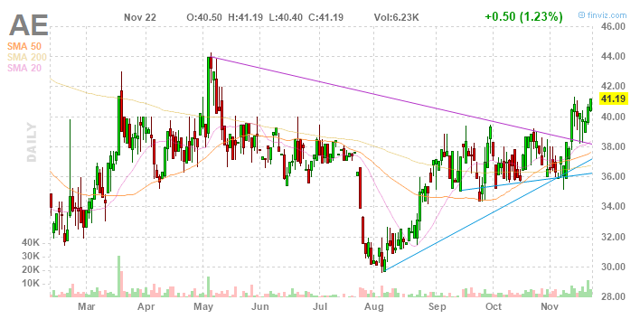 Source: finviz.com
I'm surprised by the move, and I can't help but wonder if AE - with a small, thinly traded, float - isn't benefiting from some investors incorrectly lumping it in with oil & gas exploration plays. Those stocks have seen improved sentiment of late, and it seems like AE might be going along for the ride: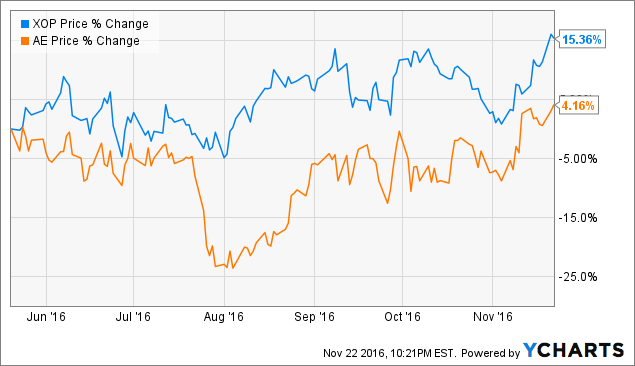 Admittedly, there should be some correlation here - but it's not necessarily 100%, and moderately improved oil prices and slightly increased drilling activity don't provide the same benefit to negative-leverage AE that they would for traditional E&P plays. Meanwhile, Adams' year-to-date results - and, in particular, the Q3 report - show concerns across the business. There's definitely a margin of safety in AE (even just from the cash alone), and I still see huge potential upside if the company tries to maximize shareholder value.
But there's no evidence of such a move, and the market may be pricing in an improvement that isn't necessarily coming, at least not soon. I don't think this is a short - it's a tough stock to short due to the float alone - but at the same time, investors look a little too sanguine toward AE at the moment.
Q3 Earnings
AE generally isn't a stock that moves a lot around earnings reports, but I'm still surprised the market didn't have a more negative reaction toward Q3. (The election-fueled rally may have helped.) To my eye, the news was poor across the board:
Marketing
AE's key driver is the crude marketing business, and it's been unsurprisingly pressured since oil prices plunged. Adams has faced a double whammy: Volumes are down sharply, and so are the spreads the company makes per-barrel between the wellhead and refinery customers. The spread compression actually began before the bust, as changes like the reversal of the Seaway pipeline created a more normalized environment; now, lower volume and increased competition are adding additional compression: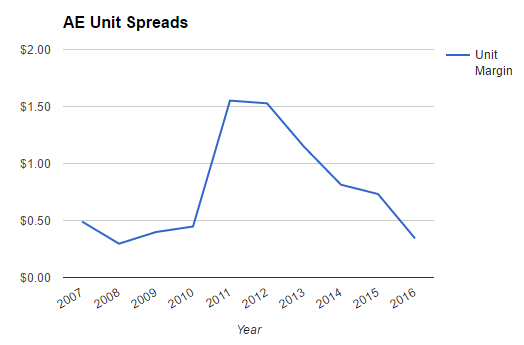 Source: Author from AE filings. 2016 figures YTD. Unit margins calculated as field level operating earnings per barrel, using figures supplied by AE.
Margins improved in Q2 - to $0.43 by my calculation - but took a substantial step down in Q3, declining to $0.27. Volumes are plunging as well:
| | |
| --- | --- |
| Quarter | Volume |
| Q1 2015 | 124,380 |
| Q2 2015 | 112,179 |
| Q3 2015 | 100,816 |
| Q4 2015 | 88,565 |
| Q1 2016 | 88,183 |
| Q2 2016 | 75,986 |
| Q3 2016 | 61,200 |
That's a 50%+ decline in six quarters. And given Adams' exposure to the Eagle Ford, the falling volumes also suggest lost market share: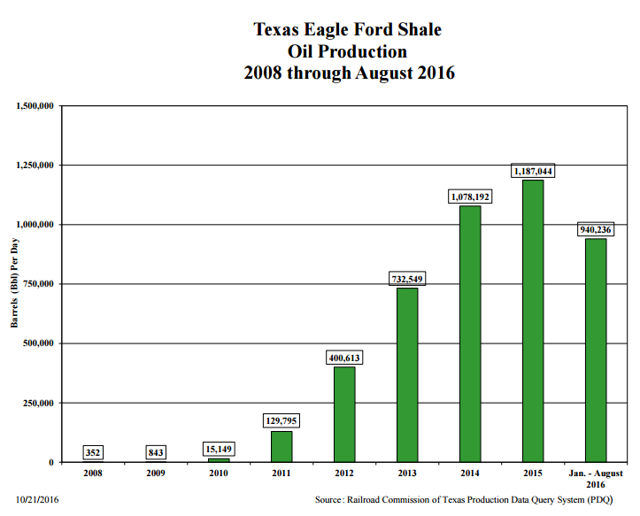 Source: Railroad Commission of Texas
The resulting problem is that AE is getting to a point where, on a consolidated basis, profitability is getting narrow. Field level operating earnings, which the company supplies in the 10-Q, exclude non-cash inventory and derivative impacts; through nine months, they have declined 70% year-over-year, to just over $7 million. The decline in Q3 was even steeper (over 76%).
So the broader question becomes: Is this the "new normal" for Adams? Eagle Ford production still is declining. Spreads seem more likely to stay at 2016 levels then return to 2012; the infrastructure issues that led to those spreads have largely been resolved. AE has corporate opex of over $8 million a year; $10 million in segment earnings from Marketing leaves the company very narrowly profitable unless the other businesses can contribute. And they're not providing much at the moment.
Transportation
The Transportation segment saw earnings turn negative in Q3, and the business now is barely break-even year-to-date: Operating income of $444K is down 86% year over year. The decline in miles driven further accelerated in the quarter - falling 16% - and, per the 10-Q, increased capacity is pressuring rates. The weakness isn't uncorrelated to the oil patch slowdown - petrochemical demand is a driver - so there may be a nearer-term bottom.
Adams already has invested a fair amount of capex - including adding to the fleet at the peak, unfortunately - so even ~break-even segment earnings can contribute some cash flow going forward (though the business actually has burned $500K through the first nine months). But this business doesn't look particularly well-positioned at the moment, and like Marketing, it took another step down in Q3. And at this point, the Oil & Gas segment is too minimal to help.
Capital Allocation
Adams has let the cash build on its balance sheet, for reasons that aren't entirely clear. (One somewhat cynical and speculative possibility would be that leaving the cash in the company defers taxes for the controlling family, whose interests in the NFL's Tennessee Titans are much larger.) But earlier this year, the company invested $4.7 million in two medical billing companies: a 30% stake in Bencap LLC for $2.2 million in January, and a $2.5 million stake in VestaCare in April.
The Bencap stake also required that Adams loan another $3.5 million to the company in two installments, or forfeit its equity. But eight months after making the investment, Adams fully impaired its investment, saying it was not willing to loan the funds to Bencap (which has the right to ask for $1.5 million on December 5).
The company cited "lower than projected revenue growth and operating losses" as driving the decision, a somewhat odd explanation for an investment in a company that only began operations "in its current form" in January 2014. Adding another layer of intrigue, according to the 10-Q, recently retired CFO Richard Abshire invested $440K of his own money in the company at the same valuation at which Adams invested.
The impaired investment itself isn't necessarily a major concern: The $2.2 million lost represents barely 1% of Adams' current market capitalization. But it's another example of the rather shareholder-unfriendly management. There are ways for Adams to create value - the one silver lining of lower oil prices and lower volume is that the company should need far less cash to manage inventory (which turns over every three days).
Yet the dividend hasn't budged since 2013 - even though Adams has enough cash to pay that dividend for 21 years. Nor has Adams repurchased shares. It's questionable already as to whether the cash on the balance sheet should be valued at 100% given that only a portion of it should be considered excess; the Bencap investment doesn't help in terms of confidence, either.
Valuation
AE's book value is a bit over $36 at the end of the quarter, and that figure has generally served as support for the share price over the years. But on an earnings basis, AE looks overvalued - even fully valuing the cash. On an adjusted basis - using field level operating earnings in Marketing, and backing out non-cash charges elsewhere - AE's full-year earnings still look likely to be right about zero. $9 million in Marketing, $1 million in Transportation, a $1.5 million loss in O&G, and $8 million-plus in corporate expense implies basically break-even operating income. Cash flow numbers are a bit better, as DD&A exceeds capex, but even from that standpoint, the EV/FCF multiple is in the mid-teens.
Clearly, the market is pricing in a rebound, but again I question whether that's overly optimistic. In both Marketing and Transportation, it's not as if stabilization in the oil fields necessarily implies improving earnings: there's still additional competition in crude marketing and overcapacity in trucking. And it looks too early to assume even that stabilization in the near term.
A 4.2 million share count, along with ~50% insider ownership, makes a short somewhat dangerous, although AE's volatility has come down considerably from previous years. But $41 seems a high price to pay, even including almost the $19 in cash per share, and another leg down in both key businesses isn't out of the question. AE's numbers make it look safe - but I'm not sure that's actually the case. There's some real weakness in the business - and I don't think it's ending soon.
Disclosure: I/we have no positions in any stocks mentioned, and no plans to initiate any positions within the next 72 hours.
I wrote this article myself, and it expresses my own opinions. I am not receiving compensation for it (other than from Seeking Alpha). I have no business relationship with any company whose stock is mentioned in this article.