A lot has been said about the growth potential for Visa (NYSE:V) in China, but one country that goes largely under the radar is India. Whilst the second-most populous country on earth is by no means as developed as China, given time we believe it will become one of the world's biggest economic powers. Because of this, we see the country being key to Visa's long-term growth and very positively recent events look likely to give the company a firm footing in the nation.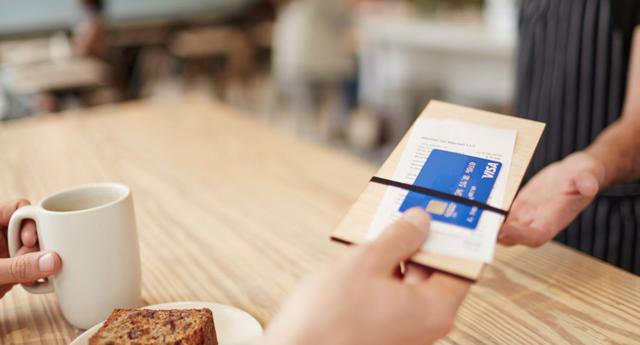 Indian Prime Minister Narendra Modi is at war with cash, or more precisely on 500 and 1,000 rupee bills. The two bills are roughly equivalent to $7.50 and $15.00, and account for an incredible 86% of the total currency in circulation. Each will be removed from circulation by the start of 2017, giving consumers just a matter of weeks to deposit the notes. This is all part of Modi's crackdown on corruption and on counterfeit and unaccounted money, giving Visa a huge opportunity in an economy where 90% of transactions are estimated to be made in cash.
Although it may seem odd for many readers, bank accounts are not hugely common in India. Even though the Modi government has been pushing for their mass adoption, according to The Hindu only 53% of the population has a bank account. Whilst this is a big increase from 2011 when only 35% had an account, it is still far below levels found around the world.
It has been estimated that 79% of the Chinese population has a bank account, and over 80% of people living in the UK and the United States have one. Although the country may be behind on bank accounts, it is no slouch when it comes to technology. Approximately 80% of the population is estimated to have a smartphone according to Management Institute in Mumbai.
We see this as hugely positive for Visa and of course its rival MasterCard (NYSE:MA). With the majority of this cash heading into bank accounts, we firstly expect to see a huge jump in bank account ownership, and thereafter an opportunity for card and smartphone payments to take a big step forward.
Presently, card payments in the country are very low. As the graphic below shows, even those with a bank account are far more likely to withdraw money and spend it than pay with their cards.
Source: Live Mint
The reason for this has been put down to the lack of point of sale terminals. Research by JM Financial reveals that out of 14 million merchants, only 1.2 million has a point of sale terminal. With over 90% of merchants not accepting card payments, consumers simply must carry cash with them at all times. But we fully expect both Visa and MasterCard to seize on this opportunity and reach out to merchants and card issuers to increase the availability of card payments. Doing so will lay the foundation for a payment revolution in the country, especially with bank account adoption likely to rise at a rapid rate due to the cash blitz.
Modi's move is also likely to be a boost to e-commerce in India, once again giving payment providers such as Visa, MasterCard, and PayPal (NASDAQ:PYPL) a lift. Prior to the cash crackdown, e-commerce in India was forecast to grow from a paltry $38 billion in 2016 to over $1 trillion by 2020. As more bank accounts are opened and payment cards issued, we believe these incredible forecasts could even be surpassed. Especially when you consider that mobile internet user numbers in the country are expected to rise to over 500 million in 2017.
Because of this and Visa's already strong growth prospects, we think it is a strong buy now and has a real chance of outperforming market expectations over the next few years. Currently, the market has forecast earnings growth of 16.5% per annum through to FY 2022. But we feel confident that the stars have aligned to enable a stronger level of growth of at least 17%.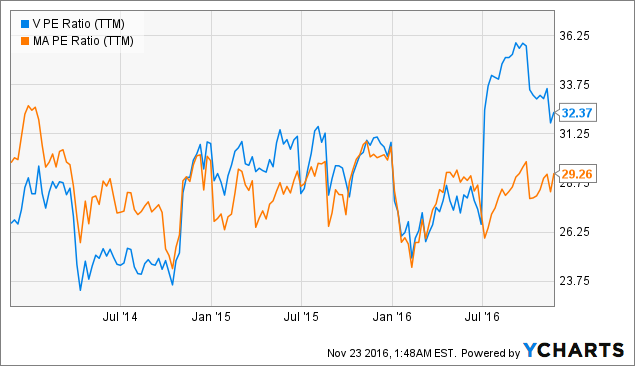 As you can see above, 27 to 30 times earnings seems about fair for Visa and MasterCard to trade at. We expect this to remain the case for the foreseeable future. Conservatively, we believe it is best to value Visa on a 27 times earnings multiple. With that in mind, we have a price target of $89.64 based on Visa delivering earnings per share of $3.32 in the year ahead. This works out to being a return of approximately 12.1% from the last close price.
Visa for us is a no-brainer. The long-term growth prospects make it a great buy, hold, and forget investment. We always felt India would open up eventually, but things look likely to happen much sooner than expected. This is definitely a great time to be a shareholder.
Disclosure: I am/we are long V.
I wrote this article myself, and it expresses my own opinions. I am not receiving compensation for it (other than from Seeking Alpha). I have no business relationship with any company whose stock is mentioned in this article.