Ever since releasing its third-quarter results earlier this month, Cameco (NYSE:CCJ) has made an impressive comeback on the market. In fact, in November, Cameco is up close to 20%, which is a remarkable comeback considering that the stock had lost almost 40% of its value in the first 10 months of the year.
The reason why Cameco has received a shot in the arm is attributable to two factors - an improvement in the company's finances and a possible turnaround in uranium prices. Let's take a closer look at both these factors.
Cameco's financial performance is getting better
After being beaten down for much of the year, Cameco gave investors some respite by posting an improvement in its revenue last quarter. More specifically, Cameco's top line improved more than 3%, driven by a 35% year-over-year increase in uranium sales volume. Such a strong spike in volumes after a 37% decline in the second quarter indicates that demand for uranium is now coming back.
More importantly, apart from the massive improvement in volumes, Cameco's realized price of uranium stood almost flat on a year-over-year basis last quarter. This was way better than the 8% year-over-year drop that CCJ had suffered in the second quarter of the year. Thus, driven by the massive volume gain and flat pricing, Cameco was able to slightly improve its revenue, while also beating the bottom-line estimate by a wide margin.
In fact, improved volumes and consistent pricing had a positive impact on Cameco's adjusted earnings, which went up more than 51% on a year-over-year basis last quarter to $118 million. A closer look at the numbers last quarter clearly indicates that an improvement in pricing and higher shipments in the long run will prove to be beneficial for the company. So, let's see where the uranium market is headed going forward as this will play a crucial role in Cameco's financial performance.
What next for Cameco?
Cameco's uranium volumes made a comeback last quarter on account of an increase in the number of nuclear reactor start-ups across the globe. More specifically, in the third quarter, there were four new reactor start-ups. Two of the new reactors were brought online in China, with one each in Russia and India, bringing the yearly total of new reactor start-ups to nine.
The start-up of these new nuclear reactors is good news for Cameco's investors, as currently, there are around 57 new reactors under construction around the globe. These reactors are expected to come online in the next decade, which will eventually push up uranium demand and pricing. China's uranium consumption, for instance, will almost double to 9,800 metric tons a year by the end of the decade.
This growth in China's uranium consumption will be a result of substantial growth in the country's nuclear capacity. For instance, at the end of July, China had 30.7 GW of nuclear capacity in operation. Now, by 2020, it is expected that China will have around 53 GW of nuclear capacity in place, indicating a rise of 72% for the next four years.
More importantly, around 65% of the 57 new nuclear reactors that are being constructed across the globe are expected to get online in the next three years, indicating that the rise in uranium demand is going to gain traction very soon. However, there won't be enough uranium supply to meet the rise in demand going forward, as shown in the chart given below: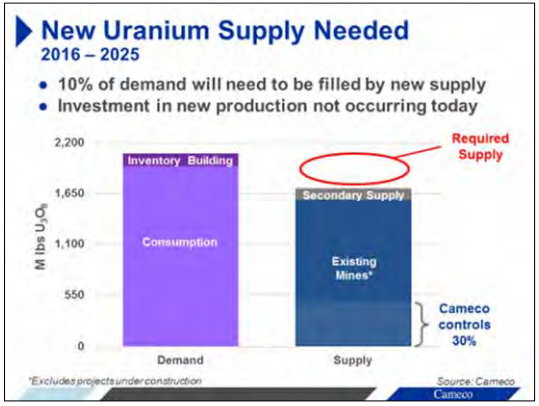 Source: Cameco
As a result of this supply deficit, the price of uranium will increase going forward. For instance, Dundee Capital Markets analyst David Talbot is of the opinion that the price of uranium will increase at a compound annual growth rate of 6% until 2020 as more uranium is used to power nuclear plants. As reported by OilPrice.com:
"Right now, existing nuclear reactors use 174 million pounds of uranium every year. That will increase by a dramatic one-fifth with the new reactors under construction. But in the meantime, uranium producers have reduced output due to market prices and put caps on expansion. As a result, supplies are dwindling."
Conclusion
Considering the expected improvements in the end-market conditions, it won't come across as a surprise if Cameco is able to improve its financial performance further in the long run. As such, investors can expect the recent rally at Cameco to continue and should remain invested in the stock for long-term gains.
Disclosure: I/we have no positions in any stocks mentioned, and no plans to initiate any positions within the next 72 hours.
I wrote this article myself, and it expresses my own opinions. I am not receiving compensation for it (other than from Seeking Alpha). I have no business relationship with any company whose stock is mentioned in this article.