AstraZeneca (NYSE:AZN) shares continue their rough 2016. The stock slid to new 52-week lows on heavy selling Tuesday and continues lower in early Wednesday trading. It's been a particularly bitter drop for AstraZeneca, given that much of the pharma and biotech sector has recovered following Trump's victory two weeks ago.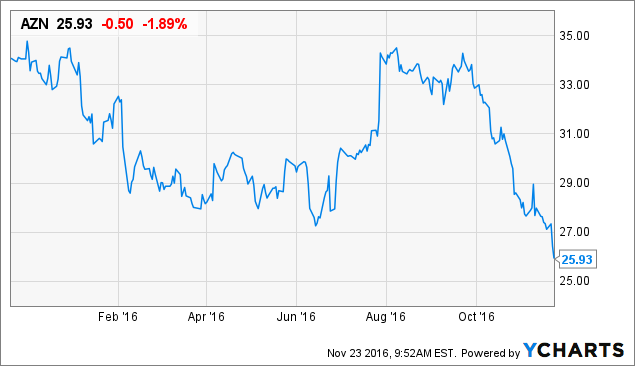 What's gone wrong for AstraZeneca, can it be fixed, and is the dividend secure? AstraZeneca's sales peaked in 2011 at $33 billion in revenue. Since then, the company has been hit by a massive patent cliff. Under old management, the company was content to sit by idly, as key products fell to generic competition.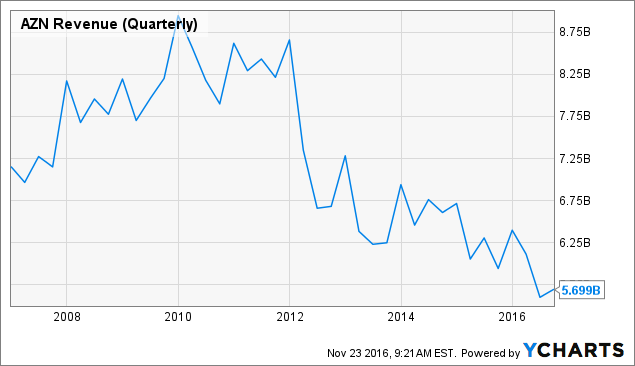 AZN Revenue (Quarterly) data by YCharts
This has resulted in the company's revenues sliding from a quarterly pace above $8 billion to under $6 billion today.
Recent Operating Performance And The Company's Response
The firm has long paid a strong dividend that kept shareholders contented, but eventually enough was enough and new management realized that a serious strategy overhaul was needed.
Now, full-year revenues are down to $24 billion from the $33 billion peak, and projections show sales falling to perhaps as low as $20 billion before hitting a trough and starting to recover. Naturally, this has taken its toll on earnings. The company regularly earned more than $2 per share during the peak years, now it is bringing in just around $1.20/share annually now.
This all sounds bad, however, things are starting to turn the corner. AstraZeneca has initiated strong cost discipline, moving aggressively to cut costs.
Cost Cutting Appears To Outpace The Recent Sales Drop
Between full-year 2014 and the most recent 12 months, AstraZeneca has seen a $2.2 billion decline in sales. However, it has far more than outweighed that with aggressive cost controls. Cost of goods sold fell by $1.6 billion, accounting for most of the loss in revenues. On top of that, the company eliminated greater than $2 billion (almost 20%) of SG&A costs.
If you cut almost $4 billion in costs while losing just $2.2 billion of sales, the net result is still strongly positive.
Despite the continuing impact of the patent cliff, earnings have stabilized, and EBITDA is also starting to show a nice trend. Things may still look bleak now, particularly on the revenue front, but the company appears to be turning the corner.
AstraZeneca has rewarded shareholders over the past 15 years. And I'm not just talking about the fat dividend, the company has taken an axe to the share count, with the buyback retiring a billion outstanding shares since 2001 (a third of the former total). Despite the difficult operating results and seemingly going nowhere stock price, AZN stock has returned 5% annually since 2001, slightly more than doubling an investor's money over that span.
The company states its dividend policy as follows:
The Board has adopted a progressive dividend policy, intending to maintain or grow the dividend each year but, recognising that some earnings fluctuations are to be expected, the annual dividend will reflect the Board's view of the earnings prospects over the entirety of the investment cycle.
They pay a semi-annual dividend which has been largely flat over the past couple of years. Income investors would clearly like that the company maintain the dividend in 2017, despite the current payout ratio being around 140%.
The company still has a strong credit rating and has the financial capacity to maintain the dividend. Whether the board will choose to do so remains to be seen, a lot will depend on how quickly their pipeline starts to yield gains.
AstraZeneca Has Consistently Invested In Research And Analysts Anticipate Good Commercial Potential
One thing the company hasn't cut is research. R&D spend topped $6 billion at the firm for the first time in AstraZeneca's history over the past year, and they've consistently grown their spending on research through both good and bad times. R&D spending now accounts for 25% of the firm's overall revenues.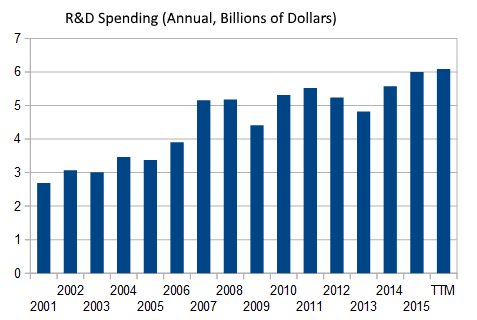 Table: Author's work. Data: Gurufocus
While I'm not a drug expert and have no opinion on the quality of individual items within the company's drug pipeline, I believe analysts who say the company's overall pipeline is one of the deepest in the industry.
The company's patent cliff has been (and continues to be) a real menace. There's a decent chance the company cuts the dividend fractionally if earnings are still weak heading into 2017. However, the worst has passed, net income, EPS, and EBITDA are all showing that the decline is ending. Costs are being cut faster than sales are declining, while the company funnels more and more of its overall budget into new research and away from overhead.
Pharma - Always Facing A New Challenge
In a field based on very unpredictable things including the at-times seemingly random decisions of the FDA, I'd rather buy a firm with a huge R&D budget going through a trough than a hotshot upstart riding a hit drug or two. For a company with a strong research track record like AstraZeneca, $6 billion of yearly R&D will pay off sooner or later.
As for the patent cliff, the company is past the worst of it; earnings have found a floor, and cost-cutting measures have paid off meaningfully.
Last Word
The added Brexit panic has taken an additional toll on AstraZeneca shares for reasons completely unrelated to the company specifically. However, it appears Trump's victory is starting to ease pressure on the pharma industry. Other players have benefited from this, AstraZeneca hasn't just yet. I don't know if we're approaching the bottom for AZN shares, but the rewards are certainly starting to outweigh the risks.
This article is part of a series on dividend sustainability within the pharma industry with SA author Faloh Investment, other entries are linked below:
Bristol-Meyers Squibb: Dividend Depends On New Product Becoming Even More Successful
AbbVie's Humira: Will The Bigger They Are The Harder They Fall Be Proven Again?
Disclosure: I am/we are long AZN.
I wrote this article myself, and it expresses my own opinions. I am not receiving compensation for it (other than from Seeking Alpha). I have no business relationship with any company whose stock is mentioned in this article.
Additional disclosure: This is an updated excerpt from Ian's Insider Corner coverage of Astrazeneca. Free trials are available through this holiday weekend.