Of late, it seems impossible to separate financial news from U.S. political news. Today is no exception. Trump has confirmed that he is planning to stay the course - full steam ahead - and pull out of the long negotiated TPP (The Trans-Pacific Partnership). Whilst such a decision might raise eyebrows, it certainly puts geopolitical questions back on the table. The United States' potential pivot back home may mean that there is scope for significant returns from an investment in the international defense market, both in terms of the dominant global companies, and regional players. This article will run the rule over four companies: Lockheed (NYSE:LMT), Mitsubishi Heavy (OTCPK:MHVYF), Kawasaki Heavy (OTCPK:KWHIF), and Tamagawa Trading Company (6838:JP).
All Considered Stocks. 1 Year Share Price. Source: Bloomberg.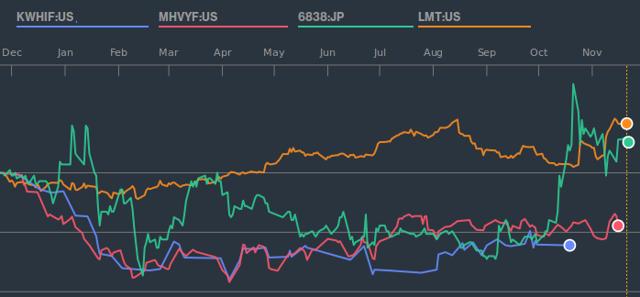 As CNBC's Everett Rosenfeld notes 'extensive analysis on the terms of the deal [TPP] had concluded that […] [i]ts economic benefits would likely be meager, [however] proponents of the deal had insisted it was a key component of the American geopolitical "pivot" toward the Asia-Pacific region.' The failure of the deal is likely to put several questions back on the table, not least security, with China an ever-present fear in the minds of the Defense Ministers of South-East Asian countries.
Matthew Pennington, AP.

Source: Japan Today.
With it not long since Japan allowed its defense sector to contemplate significant international exports, TPP or not, Japanese defense is a growing sector. Parts producers such as Tamagawa holdings, and larger companies such as Mitsubishi Heavy may be interesting long-term investments. In the long and medium-term alike, the Japanese military industrial complex is likely to grow. Whilst it is true that international sales are relatively low, this is likely to change over the years. Tentative interest in products, such as reconnaissance planes on the part of New Zealand and Britain, suggests arms-importers may be willing to change suppliers should they be made to see the benefits in doing so. Another Japanese arms company, Shinmaywa Industries has, for instance, seen India purchase a dozen of its US-2i amphibious planes. This is the first modern arms deal between Japan and India, and both countries expect more deals to happen in the future.
Shinmaywa 1 year share price. Source: Google Finance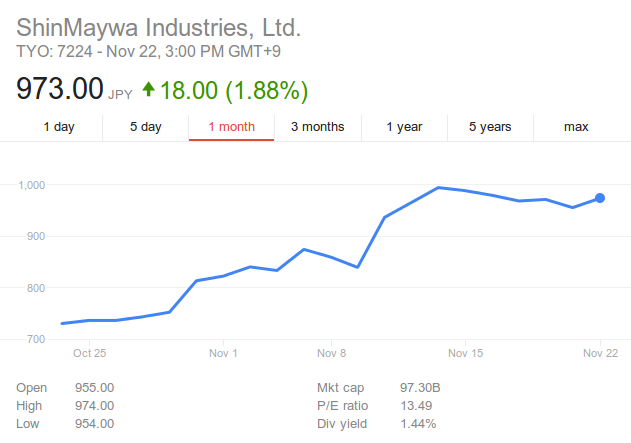 With Japan nervous about growing Chinese power, and other South-East Asian countries similarly worried about the post-Trump security situation, arms exports to the region can be expected to surge over the course of the President-elect's term. It is a reasonable bet, with the final confirmation of Trump's canceling of TPP to come, that the potential for an increasing U.S. isolationism will be seen as boosting the position of Asian national defense hawks. Ethical considerations notwithstanding, this is rather good news for the defense industry.
The Four Companies:
Tamagawa - 1 Year Share Price. Source: Bloomberg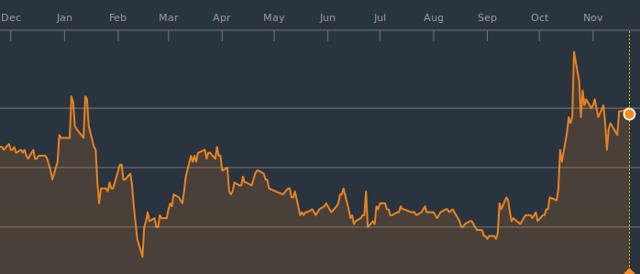 Tamagawa Trading Company has had a steady, if not spectacular year, with its share price rising from 107 yen to 118, with highs of 139. The yearly return to date on holdings stands at 8.86%. Dividends are low at .85%, but should the need for military industrial components rise, this company is in line to benefit. It produces gyres, gears, and materials from difficult to machine materials like titanium, and processes carbon fibre materials often used in high-end manufacture. It's market cap is around 5bn Japanese yen, and its revenue has increased year on year over the last five years. Earnings for 2016 are however somewhat down, as costs rose significantly. In the event of an increase in regional tensions, Tamagawa stands to benefit.
Tamagawa - Trading Information. Source: FT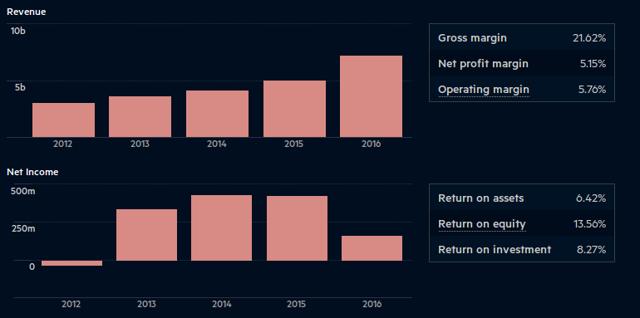 Mitsubishi Heavy are one of the big-two of the Japanese defense sector, and they have had a difficult year. The potential for a boost in their earnings however, and in their share-price value, following Trumps final election, remains as true for this company as it does for the Japanese arms sector in general. Further to this, the company's increasing exposure to the international market, with ever-deepening ties with France, through Areva, and its desire to grow its export business, sees it as a potential winner, should tensions trump reason.
Mitsubishi Heavy Financials - Source: FT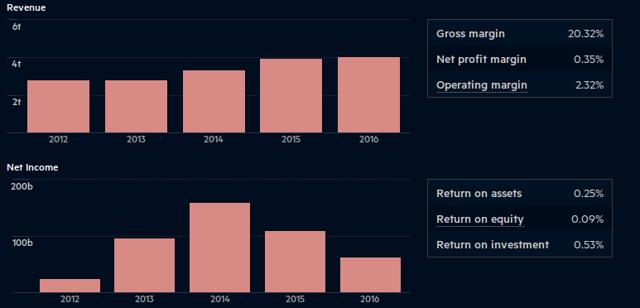 The company's share price has fallen from $5.22 to $4.29, and the yearly return is around -17%. This suggests that there is some value in the company, in the event of a rise in sales. Dividends are at a solid 2.6%, and its market cap is around $14bn.
Mitsubishi Heavy - 1 Year Share Price. Source: Bloomberg.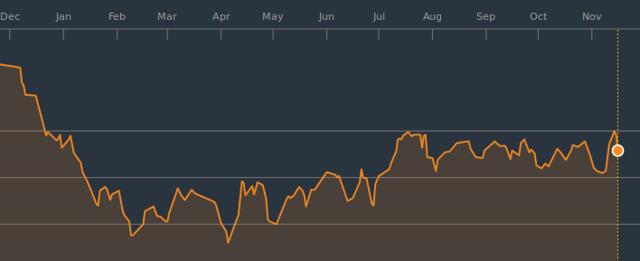 Kawasaki Heavy is the other member of Japan's "big two", and like Mitsubishi Heavy, it has had a trickier 2016 than it did 2015. As it is across the board in the Japanese arms industry, rising costs have been the prime driver in declining incomes, despite often increasing revenues.
Kawasaki Heavy - 1 Year Share Price. Source: Bloomberg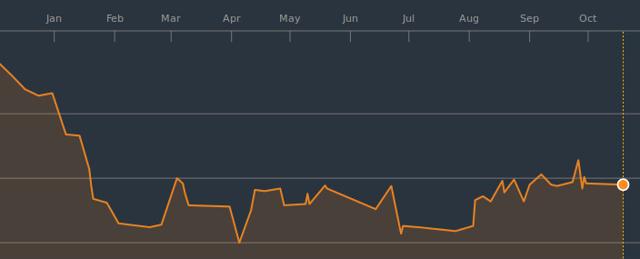 Like Mitsubishi Heavy, Kawasaki Heavy's year on year share-prices have declined, so 2017 may see a rally in the company's valuation. The company offers dividends of 1.96% and its market cap is just under $5bn. Valued presently at only $2.95 a share, as against last year's valuation of $4, the company's 5 year high of $5.33 suggests, if it can boost its international sales in the wake of increasing security concerns, that the company's share price valuation has some room to grow.
Kawasaki Heavy Financials - Source: FT.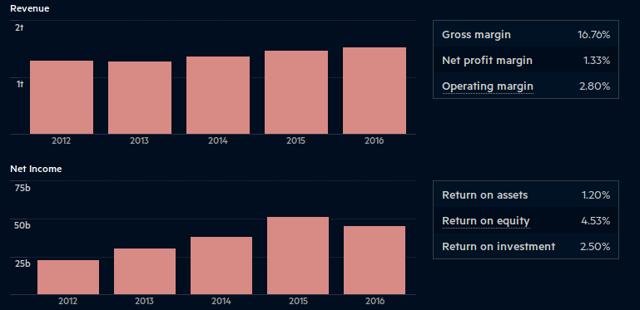 Lockheed need no introduction to anyone, and are mentioned here only as a safe bet to increase your exposure to the security industry, should you see issues such as TPP, the Trump factor, rising tensions on Eastern European borders, and other geopolitical concerns as a potential motivator for a 2017 bull market in arms manufacturing. If you do, Lockheed, and of course other major companies such as BAE Systems (OTCPK:BAESY), presents a safe-bet. Additionally, regardless of circumstance, LMT is a great stock to keep in your portfolio.
Lockheed - 1 Year Share Price. Source: Bloomberg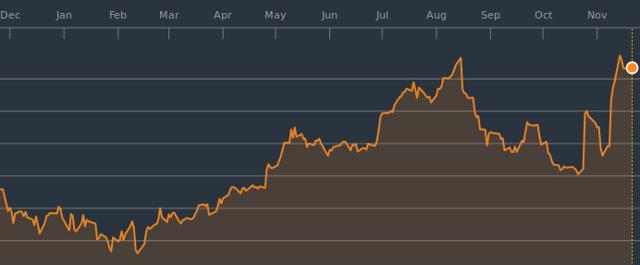 Shares in the company have to date this year risen by over 20% in value, the company's market cap is $77bn, and its financials are strong. It has revenues of $46bn, and an income of $3.6bn. Lockheed has impressively cut its debt to total capital ratio from 265.2% to 85.4%, and dividends are a healthy 2.73%, making it a solid long-term investment.
Lockheed Financials. Source: FT.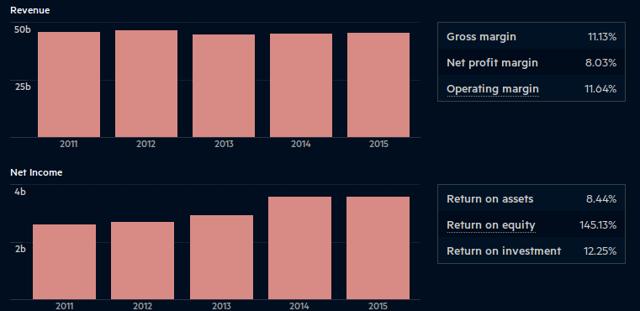 Ultimately, should you decide that now is the time to increase your holdings in the defense industry, while you might wish you'd taken a position some months earlier, there remain some interesting regional stocks worth further investigation. As a result of a decreasing internationalism, regional markets, particularly in more volatile regions, may inflate the global arms market in 2017. The next 12 months ought to provide plenty of opportunities to profit for those with a trading interest in the sector.
(Oisin Breen, Technical Analyst at Accendo Markets)
Disclosure: I/we have no positions in any stocks mentioned, and no plans to initiate any positions within the next 72 hours.
I wrote this article myself, and it expresses my own opinions. I am not receiving compensation for it (other than from Seeking Alpha). I have no business relationship with any company whose stock is mentioned in this article.
Additional disclosure: CFDs, spread-betting and FX can result in losses exceeding your initial deposit. They are not suitable for everyone, so please ensure you understand the risks. Seek independent financial advice if necessary. Nothing in this article should be considered a personal recommendation. It does not account for your personal circumstances or appetite for risk.
Editor's Note: This article discusses one or more securities that do not trade on a major U.S. exchange. Please be aware of the risks associated with these stocks.