AXIM Biotechnologies just released news for their patent on a cannaboid chewing gum. There was a reaction [or over-reaction]. Below is the 1 month chart for AXIM Biotechnologies (OTCQB:AXIM):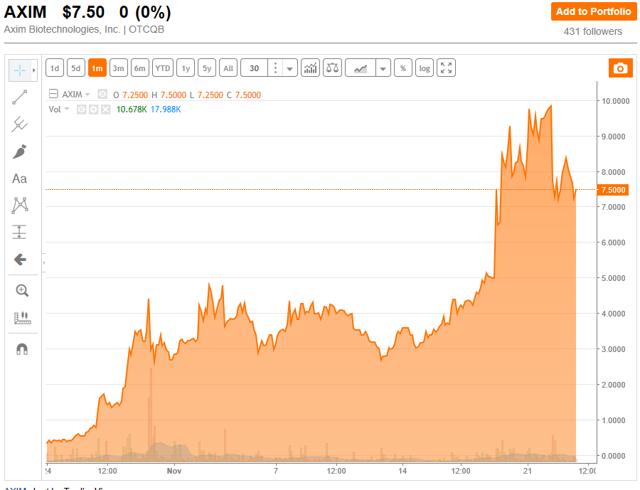 I do not use technical analysis (TA) or charting. You do not have to, in this case. The AXIM fundamentals are so horrible, it is unnecessary. However, the above chart is a classic parabolic rise, followed by a decline, followed by a slight recovery before continuing to proceed in a declining fashion. This is, precisely, what a "crash" looks like. Below is an example - the NASDAQ crash from about 15 years ago: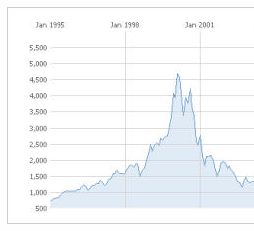 Below are the news releases that appear to be responsible for the buying frenzy or over-reaction and the parabolic rise in the firm's stock price-per-share:

The Market for Non-Hallucinogenic Chewing Gum is Large:

Components of September 30, 2016 financials follow: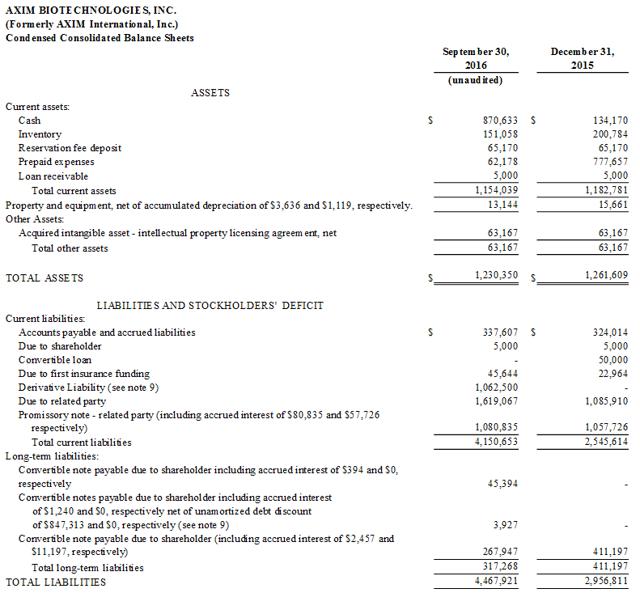 [1] Negative working capital: September 30, 2016 current assets approximate $1.2 million; current liabilities approximate $4.2 million [above].
[2] Toxic convertibles: September 30, 2016 "Due to related party" approximates $1.6 million, "Promissory note" to related party approximates $1.1 million; these measures exclude convertibles totaling $0.3 million [above].
[3] Negative gross profit on meager revenues: September 30, 2016 cost of goods sold approximates 140% of revenues [below].

Marijuana stock index measures have leveled off and/or are declining, post-election: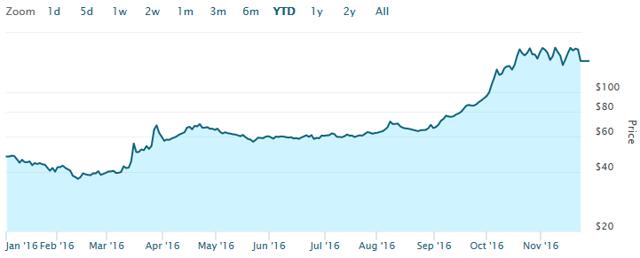 Some Easily-Followed Prior Seeking Alpha Articles
This article explains the seasonal patterns I anticipated for the marijuana stocks, segment or sector of the economy. I have been 85% correct, so far.
The "tax loss selling" - "January effect" sequence has been well-documented, in the academic and professional literature, for decades. They are, sometimes, referred to as "seasonal anomalies," and you can think of them as a very powerful "headwind" or a "tailwind." It is something that a stock can overcome, but only in cases of overwhelming, opposing forces. In this particular case, the stock has a market capitalization approximating $314 million, as of November 22, 2016.
Some Final Thoughts
If you have never shorted a stock, proceed cautiously. [Put and call options are not available for this security]. Take only a modest position and be sure to maintain adequate liquidity, just in case the stock does not "fall off a cliff" and bounces around a bit in the near-term.
The "stars are aligned" for a stock price decline, maximized on or about calendar year-end. Therefore, I do not recommend carrying or holding a short position after calendar year-end. Hope springs eternal, and a January effect-type recovery of some sort or magnitude might take place during early January 2017. In fact, this is probably, also, a good trade.
Disclosure: I/we have no positions in any stocks mentioned, but may initiate a short position in AXIM over the next 72 hours.
I wrote this article myself, and it expresses my own opinions. I am not receiving compensation for it (other than from Seeking Alpha). I have no business relationship with any company whose stock is mentioned in this article.
Editor's Note: This article discusses one or more securities that do not trade on a major U.S. exchange. Please be aware of the risks associated with these stocks.