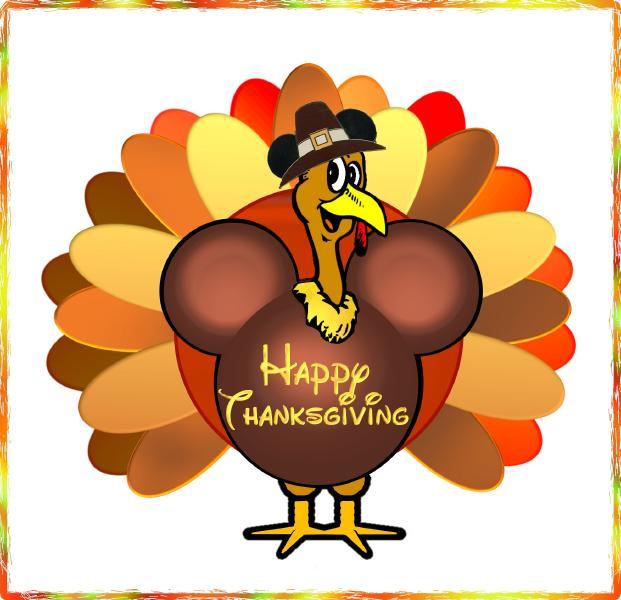 Subscribers to "Retirement: One Dividend At A Time" get an early look at this material and receive instant text message trade alerts which often produce lower entry price points and higher yield and income.
On the night of the presidential election, when things started turning sour for the Democratic candidate, the futures market went into a tizzy, losing over 800 points on the Dow. By the following morning, cooler heads seemed to prevail, and the market wound up strongly in the plus column during normal trading hours. Many investors were thankful for the turn of events.
President-elect Trump has been advancing several of his platform positions that have given comfort to the investor class. He has spoken of large tax cuts for individuals as well as business to stimulate growth in the economy. He wants to spend $1 trillion to rebuild crumbling infrastructure and said it will add millions to the workforce. These new workers, by dint of paying their income taxes, would add great sums to the Treasury. Mr. Trump wants to reduce thousands of regulations to free businesses up, and looks to remove constraints on the fossil fuel industries, including coal, to lessen our dependence on foreign oil sources and again, put more Americans back to work.
This is all music to the ears of investors who have felt that a stagnating economy has resulted in very poor earnings growth for our corporations. Anything that would loosen the strings would be welcome.
And so, the markets have responded resoundingly to these signals, with record after record falling almost daily the past few days. As investors, for this, we must all give thanks.
Impact On The FTG Portfolio
I began writing about the Fill-The-Gap Portfolio, almost two years ago. It is a continuing project that attempts to illustrate how a couple with an average Social Security benefit of $28,800 between them can close the gap between this moderate "pension" and a more comfortable $50,000 annual retirement income, utilizing high quality stocks with long periods of raising their dividends to fill that gap.
As we approach the two-year mark, and with the end of 2016 fast approaching, we give thanks to some of our best performers in this very public portfolio.
The Biggest Percentage Gainer
The RMR Group (NASDAQ:RMR) is a REIT (real estate investment trust) that was spun off to us as a result of our holdings in Government Properties (NYSE:GOV). RMR is the operating company of several REITs and holds shares in all of them.
The RMR Group Inc. through its subsidiary, The RMR Group LLC, provides business and property management services in the United States. It serves four publicly-traded real estate investment trusts (REITs) and three real estate operating companies. As of September 30, 2015, the company had approximately 1,300 properties under management, which are primarily owned by the managed REITs. It also provides investment advisory services. The company was formerly known as REIT Management & Research Inc. and changed its name to The RMR Group Inc. in September 2015.
At the time of the spin off, we received 9 shares of RMR, at no cost to us. In that day's trade, they were valued by the market at $11.89 per share. Currently trading at $40.70 per share, we have a paper capital gain of $259.29, with shares worth $366.30 which cost us not even a dime. To date, this company represents our biggest percentage winner, with a gain of 242% so far. We are thankful for this gift received in a spinoff, and for the fortitude to become a long-term holder in this name. It pays an annual dividend of $1.00 per share.
At the time we received it, the yield was 8.4% based on the then current price. Today, because the stock has risen more than three-fold, the dividend yield for new buyers is just 2.46%. What a difference a rise in price makes! The dollar amount of the dividend has not changed, to date, but the yield has fallen close to the S&P 500 yield.
We are thankful for the income and capital gain provided by this name.
The Biggest Dollar Gainer
The portfolio constituent that has provided the largest amount of dollars in capital gain so far this year has been Reynolds American (NYSE:RAI), the tobacco giant. British American Tobacco (NYSEMKT:BTI) is in the process of buying the 42% of Reynolds American that it doesn't already own. Should this merger pass muster by regulators, this behemoth combination will become the largest tobacco company in the world.
British American Tobacco p.l.c. engages in the production and sale of tobacco products. It provides cigarettes, roll-your-own tobacco, cigars, and snus, as well as other nicotine products, and electronic cigarettes. The company offers its products under the Dunhill, Kent, Lucky Strike, Pall Mall, Rothmans, Vogue, Viceroy, Kool, Peter Stuyvesant, Craven A, Benson & Hedges, John Player Gold Leaf, State Express 555, and Shuang Xi brands
Our shares in RAI were valued at $46.15 at the beginning of the year and are currently trading for $54.57 per share. This represents a gain of 18.24% and a dollar increase in value of $8875 on our 1054 shares.
These same 1054 shares were purchased in the original construction of the FTG Portfolio in December of 2014 for just $32.72 per share. This brings the total capital gain in this position, since inception of the FTG, to $23,030.00.
This, and many other positions in the portfolio, demonstrates the benefits of becoming a long-term holder in companies that consistently raise their dividend and have wide moats protecting their business. In RAI's case, this comes in the form of very high barriers to entry for newcomers, state and municipal governments addicted as much to the tax revenue they derive from the company as customers are to their products. Repeat business, the holy grail of any good corporation looking to grow its business, is the sticky ingredient that comes naturally to a large tobacco company.
When we originally bought our shares in December 2014, RAI was paying a quarterly dividend of $.335. Since that time, the company has raised the dividend to $.36 per quarter, and then to $.42, and now it stands at $.46 per quarter. This represents compound annual growth of 17.18%.
This translates to $.125 more per quarter, or $.50 more per year in income, per share, since we first bought our stake. In total, it means we're receiving $527.00 more per year of income on our 1054 shares.
We, our readers, followers and subscribers are thankful for solid capital gain and strong growth of our income from this name.
RAI CAGR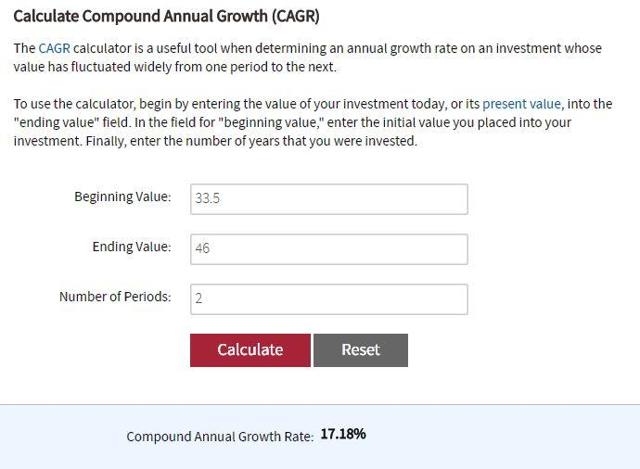 CAGR calculator: Source Investopedia
The Biggest Dollar And Percentage Loser
Most REITs have gotten beaten up pretty badly the last few months, contrary to what RMR has experienced. Because the economy has been sending numerous signals that it is gaining strength, the Fed is gaining more conviction that we are approaching the need for the beginning of a rate reversal.
Interest rates have been on a downward trajectory for some 35 years, but now, every Fed governor has been voicing the need to start raising rates soon. The futures market is now pricing in a 100% chance that the Federal Funds rate will be raised at the December 14 FOMC meeting, just weeks away.
This confluence of factors, belief that rates are about to lift off, in conjunction with the market's judgment that the new president's administration will be stimulative and good for the economy have combined to inject fear into the hearts of REIT investors. Many believe that REITs cannot do well in a rising rate environment. And so, large numbers of REIT investors have been throwing their baby REITs out with the bath water, causing their prices to fall 20% to 25% in recent months.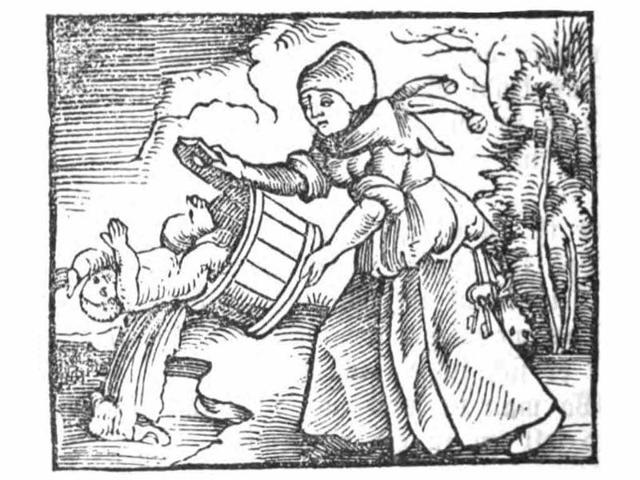 Our holding in Omega Healthcare Investors (NYSE:OHI) has participated in this bear market for REITs and contributed to the portfolio's biggest loss, to date.
Out of 24 different positions currently in the portfolio, only 4 have shown losses in capital value so far this year. Two of them show losses of 1% or less. Omega is sporting a loss of 17.75% year to date, or a paper loss of $4024.
Omega Healthcare is a much diversified holder, geographically and asset-wise, of healthcare properties, including skilled nursing facilities, clinics, hospitals and senior homes and assisted living facilities across the country. The largest cohort of population that they serve, those 85 years old or older, are projected to grow some 20 million over the next 20 years. This company is literally sitting in the sweet spot of continued growth as the main population it serves grows inexorably.
When we took our original position in this company in December 2014, they paid a quarterly dividend of $.48. They have increased the dividend by a penny each quarter since, and in July 2016 raised it two cents. Today, the dividend stands at $.61 per quarter. In less than two years, OHI has increased the dividend by $.13 quarterly or $.52 per year. This represents a CAGR of the dividend of 12.73%.
Income-wise, our annual income from our 648 shares has grown from $1244 to $1581. This represents an annual increase in income of $337, or a 27% increase.
I am thankful that our biggest loser is not such a big loser in relationship to overall portfolio value (just .8%), and quite thankful that OHI's growth in income has been extremely strong. After all, as an income investor, that's why we bought it.
Strategy Session
Because we are income investors, we focus on the growth of our income for retirement. Temporary draw downs in price, like what we've experienced with OHI are not viewed as a threat but as an opportunity.
This company's current dividend of $2.44 per year translates to a dividend yield of 8.48%.
As we get closer to the FOMC meeting in December, it is certainly possible that the market may grow more nervous about the upcoming rate increase. That being the case, we may be lining up to buy more of this fine company to snag a 9% yield, around a $27.00 entry point, or perhaps less.
We are not concerned that a small ¼% rate increase come December will crater the business model of this company. Large corporations have been anticipating the coming rate reversal for some time now. OHI has not been like a deer frozen in the headlights without a plan. They will adjust to the new regime, even if it means a few small rate increases in 2017, introduced slowly with lots of space between them. Fed Chair Jane Yellen has telegraphed these intentions for over a year, laying the groundwork so that everyone can adjust and prepare for them.
I have conviction that, coming off the lowest interest rates in history, a slow and steady rise will be accommodated by all without much difficulty. After the smoke clears and cooler heads prevail, stock values will recover.
At that time, it will be too late to take advantage of the damage that has already been visited on the REITs. Better to prepare now for the opportunities at hand.
The Fill-The-Gap Portfolio At A Glance
Almost two years ago, I began writing a series of articles on December 24, 2014, to demonstrate the real-life construction and management of a portfolio dedicated to growing income to close a yawning gap that so many millions of seniors and near-retirees face today between their Social Security benefit and retirement expenses.
The beginning article was entitled "This Is Not Your Father's Retirement Plan." This project began with $411,600 in capital that was deployed in such a way that each of the portfolio constituents yielded approximately equal amounts of yearly income.
The FTG Portfolio Constituents
Constructed beginning on 12/24/14, this portfolio now consists of 18 companies, including AT&T Inc. (NYSE:T), Altria Group, Inc. (NYSE:MO), Consolidated Edison Inc. (NYSE:ED), Verizon Communications (NYSE:VZ), CenturyLink, Inc.(NYSE:CTL), Main Street Capital (NYSE:MAIN), Ares Capital (NASDAQ:ARCC), Reynolds American, Inc. (NYSE:RAI), Vector Group Ltd. (NYSE:VGR), EPR Properties (NYSE:EPR), Realty Income Corporation (NYSE:O), Sun Communities Inc. (NYSE:SUI), Omega Healthcare Investors (NYSE:OHI), W.P. Carey, Inc. (NYSE:WPC), Government Properties Income Trust (NYSE:GOV), The GEO Group (NYSE:GEO), The RMR Group (NASDAQ:RMR) and Southern Company (NYSE:SO).
Because we bought all of these equities at cheaper prices since the inception of the portfolio, the yield on cost that we have achieved is 6.63%.
FTG Portfolio Close: Tuesday, November 22, 2016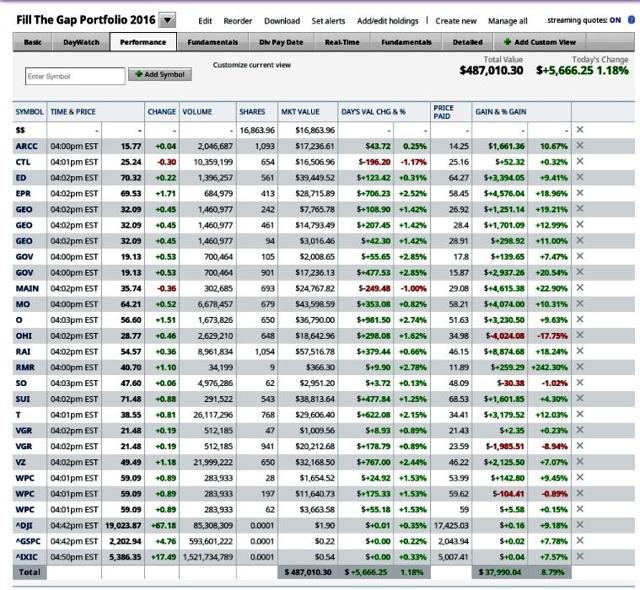 The Real-Time Portfolio Tracker
As an aid to my research, I'm able to plug in OHI into this tool to track entry prices, current prices in real time, original value of investment, change of this value through time (capital gain or loss percentage), their dividends, current yield and the yield on cost over time when the dividend changes. It also gives me instant feedback as to how much income each portfolio component provides to the portfolio, what percent each represents in overall portfolio value, and most importantly, what percent of income each position contributes to the overall income produced by the portfolio.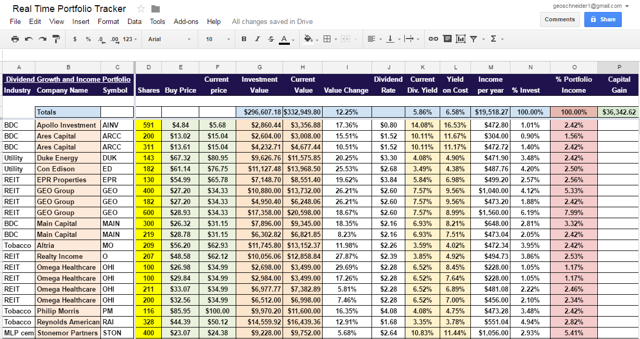 Watch List Real Time Tracker
The Watch List Real Time Tracker is another versatile digital tool which operates in real time. It updates data all day long and I used it to discover and obtain those better-timed entry prices discussed earlier on Omega Healthcare. This always leads to higher yield and higher income, for life!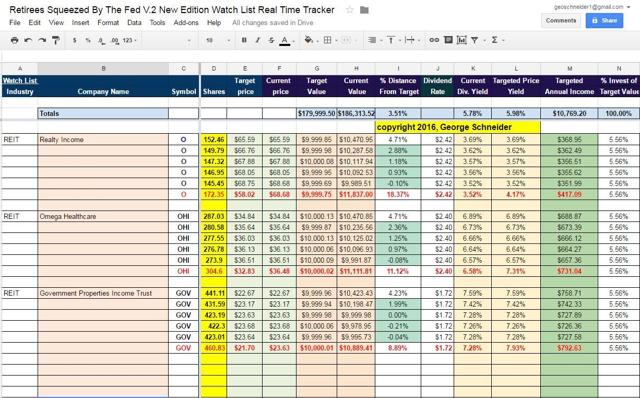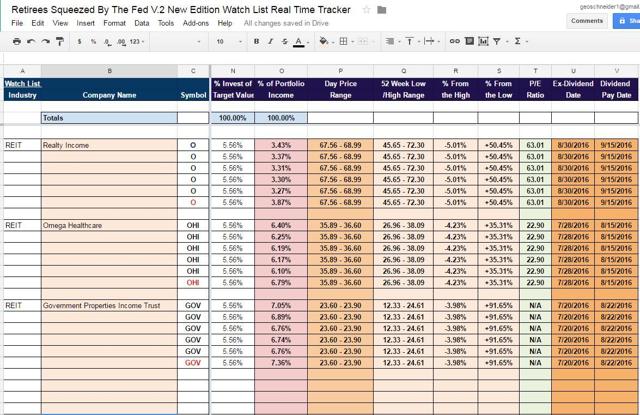 Structuring Dividend Income for Reliable Income
I enjoy the simplicity of organizing dividends streams to match my ongoing expenses. I also benefit from being able to anticipate the payment of dividends so I can strategize and time my next reinvestment into current stocks or others that provide an even better proposition such as Omega Healthcare.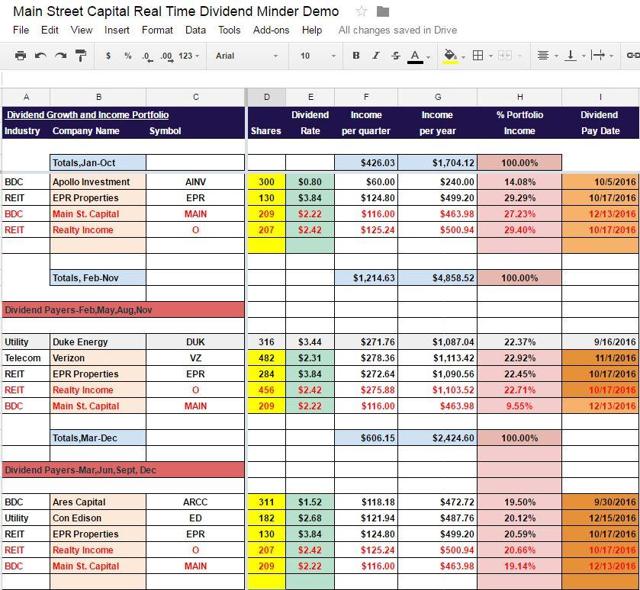 Because it is a web-based application, it automatically sources your dividend rate, quarterly and annual income, dividend pay date and percent of total portfolio income for your common stocks, CEFs, BDCs and MLPs and updates everything in real time for you. And it works on any computer, tablet or phone.
FTG Recap
Currently, the FTG is producing $25,072 in annual income. When added to the average couple's Social Security benefit of $28,800, we have, in only 23 months' time, significantly exceeded our goal of filling the gap between SS income and a comfortable $50,000 retirement. In fact, our total income between these two sources is now $53,872. We benefited from many dividend increases received last month and our reinvestment of dividends into our new position in Southern Company shares. The new dividend income attendant to this purchase has us now in hailing distance of our dividend income exceeding Social Security benefit income.
We have enjoyed a regular stream of dividend increases, more than enough to keep us comfortably ahead of inflation.
With its beginning value of $411,600 and the addition of a $6,500 IRA contribution for 2015 and a $6,500 IRA contribution for 2016, total asset contributions come to $424,600. The portfolio has grown $62,410 to a value of $487,010. This represents capital appreciation of 14.7% in just 23 months.
$487,010-$424,600 = $62,410 capital appreciation
$62,410/$424,600 = 14.7% percentage gain
On a price return basis, this year alone, the FTG has grown $37,990 in value, or 8.79%, while the S&P 500 is up just 7.78%, also on price return. Accordingly, the Fill-The-Gap Portfolio has effectively returned 1.13 times the return on the S&P index. In other words, it has handily trumped the S&P index by 13%. It has also outperformed the return of the Nasdaq Index by 16%.
Thanksgiving
Giving thanks at this time of year can take many forms and be expressed in many ways. Most of us are thankful for the good health we have, when we have it. We are thankful for our families that lend us love, comfort and support throughout our lifetimes. We are grateful for the bounty we have received or produced that provides the succor and wherewithal to live productive, useful and comfortable lives, and able to feed our families.
In addition to all of these, I am thankful for the opportunity Seeking Alpha has given me to share my ideas with readers, and thousands of followers and subscribers, many of whom have written me personal notes, thanking me for lending help in their journeys as we build and grow income together for retirement.
Mirror Trades In the FTG and RODAT Subscriber Portfolio
Subscribers and readers wishing for an easy way to mirror their trades after the RODAT subscriber portfolio and the FTG Portfolio can easily enter the OHI ticker. After doing their own due diligence, they might wish to proportionately mirror their own trade in Omega Healthcare using the parameters I've discussed above, using My Fill-The-Gap Mirror Calculator.
MY FTG Mirror Calculator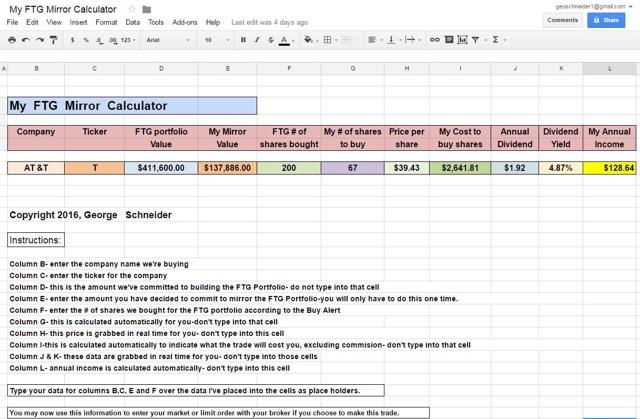 Author's note: Should you be interested in reading any of my other articles detailing various strategies to enhance your returns on a dividend growth portfolio, you will find them here.
I invite you to follow me in order to be notified of all of my new work on a real time basis. Simply click "follow" next to my picture, then choose "follow this author" and "real-time alerts on this author."
As always, I look forward to your comments, discussion and questions. Please share your opinion of where you think interest rates are headed and how this might affect your investment in interest sensitive stocks.
As our subscriber roster fills up, we will soon be ending the FREE two-week trial of my subscription service which includes instant text alerts. To learn more about this premium service, please click this link:
Retirement: One Dividend At A Time
Disclaimer: This article is intended to provide information to interested parties. As I have no knowledge of individual investor circumstances, goals, and/or portfolio concentration or diversification, readers are expected to complete their own due diligence before purchasing any stocks mentioned or recommended.
Disclosure: I am/we are long T, MO, ED, VZ, CTL, MAIN, ARCC, RAI, VGR, EPR, O, OHI, SUI, WPC, GOV, GEO, RMR, SO.
I wrote this article myself, and it expresses my own opinions. I am not receiving compensation for it (other than from Seeking Alpha). I have no business relationship with any company whose stock is mentioned in this article.