The U.S. stock market has surged to new all-time highs. At the same time, the U.S. bond market has suffered a rout. Optimistic investors are seizing on this stark divergence as evidence that investors are embracing the anticipated pro-growth policies under the new administration and are unleashing their animal spirits. While this makes for a great narrative in the financial news media, it is important to dig deeper into the data to find actual evidence of a major shift in portfolio positioning by investors.
Flow
A way to assess whether the movements in price are being supported by actual capital flows from institutional and retail investors is to examine the fund flow data. If investors are truly feeling enthusiastic about future growth prospects for the U.S. economy as they relate to financial markets, we would presumably see a massive shift in fund flows out of domestic bonds (NYSEARCA:AGG) and into domestic stocks (NYSEARCA:SPY) to reflect the meaningful price shifts we have seen from both asset classes since the U.S. presidential election outcome was determined.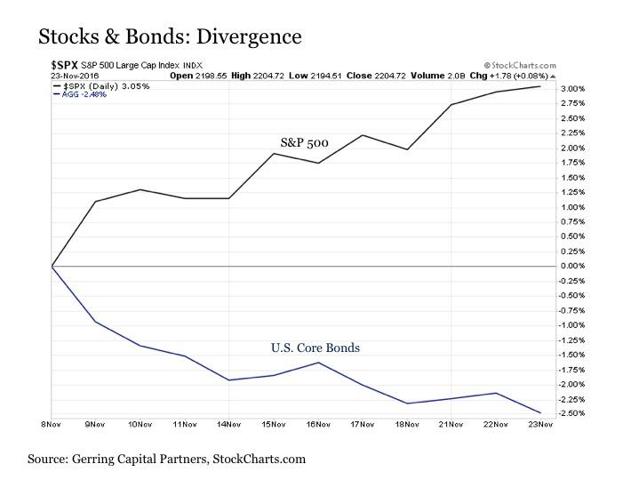 When examining the Investment Company Institute Long-Term Mutual Fund and Exchange-Traded Fund Flow data, some interesting findings reveal themselves in this regard.
First, we did see a strong flow of funds into U.S. stocks over the past week since the election. Overall, more than $23 billion poured into domestic stocks for the weekly period ended November 16. With the S&P 500 Index having risen a solid +3% over this time period, the animal spirits narrative is so far so good.
Next, a look at the flow of funds out of U.S. bonds is a bit less convincing. The domestic bond market was trounced over this same time period, falling by more than -2.5%. But only $5 billion flowed out of the bond market during this weekly period ended November 16. This is a solid chunk of change, but hardly indicative of a massive rotation by investors out of bonds to pursue their animal instincts.
Drawing back the lense for a broader perspective on fund flows raises further questions about the unleashing of animal spirits argument for U.S. financial markets. Although U.S. stocks are currently trading at all-time highs, they have effectively been trading sideways since the end of 2014.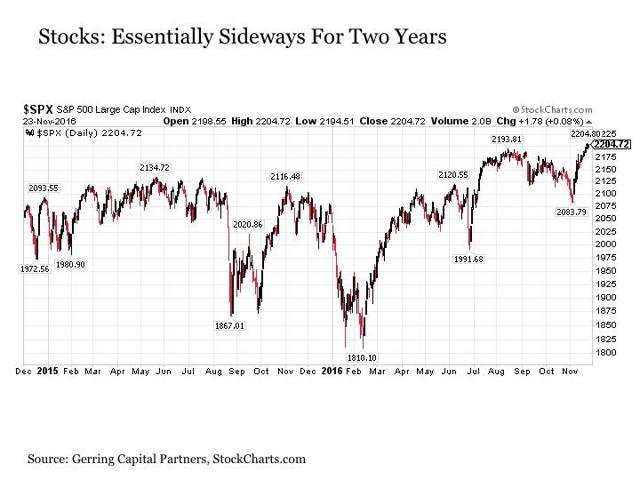 Yet, over this time period, from January 2015 through November 9, 2016, we have seen a net of -$234 billion flow out of long-term mutual fund and exchange traded funds. Put more simply, nearly a quarter of a trillion dollars of institutional and retail dollars had exited the U.S. stock market for nearly two years leading into the latest reported week when $23 billion flowed back in. While $23 billion is certainly a good start, we have a lot of investor "animal spirit" ground that was lost over the past two years to make up going forward.
All of this, of course, raises an even bigger question. Exactly how has the U.S. stock market managed to continue hovering near all-time highs over the last two years with one quarter of a trillion dollars in institutional and retail investor dollars flowing out of the stock market? More on this point in a minute.
Let's move over to the bond market. Once again, $5 billion flowed out of the bond market over the weekly period ended November 16. But for the year to date in 2016 leading up to this past week, we have seen $156 billion flow into the domestic bond market. This included $88 billion of institutional and retail investor dollars flowing into U.S. bonds since the end of June. Thus, the $5 billion that these same investors shifted out of bonds over the first week after the election represents a relatively small chip out of the flood of money that had been flowing into bonds up until Election Day.
What does this all mean? The jump in U.S. stocks since the election has not come at the expense of U.S. bonds in any measurable way. Institutional and retail investors that had been flowing out of stocks and into bonds since the start of 2015 largely held their ground. Put more simply, the move since the election does not look like an overwhelming expression of enthusiasm about anticipated pro-growth policies and the unleashing of animal spirits. Instead, something else appears to be going on.
Hustle
So if it is not animal spirits, what exactly is at work that is driving stocks higher and bonds lower?
In regards to stocks, the primary tailwind likely continues to be the ongoing increase of total assets on the balance sheets of major central banks around the world and the associated liquidity it provides into financial markets. Collective central bank balance sheets have expanded at a torrid pace in 2016 thanks to the stimulus programs from the Bank of Japan and the European Central Bank, and these liquidity flows have helped sustain U.S. stocks at their current levels for some time now despite lackluster underlying economic and corporate fundamentals at best along with the massive net outflows of the common institutional and retail investor throughout the post crisis period.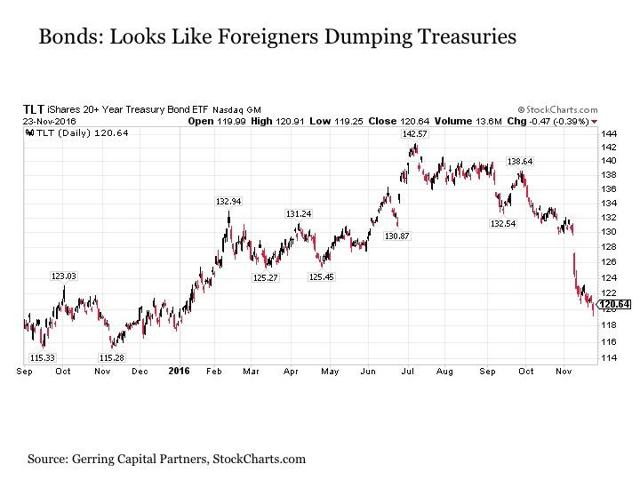 As for bonds, the primary culprit is likely large scale selling by major foreign holders of U.S. Treasuries securities. The U.S. Treasury market (NYSEARCA:TLT) peaked right at the start of July in 2016. Since that time up until the election, it has been moving steadily lower even though $88 billion in institutional and retail investor dollars had flowed into the domestic bond market. So what accounts for the decline in Treasury bonds over this time period? According to data from the Department of the Treasury and the Federal Reserve, this peak in Treasuries coincided almost exactly with the start of what has become a wave of selling activity by major foreign holders of U.S. Treasuries. For example, over the three-month period from July to September 2016, foreign holders sold more than $155 billion in U.S. Treasury bonds and notes. This, of course, more than offset the $71 billion that flowed in from institutional and retail investors in the U.S. And since the election outcome, it has been widely reported that this foreign selling of Treasuries has accelerated at a meaningful pace.
What can we then conclude?
Proclamations in the financial media that the rise in the stock market and the decline in the bond market are due to the unleashing of animal spirits, and the excitement about future pro-growth policies is misleading.
Sure, we have seen some enthusiasm on the stock side over the past week, but it pales in comparison at least so far to the pessimism that preceded it over the past two years from institutional and retail investors in the U.S.
And the notion that the rise in stocks is being supported by U.S. investors enthusiastic about future growth prospects shifting out of bonds and into stocks is patently false. Bonds are not falling right now because U.S. investors are excited about growth. Instead, they are falling because foreign holders of U.S. Treasuries are dumping our debt at a breakneck pace in the wake of the election outcome. This is hardly anything that one might describe as a bullish indicator but instead represents a notable rebuke by the global community about the outcome of the U.S. election.
The Bottom Line
Why does all of this matter? Because a narrative has been formed around the recent rise of the U.S. stock market since the election that remains mostly unsubstantiated by the underlying data. And this includes the notion that stocks are rising and bonds are selling off because of the unleashing of animal spirits by U.S. investors over the optimism for future growth.
All of this highlights the importance of doing your own homework when overseeing your investment portfolio. Do not simply take the information that you are hearing on the mainstream financial media at face value. Instead, challenge this information and dig deeper into the underlying data to determine if what you are hearing is actually true or if it is nothing more than a hustle by those that have constructed a narrative out of convenience to support a desired future outcome for their investment strategy. This additional effort alone will not only help protect your portfolio from chasing themes that are built on sand and instead will lead you to opportunities that may require patience, but are being overlooked if not outright spurned by the market.
Disclosure: This article is for information purposes only. There are risks involved with investing including loss of principal. Gerring Capital Partners makes no explicit or implicit guarantee with respect to performance or the outcome of any investment or projections made. There is no guarantee that the goals of the strategies discussed by Gerring Capital Partners will be met.
Disclosure: I am/we are long TLT.
I wrote this article myself, and it expresses my own opinions. I am not receiving compensation for it (other than from Seeking Alpha). I have no business relationship with any company whose stock is mentioned in this article.
Additional disclosure: I am long selected individual stocks. I also hold a meaningful allocation to cash at the present time.