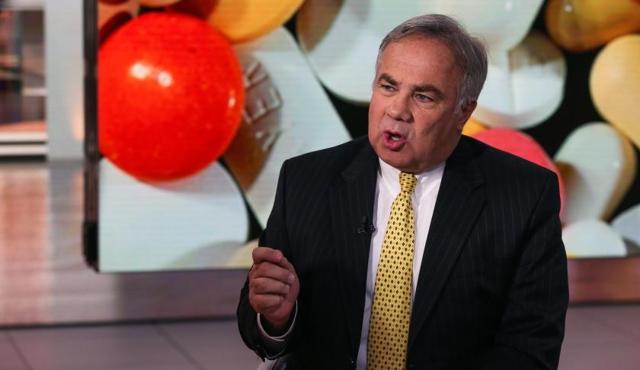 Valeant CEO Joe Papa
Source: Forbes
Valeant (NYSE:VRX) is one of the most hotly-debated stocks, yet several questions remain unanswered. Do lawsuits deserve merit, and what are the potential payouts? Will asset sales be robust enough to justify its $36 billion enterprise value? Prior to Q3 earnings, rumors suggested Takeda (OTCPK:TKPHF) (OTCPK:TKPYY) was seeking to acquire Salix for $8.5-10 billion, or 10-12x EBITDA. Wednesday, Spain's Intereconomia reported that Takeda was acquiring Salix for $9.3 billion:
Japan's Takeda Pharmaceutical will announce next Monday the purchase of Salix Pharmaceutical from Valeant for $9.3 billion, lower than the $10.8 billion offer launched in early November. This reduction in the price has been provoked because Valeant's creditor banks have pressured the drugmaker to sell Salix because of the economic hardship it faces. The proceeds from the sale can be an oxygen ball for Valeant and thus guarantee its survival ... Of the $9.3 billion, $8.4 billion will be disbursed and the remainder in royalties.
VRX bulls might rejoice that the company is going to survive, and therefore, the rumored sale should send the stock higher. However, the sale would equate to 9.1x EBITDA and would send VRX below my sum-of-the-parts valuation of $1.
Sans Salix, Valeant Is Worth $0.22
To entice sellers to the bargaining table, buyers usually have to offer a takeover premium; the typical premium is 25% to 30% of a property's standalone value. By my estimation, the $9.3 billion rumored sale would equate to a buyout multiple of 9.1x EBITDA. A built-in takeover premium of 25% would imply a fair value of 7.3x standalone for Salix.
My previous sum-of-the-parts valuation applied (i) an 8x standalone multiple for Bausch & Lomb and the Branded Rx segment (which includes Salix), and (ii) a 5x multiple for U.S. Diversified. Adjusting these multiples for the Salix transaction would lower VRX's sum-of-the-parts to $0.22.
Full-Year Revenue
Valeant's total quarterly revenue was $2.5 billion. Revenue for Salix was $436 million. I simply annualized the quarterly data to derive full-year estimates.
EBITDA
According to Valeant's third-quarter 2016 conference call presentation, Bausch & Lomb/International, Branded Rx, U.S. Diversified Products and Corporate Overhead's share of total EBITDA was 32%, 48%, 35% and -15%, respectively. I attributed the same percentage of the company's Q3 EBITDA of $1.1 billion to each of the segments:
The implied EBITDA margin for Branded Rx was 59%. I assumed the same margin for Salix which equated to EBITDA of $256 million.
Quarterly EBITDA ex-Salix would have been (i) $1.1 billion less (ii) $256 million or (iii) $803 million.
Full-year EBITDA ex-Salix would be $3.2 billion.
EBITDA Multiple
Again, the 9.1x multiple for Salix would equate to 7.3x standalone. I applied a 7.3x buyout multiple to the EBITDA of Bausch & Lomb and Branded Rx (ex-Salix). Salix and Bausch & Lomb are considered the company's two most attractive properties. One could question the attractiveness of Branded Rx ex-Salix. That said, applying 7.3x for Branded Rx ex-Salix could be slightly optimistic.
The true revenue and earnings power of U.S. Diversified is a question mark. What we do know is that 2017 revenue and EBITDA will be lower. The segment's $471 million Q3 revenue was off 4% sequentially and 17% Y/Y.
Several of the segment's neurology products are expected to lose exclusivity and/or face competition from generics.
Given the potential diminution in the segment, I applied a 5x EBITDA multiple to Diversified Products run-rate EBITDA.
The blended EBITDA multiple for all segments was 6.4x, so I applied that to the company's corporate costs. This is a quirky way of presenting the data; however, I thought it would be more transparent to show (i) segment data and (ii) corporate costs separately than to arbitrarily apply corporate costs to each segment.
The sum-of-the-parts enterprise value of VRX ex-Salix would be approximately $20.6 billion.
Equity Value
Valeant's net debt at Q3 2016 was $29.8 billion. After adjusting net debt for the $9.3 billion in Salix proceeds, the net debt declines to $20.5 billion. I assumed no tax consequences for the Salix sale. The equity value - enterprise value less net debt - would be $77 million.
Per Share Price
Assuming 341 million shares outstanding (per Yahoo), VRX would be worth $0.22 per share.
Conclusion
If the sale of Salix happens as suggested, then Valeant forgoes 24% of its EBITDA, yet pays down 31% of total debt. Ex-Salix the company's enterprise value would be $20.6 billion, amid net debt of $20.5 billion. The deal would be a win for debt holders. They would get over 30% of their debt repaid. Secondly, Valeant's debt/EBITDA would improve to 6.6x after the sale from its current level of 7.2x.
The transaction is not good for equity holders. VRX currently trades at $16.94, but its sum-of-the-parts would fall to less than $1. Sell VRX.
Disclosure: I am/we are short VRX.
I wrote this article myself, and it expresses my own opinions. I am not receiving compensation for it. I have no business relationship with any company whose stock is mentioned in this article.
Editor's Note: This article discusses one or more securities that do not trade on a major U.S. exchange. Please be aware of the risks associated with these stocks.