New Senior Investment Group (SNR) is a recent spin-off which traded at $20/share in its early days in the year 2014 but closed recently at $9.73. It is paying a dividend of 26 cents a quarter for an annual yield of 10.7%.

The Business - SNR is one of the largest publicly-traded owners of senior housing properties, with a portfolio of 154 properties across 37 states. The company operates or leases private-pay senior housing, with 100% of its "net operating income" made up of Private Pay. That means that the risk of reduced reimbursement from the government is not present which is the case for some other healthcare REITs such as Omega Healthcare (NYSE:OHI). SNR's facilities are classified as either "independent living" or "assisted living/memory care."
Roughly half of its net revenue comes from triple net leased facilities which are leased almost entirely to a single tenant - Holiday Retirement. These facilities are typically under long-term contracts with annual rent escalation of 2.5-4.5%.
The other half of the revenue comes from managed facilities in which SNR obtains the net profit after costs and a management fee to the facility manager. SNR's facilities are geographically diverse.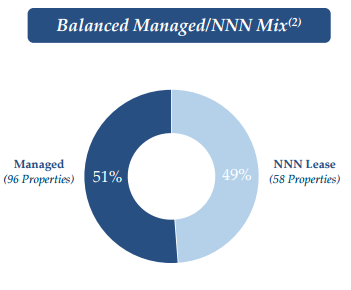 The business provides relatively steady revenue which should be reliable going forward in light of the enormous increase in the senior population which will develop as more and more baby boomers hit retirement age. U.S. senior population aged 75+ is expected to double in twenty years, and therefore, the business model that SNR operates in is quite attractive. The overall quality, stability and growth profile of the portfolio makes SNR less vulnerable to economic or regulatory changes.
Profitability & Valuation: SNR does a good job of disclosing cash flow metrics - the most useful of which is Adjusted Funds From Operations (AFFO).
Based on recent financials, AFFO is running at $1.12/share so that the price/AFFO ratio is very low at 8.7 times. This meets our common criterion for a "dirt cheap REIT" of a price/AFFO ratio below 10 times. AFFO does not use increased future rents, but uses actual current rents instead. Therefore, AFFO should steadily increase due to the automatic escalation clauses in the triple net leases described above. It is worth to note that the average price/FFO ratio in the property REIT space is currently at 18 times.
Another way we like to look at profitability is based on cash returns per share. SNR is currently generating 11.5% "cash returns" based on its current share price of $9.73, out of which the company pays a 10.7% dividend. This metric indicates that SNR is a highly profitable investment to consider at the current price.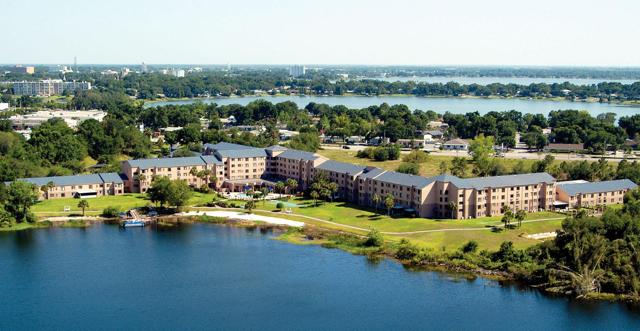 Source: Company website
Adequate Dividend Coverage: SNR pays its dividend on a quarterly basis at a rate of $0.26/quarter (yearly $1.04). The dividend has an adequate coverage ratio of 1.08 times AFFO. SNR goes ex-dividend on December 4, 2016 as shown in the dividend history table below: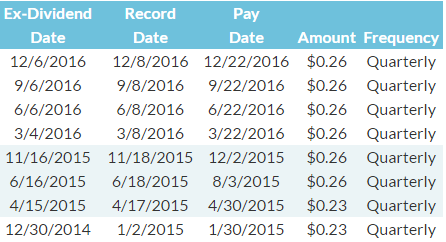 The Balance Sheet - By far, the biggest risk with SNR is leverage. As with many spin offs, a good deal of debt has been loaded into the balance sheet. As of the close of the most recent quarter, SNR had total debt of $2.146 billion and net debt of $2.073 billion (after subtracting balance sheet cash of $73 million).
Based on most recent financials, SNR is producing adjusted EBITDA of roughly $198.4 million a year so that the net debt/EBITDA ratio is very high at 10.4. In addition, annual interest expense is roughly $92 million which means that pre-interest cash flow provides only a bit more than 2 to 1 coverage of interest payments.
"Net Debt" to Gross Investment ratio comes to 66.6%; so effectively SNR owns 33.4% of its properties through its own funds and finances the rest.
SNR discloses that its loans have various covenants but we have not been able to find a detailed description of those covenants. What we have found in SNR's most recent financial statement is a disclosure that it was not in compliance with one of those covenants during the most recent quarter. The problem is not serious and can be remedied by a $1.3 million paydown of the relevant loan which should not be a problem given its $73 million of balance sheet cash. However, it is a sign that SNR is on the edge of non-compliance and that any deterioration in cash flow could create a more serious issue.
SNR does not have any preferred stock and has even repurchased some common stock in early 2016. One solution to the balance sheet issue could be the issuance of a limited amount of preferred stock. SNR has been pursuing another solution - the sale of some facilities - and closed one such sale shortly after the end of the latest reporting period. The sale was closed on favorable terms and produced $23 million which will result in a reduction of outstanding debt.
Ability to carry a higher debt level - The stability of SNR's revenue sources should allow it to carry a higher amount of debt than many other REITs.
Triple net leases are a very secure asset. If tenants run into financial problems, they will likely seek to continue the leases even if they file Chapter 11 bankruptcy. In this sense, triple net landlords are probably in a more secure position that unsecured creditors. SNR also has the advantage of non-reliance on government reimbursement and is therefore not subject to the risk of reduced reimbursement policies. It is operating in what figures to be a growth industry with a "sticky" relationship with the elderly tenants in its managed facilities.
The growth of its rental income due to the "rent escalation" feature of SNR's contracts should, over time, reduce the leverage ratio level.
SNR management has done a good job with the maturities of their debt portfolio, as they do not have any significant maturity before the year 2020.

Nevertheless, a debt/EBITDA ratio of more than 10 is inherently risky and SNR should (and apparently will) take steps to reduce its debt.
Risks - Higher Interest Rates: We are, once again, in a phase of the post-Crash economy in which everyone assumes that interest rates will significantly increase. This confidence may prove to be misplaced, but in any event, SNR faces some interest rate risk. Of SNR's more than $2 billion in debt, 41% are based on floating rate debt while the rest is based on Fixed Rate. The majority of the floating rate debt has a "LIBOR cap" of between 3.3 and 3.8%. SNR has hedged this risk with derivatives but hedges tend to become more expensive as the perceived risk of an interest rate increase.
Because of its heavy leverage level, SNR would take a considerable hit from a rate increase. If effective rates were to increase 2% and if they were not hedged, SNR would experience a decline of more than $17 million a year (roughly 16%) in AFFO and other cash flow metrics. This would likely require a dividend reduction. We should note however that SNR's revenues are set to increase, and if increased sufficiently to offset this cost, there would be no problem. SNR currently has derivative positions in place to hedge the risk.
My View on Interest Rates
Following Mr. Trump's election win, Treasury notes' interest rates have been rising in anticipation of further economic stimulus. President-Elect Trump's economic plans are likely to result in interest rates rising faster than initially expected. However, I believe that future interest rate hikes will remain slow and small, as the U.S. Fed has a limited ability to hike rates, and that is for many reasons:
Currently, the U.S. economy is still growing at a slow pace. Any economic stimulus by Mr. Trump may take years to have a significant impact.
The global economy is still struggling with low inflation. The U.S. alone cannot see fast growth without the support of other global economies. We have to remember that China's economy has decelerated in a meaningful way in the past few years, while the economy in Europe is at a standstill. It will be very difficult for the U.S. Federal Reserve to substantially hike interest rates while the rest of the world economies are still supporting record low interest rates. This will create several economic problems in the U.S.
Mr. Trump so far gave two conflicting objectives: He wants to stimulate the U.S. economy, but at the same time wants a competitive U.S. Dollar. These two objectives are contradictory. More economic stimulus will result in a stronger dollar against other currencies, and in turn can decelerate U.S. economic growth. I believe that Mr. Trump or his economic advisers will have to find a balance between the two objectives, which would mean less stimulus to the economy.
In the meantime, property REITs are still struggling despite the fact that historically, they have done very well during periods of rising interest rates as I argued in a recent article on Seeking Alpha entitled:
Why The Pullback In Property REITs Is A Buying Opportunity
This sector is one of few which currently provide great value for the money.
Buyout Candidate: SNR is a small cap stock of about $800 million. With the current valuations being strikingly low, the company could be a very attractive buyout candidate by another larger Property REIT company that is willing to pay a premium for the transaction. This could be a catalyst that could unlock significant value to current shareholders.
Conclusion - SNR is in an attractive space and trades for a very, very low price/AFFO ratio and pays a very attractive dividend. The current attractive valuations in our opinion are factoring in the current risks and even more. Investing in SNR can add good diversification in one's high-yield portfolio as its business risk is unlikely to be correlated to the business risks of BDCs, MLPs, hotel REITs, business triple net REITS, and other high-yield equities. Senior living centers will prosper for reasons largely independent of the factors which will lead the equities listed above to prosper. For that reason, SNR adds not only an attractive yield but also a degree of diversification of risk to a high-yield portfolio.
If you enjoyed this article and wish to receive updates on my latest research, click the "Follow" button next to my name at the top of this article.
About "High Dividend Opportunities"
High Dividend Opportunities, is a leading dividend service ranked #1 in dividends on Seeking Alpha and is dedicated to bringing investors the best high-yield securities trading at bargain valuations. It includes a managed portfolio targeting 7-9% overall yield - and a selection of the best high yield Master Limited Partnerships, BDCs, U.S. Property REITs, Preferred Shares, and closed-end funds (CEFs). We are currently re-positioning our portfolio to maximize profits following Mr. Trump becoming president. I invite readers for a two-week free trial currently offered by Seeking Alpha to have a closer look at our investment strategy and our Top Buy list. For more info, please click here.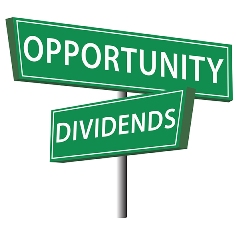 Notes:
This article was jointly produced with "High Dividend Opportunities" co-author Philip Mause.
All charts/images above were extracted from SNR's website.
Disclaimer: "High Dividend Opportunities" service is impersonal and does not provide individualized advice or recommendations for any specific subscriber or portfolio, as I have no knowledge of the investor's individual circumstances. Subscribers/readers should not make any investment decision without conducting their own research and due diligence, and consulting their financial advisor about their specific situation.
Disclosure: I am/we are long SNR.
I wrote this article myself, and it expresses my own opinions. I am not receiving compensation for it (other than from Seeking Alpha). I have no business relationship with any company whose stock is mentioned in this article.