Here are the earnings for the last 8 quarters for the top solar module manufacturers in the world by module shipments that trade on US markets:
Jinko Solar (NYSE:JKS)
Jinko has beaten EPS estimates in 7 out of 8 quarters: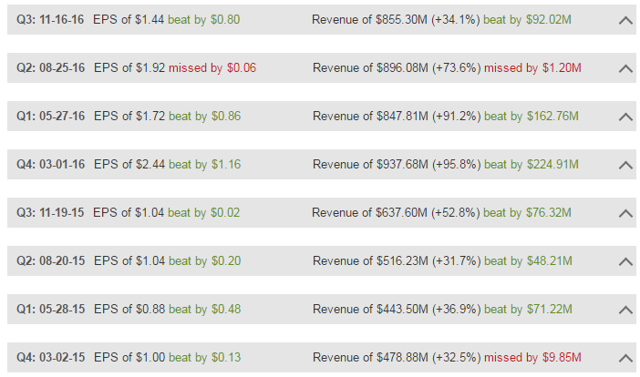 Trina Solar (NYSE:TSL)
Trina has beaten EPS estimates in 6 of 8 quarters: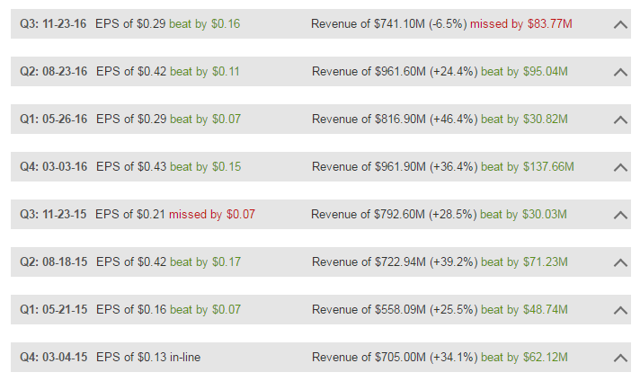 Canadian Solar (NASDAQ:CSIQ)
Canadian Solar has also beaten EPS estimates in 6 of 8 quarters: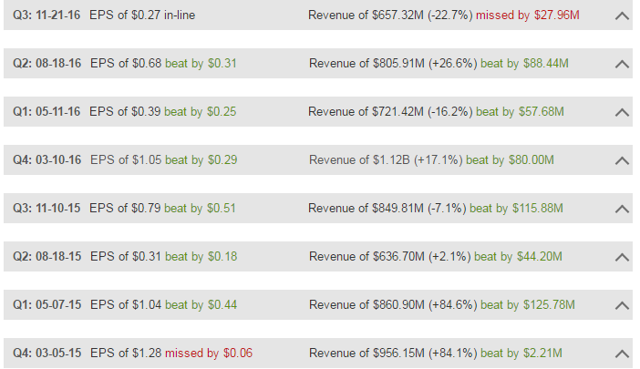 JA Solar (NASDAQ:JASO)
JA Solar has beaten EPS estimates in 5 of 8 quarters: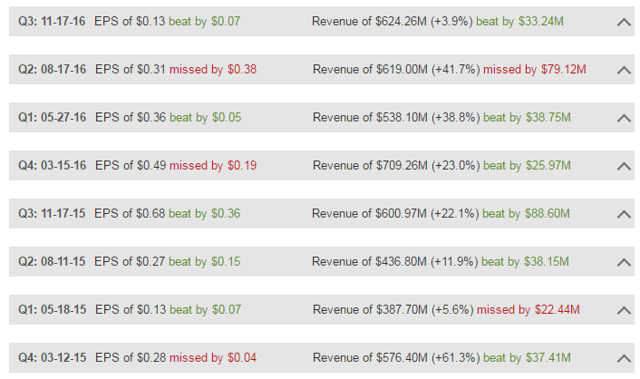 So while these beats continue, lets see what's happened to the stock prices: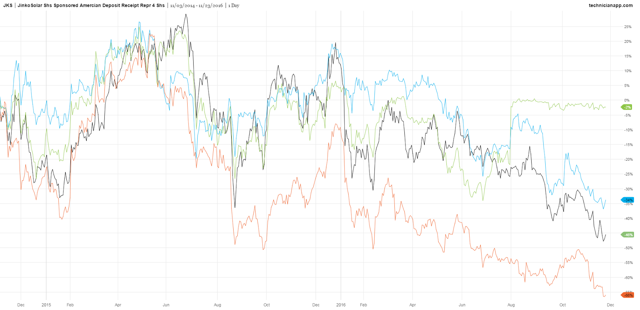 Other than Trina Solar, the rest are on a downward trajectory. Is this justified? Let's take a deeper look at the businesses:
Module Shipments
Here are module shipments for the companies to third parties. This does not include modules provided to the companies own projects: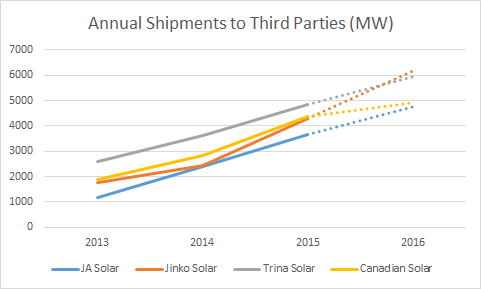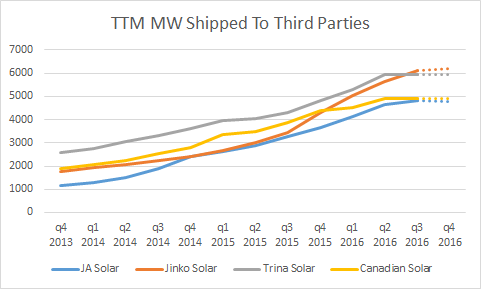 Source: Company Quarterly Releases. Q4 2016 is based on guidance provided by the company.
The TTM chart above shows slightly slowing growth in Q4 but nothing worrisome yet. In fact, here is a nugget from Canadian Solar's third quarter release:
The Company is overbooked for the current quarter and fully booked for the first quarter of 2017. As a result, the Company has to use third party solar modules for some of its own projects, in order to satisfy the demand from its solar module customers.
Here is what Jinko Solar had to say:
In general, we have around 30% of orders for 2017 and we are closely following the market changes and we will picking up more orders, we're feeling that from near-term to mid-term to long-term orders.
So what exactly is worrisome? Two things. In its Q3 earnings presentation, First Solar (NASDAQ:FSLR) noted dramatic price declines in solar module pricing: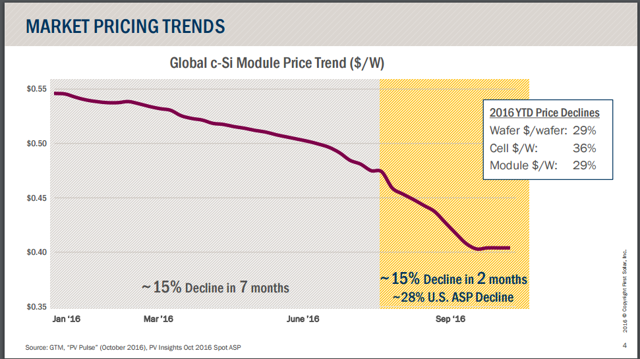 The second problem is that the Tier 1 suppliers alone have ramped up capacity enough to supply most of the global demand for 2016 and they continue to grow according to BNEF.
So the concern is that module price drops may continue as everyone ramps and profitability will dwindle in an already low margin commodity business.
Income
I've been evaluating the solar companies using the ratio of Net Income to MW supplied (basically a measure of margin). Let's look at where that is trending: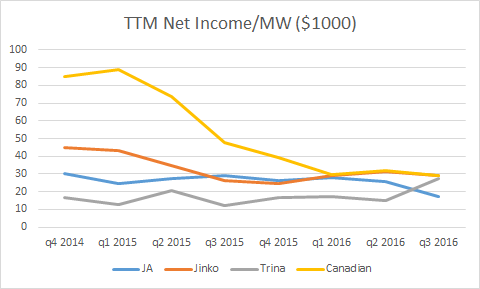 While Canadian Solar has shown a massive decline resulting from poorer project pricing and come down to earth with the rest of the pack, on the whole things are relatively stable. So the companies are doing just fine. Stable incomes per unit of shipment and rising units of shipments.
What this means is that all the companies are doing a good job reducing costs in line with reducing prices. Here is what Canadian Solar expects for next year:
Therefore, let's say if $0.29 of fully integrated China cost [for Q4 2017], then our total blended cost will be in the low 30s.
I expect the rest to be even lower. Jinko Solar already expects a total blended cost of 0.35 next quarter:
So, all in all, I think we're very confident we can achieve the total blended cost to $0.35 compared to the $0.40 in the third quarter.
Market Share
Each of the four companies in this article has been growing faster than the overall solar market and gaining market share.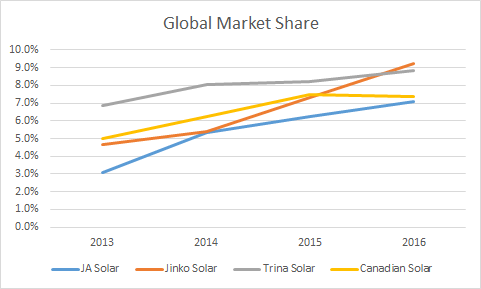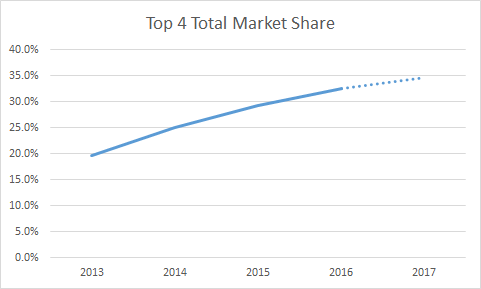 Source: Market Share based on shipments to third parties compared to total global deployments from the Canadian Solar Sep 2016 presentation.
And this doesn't even count the shipments to their own projects. So the real market share is slightly higher than the charts above. In 2016 the top 4 grew module shipments at an average rate of 27%. In the chart above, for 2017 I assume an average growth rate of only 13%.
Conclusion
While we might see some quarters of poor results if module prices decline faster than costs, I expect that costs will catch up and bring production back to normal.
I leave you with the TTM P/E (as of end of day 11/23) of the companies:
JKS: 2.4
TSL: 12
JASO: 3.92
CSIQ: 4.5
Note that Jinko Solar, which just took over the top spot from Trina and just beat EPS estimates by 125% is the lowest valued of the lot. So the world is upside down in solar investments. While the dismal stock performance continues, it might be a good time to get in.
Disclosure: I am/we are long JKS, JASO, CSIQ, TSL, FSLR.
I wrote this article myself, and it expresses my own opinions. I am not receiving compensation for it (other than from Seeking Alpha). I have no business relationship with any company whose stock is mentioned in this article.
Additional disclosure: I may sell FSLR at any time and add to any of the other positions at any time