I do not think that it is a surprise to anyone when I say that the USD has rallied quite a bit during the last few weeks. The USD index is currently at 2003 levels after breaking 2015 highs this months. In this article, I will elaborate on this and explain why this is bad for emerging markets.
Let's start with the amount of USD denominated debt. Non financial emerging market debt has more than doubled since 2009. The main reason is the zero interest policy of the FED and the option to invest in growth at a really cheap price.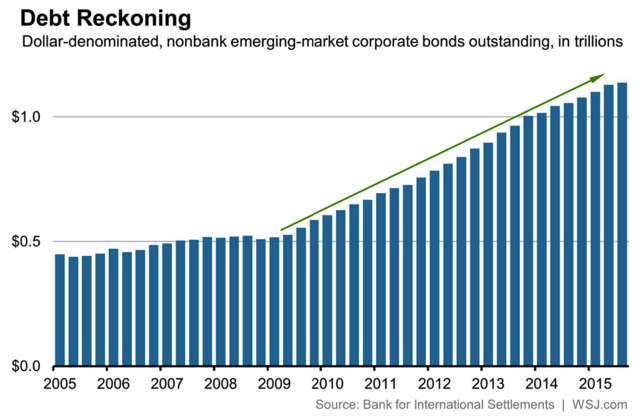 Emerging market debt is currently 17.5% of all USD denominated debt. Up from just 1% at the end of the 1980s. The interesting thing is that debt has decreased in 2014 and accelerated shortly after. The USD soared at the end of 2014. This could be a reason for the lower amount of USD debt.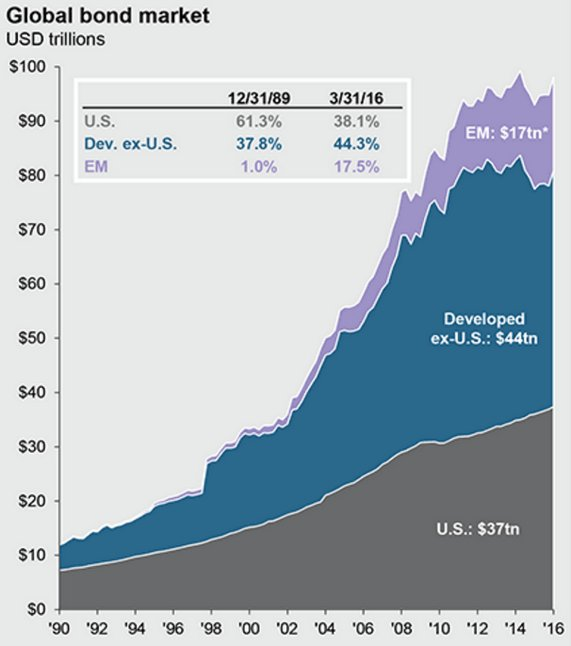 Source: JP Morgan
A stronger USD means that the debt load soars. This sounds very simple - and in fact, it is very simple. However, the outcome can be extreme.
The graph below is quite interesting. It shows the returns of various types of debt. The USD peaked at the end of 2015. Shortly after, we saw that debt performed really well. Especially high yield and emerging market debt. This means that yields have fallen. Almost all types of bonds did quite well during the second quarter. However, the USD gained strength in September which has resulted in higher bond yields. Currently, we see that emerging markets are the biggest loser. Coincidence?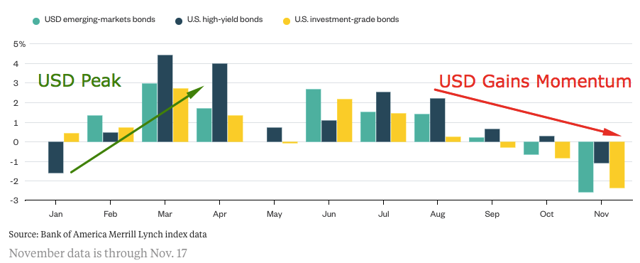 The currencies of emerging markets started to react in October. The WisdomTree Emerging Currency Strategy Fund CEW has fallen from 18.25 to 17.30 very quickly.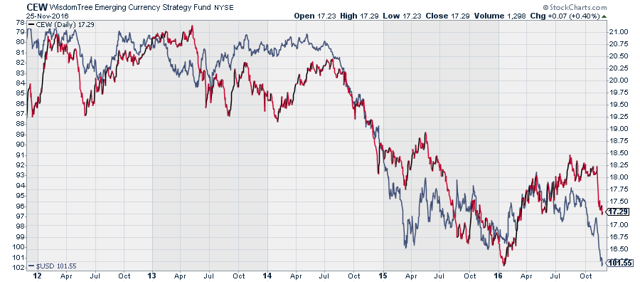 Emerging market bonds (iShares JPMorgan USD Emerging Markets Bond ETF EMB) have fallen too. However, note that bonds didn't fall during the 2014 USD strength. They stayed flat and rallied in 2016.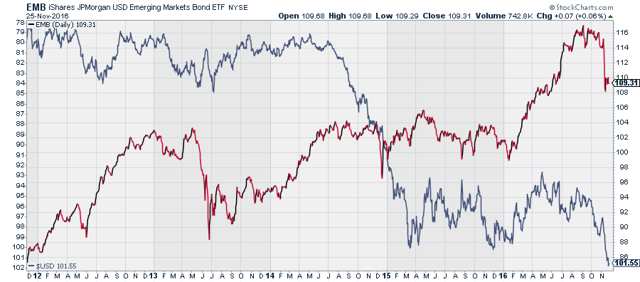 Emerging market stocks have started to react. The iShares MSCI Emerging Markets ETF EEM has peaked in September and fallen during the last USD rally.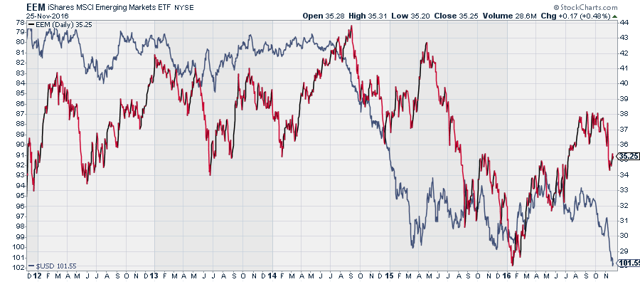 I am staying away from emerging markets. I believe that the strong USD is not priced in and that more pain is ahead. Please take this into consideration when trading these kind of stocks/bonds.
Many thanks for reading my article. Please leave a comment below if you have questions, remarks or a different opinion.