While the overall US IPO market was relatively weak in 2016, delivering 97 deals so far (down 42.3% from 2015) and proceeds of $17.3B (down 41.9% from 2015), a few IPOs have shined (Source: Renaissance Capital). We've highlighted Bats Global Markets, Duluth Holdings, Mimecast, Atkore International, First Hawaiian Bank, and Twilio. In addition to our recent article on top biotech IPOs from 2016, these six names are cross-sector, hailing from finance and technology, cyber security, diversified industrials, and retail.
As detailed below, these are names, based on their fundamentals and IPO performances, which we believe will continue to be successful in 2017. As with our biotech names, we plan to initiate or build on existing long positions in these companies going into 2017.
Bats Global Markets
Bats Global Markets (BATS:BATS) is the second largest exchange in the US and largest platform for ETF exchange in the US. Bats also operates a variety of exchanges in Europe and offers services for financial markets across the globe for traders, issuers and investors.
BATS previously attempted to go public in 2012 but withdrew due to a technical glitch. The company addressed these issues and IPO-ed on 4.14.2016. The company offered 13.3M shares at a price point of $19 per share for a total raise of $252.7M. Lead underwriters for the deal were Morgan Stanley, Citi, BofA Merrill Lynch, Credit Suisse, Goldman Sachs and J.P. Morgan. The IPO brought a solid first-day return of 21.1% and an even better 36.1% in the after-mkt.
We were excited for BATS' IPO, given the company's hefty growth. The company's IPO quiet period expired on May 10th, which presented a second buying opportunity for the newly trading firm. BATS now boasts ten covering analysts. The average analyst target price of $31.34 is in line with its current price of $31.30 (before the bell 11.28).
BATS' Q3 results highlighted a 13% increase in net income compared to the same period in 2015. The increase was largely driven by continued growth in non-transaction revenue. CBOE Holdings has also agreed to acquire Bats in a cash and stock transaction valued at approximately $32.50 per Bats share, a 3.8% premium over its current price (pre-market 11.28.16).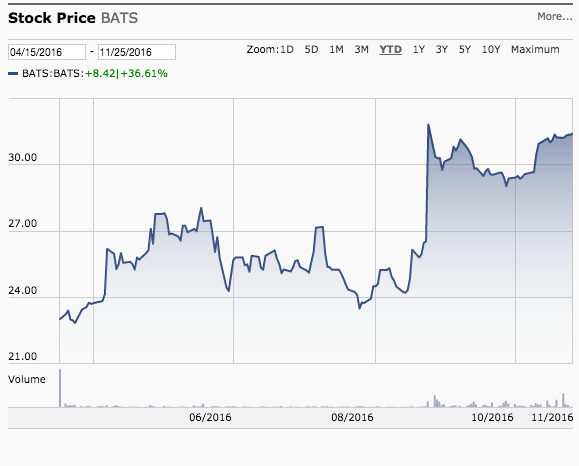 (Source: Morningstar.com)
Duluth Holdings
Duluth Holdings (NASDAQ:DLTH) sells clothing, tools, and accessories through its catalogs and website targeted to "contractors and serious do-it-yourselfers." Items reflect durability and performance ability during hard work. Trademarks, trade names and service marks include Wild Boar Mocs, No Polo Shirt, Longtail T, Fire Hose, and Duluthflex, among others. The company operates six retail stores and an outlet store in Iowa, Minnesota and Wisconsin, and it has approximately 1300 employees.
Duluth went public on 11.19.2015, offering 6.7M shares at $12 per share, slightly below the original range of $14-$16. The total raise was $80.4M. Lead managers were William Blair, Baird, Raymond James and BMO Capital Markets. After a 13.8% first-day return, DLTH surged and brought in 158.2% in the after-market.
We were also optimistic on DLTH's IPO, given company's steadily increasing popularity. At that time, consumer IPOs had raised $3.3 billion in total. The IPO quiet period expired on 12.15.15. Six analysts now cover the stock with an average rating of Buy and price target of $35.40, above its current price of $35.25 (pre-market 11.28.16).
On 11.3, DLTH opened its fifteenth store as it continues to expand in eastern markets. Q2 financial results showed an increase in net sales by 27.4% to $65.8 million compared to the prior-year second quarter despite a slight decrease in overall income. DLTH will again report on December 8th.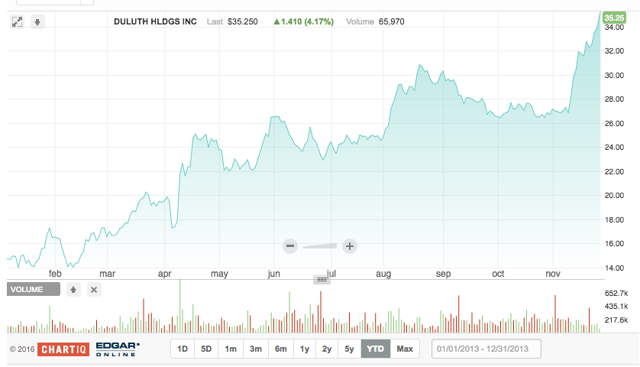 Mimecast
Based in London, England, Mimecast (NASDAQ:MIME) offers cloud-based security and risk management services for corporate information and email mainly in the U.S., the U.K. and South Africa. The company went public on 11.18.2015, offering 7.8M shares at $10 per share for a total raise of $78M. The deal brought 1% return on its first day, followed by a very strong 111.3% in the after-market. Lead underwriters for the deal were Barclays Capital, Goldman Sachs, Jefferies LLC, and RBC Capital Markets.
We thought MIME looked like a solid deal even going public next to giants like Match.com (NASDAQ:MTCH) and Square (NYSE:SQ). The company's quiet period expired on 12.29.2015. Now, seven analysts cover MIME, with six Buy ratings and one Hold rating. The average price target is $25.86, above its current price of $21.27 (pre-market 11.28.16).
On 11.23.2016 Mimecast announced the acquisition of iSheriff, a leading cloud-based security provider, which the company hopes will provide customers with additional real-time email threat intelligence and detection expertise. Q2 results highlighted revenue growth of 29% to $44.4 YOY on a GAAP. MIME added 1,900 new customers, bringing their total to 21,800 globally.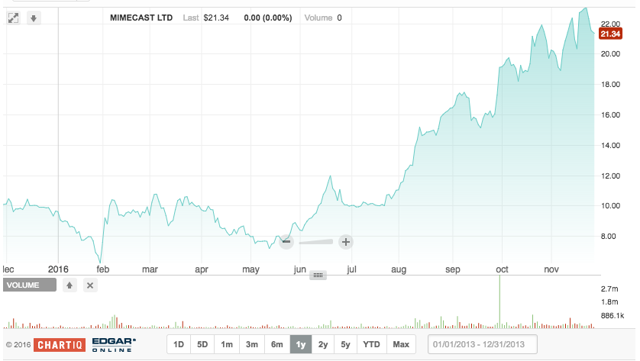 Atkore International
Atkore International (NYSE:ATKR) manufactures and sells galvanized steel pipes and tubes, armored cables and wires, electrical conduits, metal framing systems-all components in electrical circuity. As described in its SEC Filings, Atkore believes it holds the #1 of #2 positions in the United States by net sales in the majority of its products. The company went public on 6.9.2016, pricing 12m shares at $16 per share for a raise of $192m. Atkore brought a first day return of 0%, followed by a 40% jump in the after-market. Lead underwriters for the deal were Credit Suisse Securities and JP Morgan Securities; underwriters were Citigroup Global Markets, RBC Capital Markets, UBS Investment Bank, and Wells Fargo Securities.
We were initially positive on ATKR's IPO, suggesting investors consider a modest allocation. On 7.20, 2016 Atkore's IPO quiet period expired. Since then, seven analysts have initiated coverage with an mean rating of Overweight.
On 8.2.2016 Atkore released its Q3 results with a 41.6% increase in gross profit to $111 million. Although net sales decreased by 8.5%, net income increased 8.3% to $21 million, relative to Q3 2015. Atkore will release its Q4 results on 11.29.2016.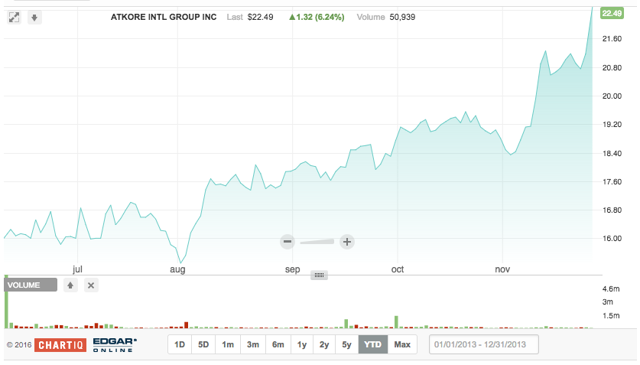 First Hawaiian Bank
Based in Honolulu, Hawaii and founded in 1858, First Hawaiian Bank (NASDAQ:FHB) has 62 branches throughout Hawaii. On 8.3.2016, First Hawaiian went public, in a deal that raised $485M through an issue of 21.1m shares at $23 per share. Underwriters for the offering included: Goldman Sachs, BofA Merrill Lynch, BNP Paribas, Barclays, Credit Suisse, Deutsche Bank, J.P. Morgan, Citi, Morgan Stanley, UBS Investment Bank, BBVA, Commerzbank Capital, HSBC Corporation, ING, Keefe Bruyette Woods, Banco Santander, and Wells Fargo Securities.
The deal performed very well, bringing a first day return of 5.4% and 30.6% in the after-mkt. We initially liked First Hawaiian's strong regional presence and market share of deposit accounts and recommended investors consider buying into the IPO. Since its IPO quiet period expiration on 9.13.2016, ten analysts have initiated coverage with an average rating of Overweight.
On 11.17, First Hawaiian named a new General Counsel and Corporate Secretary, Joel Rappoport. On 10.17, the company released Q3 results, noting steady growth of loan and lease balances by 1.9% to $208.9m. During the quarter total deposits also grew 5.2% or $843.4m.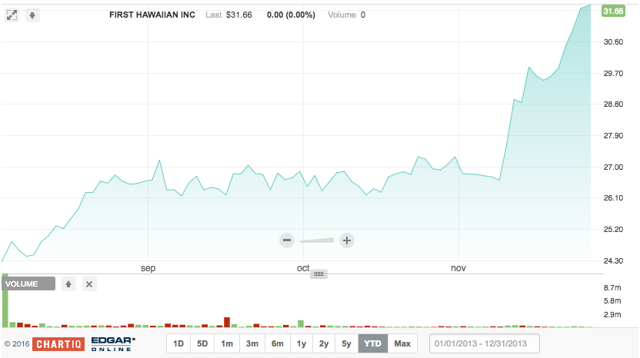 Twilio
Twilio (NYSE:TWLO) was our "IPO Pick of the Week" when it made its market debut on 6.22.2016. At that time we were excited by its strong financials, solid valuations, consistent growth, and impressive team of underwriters. These included Allen & Company LLC, Canaccord Genuity, Goldman, Sachs & Co., J.P. Morgan, JMP Securities, Pacific Crest Securities and William Blair.
Using a pay-as-you-go model for pricing, Twilio is a cloud communications company that offers cloud communications platforms that allow developers to build and scale communications in real time.
Following an IPO that brought whopping first-day returns of 91.9% and 21.8% in the after market, and an interesting IPO quiet period expiration, ten analysts initiated coverage. Their average price target of $38.17 is above its current price of $34.60 (market open, 11.28.16).
On 11.3, Twilio announced in its Q3 results that it had 34,457 active customer accounts, compared to 23,822 as of the same time in 2015. While Twilio is still not yet profitable, total revenue of $71.5 million for the third quarter was up 62% from the third quarter of 2015 and 11% sequentially from the second quarter of 2016.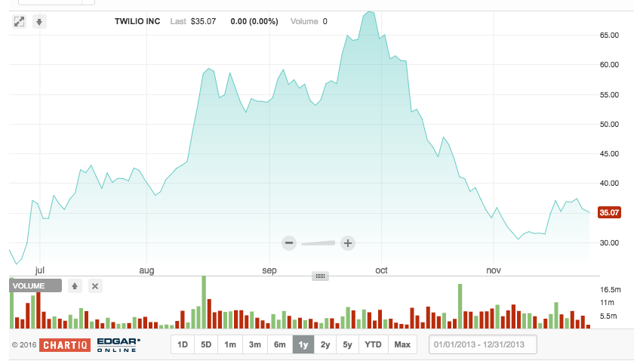 Conclusion: Buying Opportunities
We believe Bats, Duluth, Mimecast, Atkore, First Hawaiian, and Twilio represent the strongest cross-sector basket of non-biotech IPOs in 2016. As we noted above, 2016 was relatively lackluster in its IPO pricing, with many companies opting to stay private longer. September and October saw a strong uptick in IPOs; over 30 companies made their market debut in this pre-election window (Source: IPO Scoop). However, this productivity was short-lived, and the pipeline is again somewhat empty, heading into the holidays.
With a large number of companies valued at >$1B, according to CNN, the potential for an uptick in tech IPOs in 2017 is quite possible. While we wait for what is to come, we remain focused on the above outperforming batch of companies and their growth prospects in the year to come.
Disclosure: I am/we are long BATS, ATKR, DLTH, FHB, MIME, TWLO. I wrote this article myself, and it expresses my own opinions. I am not receiving compensation for it (other than from Seeking Alpha). I have no business relationship with any company whose stock is mentioned in this article.