Could an outside perspective be the key to getting your practice to the next level? Here are five ways a second opinion could help.
You're successful, competitive and resourceful. Most of all, you're someone who does not like someone else telling them what to do. These qualities are all harbingers of success as a financial advisor, but they don't exempt you from being able to benefit from expert advice. Even Rory McIlroy has a swing coach, right?
The beauty of connecting with a practice consultant is that he or she can zero in on the things you might miss while you're busy serving clients: strategic planning, marketing, human resources, finance, operations, even office space and real estate.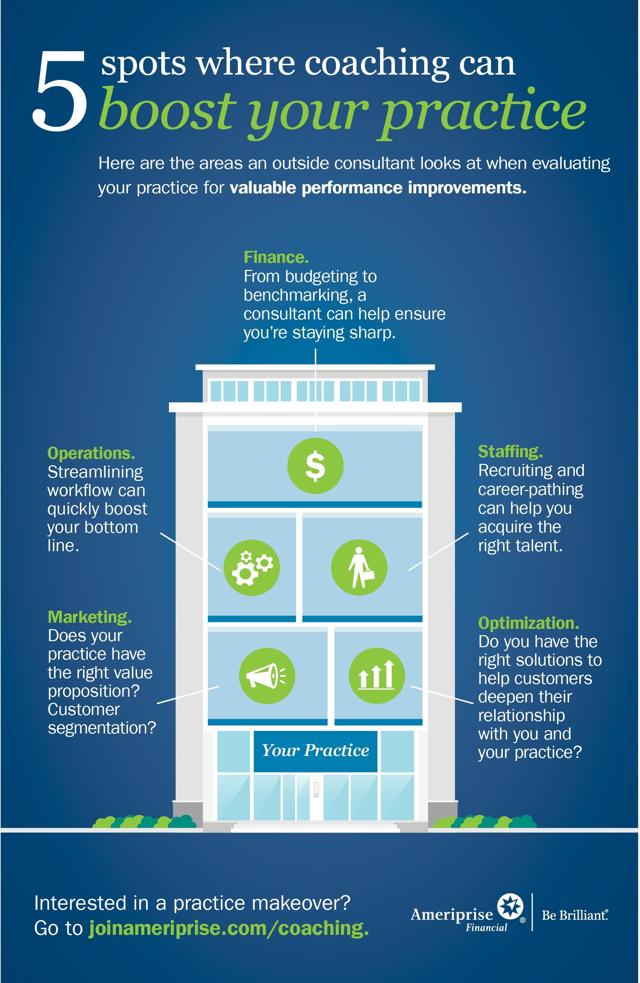 Source: Joinameriprise.com/coaching
And given today's unique regulatory, economic and political headwinds, the practice management services that an established firm can make available to you may prove to be more valuable than ever.
Our belief is: You shouldn't have to go it alone," says Bill Williams, Executive Vice President, Ameriprise Franchise Group. "We have teams dedicated to working one to one with advisors every day. By providing advisors access to the right systems and best practices, we put them in the best possible position to help their clients and grow their practice."
The result of this caring approach, according to Williams, is that Ameriprise advisors are uniquely positioned to deliver their best possible service and advice to clients. And they grow faster. Advisors who receive coaching through the Ameriprise Practice Makeover Program grow at a rate 4x faster than our national average1.
If you're still on the fence about whether an outside consultant could help your practice, consider these five reasons why it might be worth exploring:
1. It's about asking the right questions. Don't think of a consultant as someone who tells you what to do and bosses you around. A consultant is simply someone who teaches you how to ask yourself the right questions.
You may not even know where you need help. That's so common that identifying "hot spots" is a consultant's first job. They're there to be the extra set of eyes you don't have.
The practice consultant I've worked with has helped me to grow, to stretch mentally, to do things that I wouldn't normally do," says Kimberlee Orth, an Ameriprise Private Wealth Advisor who is ranked No. 1 on Barron's 2016 list of Top 100 Women Financial Advisors in the U.S.2 "They even helped me find my chief operating officer. Their advice has been invaluable."
2. Practice consultants are more than cheerleaders. Advisors like Orth, who've used consultants regularly, express how valuable it is to have an experienced consultant there to do a little healthy second-guessing, applying bigger decisions to a pressure test.
Orth vividly remembers feeling sure it was the right time to expand her practice - before her consultant encouraged her to slow down a half-step.
My practice consultant encouraged me to take a little more time to focus on developing team values and culture, and to take care of the real estate situation at my existing office," she says. "It turned out to be great advice." Orth did expand - and thrive - thanks to shifting her timetable.
3. The data doesn't lie. Practices that exceed goal are far more likely to adhere to the kinds of best practices that an outside consultant helps establish. According to a recent study by the FPA Research and Practice Institute, high-growth advisors were significantly more likely to have a defined value proposition and formal business plan, compared with underperforming peers.
4. The little things really do count. While practice management can dramatically improve long-term strategic planning and finance, it can also pay off by helping you deliver on the smaller, easy-to-miss details that separate a great practice from a mere good one.
What's your client experience like when they walk through your office door? What kind of hospitality is provided in reception? Is your practice's value proposition evident? If you think these are insignificant details, think about the ways your favorite store makes you feel when you step inside and how that feeling changes your consumer behavior.
5. Accountability. Finally, once you have foundational elements in place - like a strategic plan for your practice - a consultant can ensure that you're tracking to progress or help you get back on track. Where does your practice stack up against peer organizations? You don't have to guess. A consultant has insight into the numbers and can objectively show exactly where you stand, and how you can close the gap.
Recently, Denver-based advisor Susan Elliott moved her practice to Ameriprise. One of the first things she did was take advantage of the firm's practice management offerings. For her, working with a consultant really all came down to a question of how to better use her time.
"I was so busy working in my business that I never had time to install the systems, the procedures, and the structure that's really needed to build a business on an ongoing basis," she says. "What Ameriprise has brought to the table for me is all of the structures and processes, and industry best practices that I could implement."
Learn more about the resources and support Ameriprise can offer you at joinameriprise.com/coaching.
1Ameriprise Financial Practice Makeover Program results, Sep. 30, 2016
2 These listings are based on data compiled by many of the nation's most productive advisors, which is then submitted to and judged by Barron's®. Key factors and criteria include: assets under management, revenue produced for the firm, regulatory and compliance record, and years of professional experience. Barron's® is a registered trademark of Dow Jones, L.P.; all rights reserved.
Advisor experiences may vary. This information is not intended as an offer to sell, or the solicitation of an offer to buy, a franchise. It is for information purposes only. Permit #F-3872. Ameriprise Financial, 1491 Ameriprise Financial Center, Minneapolis, MN 55474
Ameriprise Financial Services, Inc. Member FINRA and SIPC.
© 2016 Ameriprise Financial, Inc. All rights reserved.