Back in August, Under Armour (NYSE:UA) shares were trading at valuations only seen by the hottest of fashion brands. While I did see plenty of people wearing Under Armour products, it was typically only in affluent areas of California or in the Bay Area where Stephen Curry is popular. Outside these areas - I saw virtually no one wearing the brand.
The trend was so alarming that I published a note entitled The Race Under Armour Will Lose forging on this idea that Under Armour is essentially viewed as an affluent brand here in California, and likely all of America.
While a broad generalization, the idea is Under Armour has limited demographic appeal in the United States, and therefore its growth domestically would soon come under pressure.
During the company's most recent conference call the issue of slowing domestic demand was addressed when an analyst questioned why the company's forecasts were weaker than initially projected. CEO Kevin Plank gave a long-winded answer where he didn't say much except for this:
We want to be clear, like our demand is still there, like this doesn't mean that the demand for the Under Armour brand has disappeared, but it certainly hasn't reappeared dollar for dollar in our immediate distribution.
There's no doubt that Under Armour has come a long way from Plank selling T-shirts out of his car, but demand for the company's products is clearly starting to show signs of weakening.
Aside from the CEO's comments, further signs that a slow-down is underway occurred when Foot Locker's (NYSE:FL) CEO made remarks on the company's conference call that Stephen Curry 3.0 sneakers made by Under Armour weren't selling as well as previous versions.
While there could be a number of reasons to explain this slowdown, I think the reason is simple. Under Armour increased the price of Curry's flagship model sneaker to where it now sells at a price point where less people demand it.
The problem for shareholders is that Stephen Curry and Under Armour seemed bullet proof just a year ago; now both are struggling to maintain the pace they've set for themselves. Investors have certainly felt this pain alongside Curry - as shares of Under Armour stock are currently trading near 52-week lows.
One segment of the business that could be picking up the slack for slower than expected clothing sales could be the "connected fitness" segment of the company.
At one time, investors and management were really pumping the "connected fitness" applications UA was going to be able to develop and (eventually) profit from. During the Q3 2015 conference call with investors the term "connected fitness" was used 24 times by management and investors. Contrast that to the latest conference call just one year later and the company only referenced "connected fitness" five times.
Before we dive into why management doesn't have much to report on the fitness app market, let's revisit what the company actually reportedly paid for these apps.
December 2013
Purchased MyMapFitness $150M
February 2015
Purchased MyFitnessPal $475M
Purchased Endomondo $85M
At the time of these acquisitions, companies like FitBit (NYSE:FIT), Microsoft (NASDAQ:MSFT), Nike (NYSE:NKE) and others were making big moves into this market. Since then, FIT's stock has tumbled to 52-week lows and Microsoft announced it was exiting the device market in favor of developing a software suite. The latter is certainly the most troubling considering UA doesn't have the resources to compete with a company like Microsoft when it comes to developing software.
What Did UA Get For All That Money?
It's been a while since UA has broken down what it actually got for the huge sums of money it forked out for some fitness apps, possibly because it wants investors to forget.

Source: Q3 2015 10-Q P. 7
Notice MyFitnessPal's net assets were valued at $61.2M - yet Under Armour paid over $463M for the company. The Endomondo acquisition paints a similar picture where the company's assets were valued at $16.9M, yet UA paid over $87M.
Considering the asset value of these companies was so much less than what Under Armour actually paid - it had to record the value in the form of Goodwill. We notice from the company's financials that it recorded over $400M in Goodwill for the MyFitnessPal acquisition and over $70M for the Endomondo acquisition.
Here is what UA said the nearly $500M in excess consideration was for:
The goodwill recorded as a result of the acquisitions primarily reflects unidentified intangible assets acquired, including operational synergies across the Company, assembled workforces, the value of integrating acquired technologies and engaging and growing the connected fitness community.
Since acquiring these fitness apps, Under Armour has seen the founder of MyMapFitness leave the company - which likely negatively impacts the workforce operational synergies UA was paying for.
The second part of integrating acquired technologies & engaging the connected fitness community appears to be an unprofitable venture - at least so far. Here is a look at UA's recorded revenues & operating income (loss) under the Connected Fitness segment.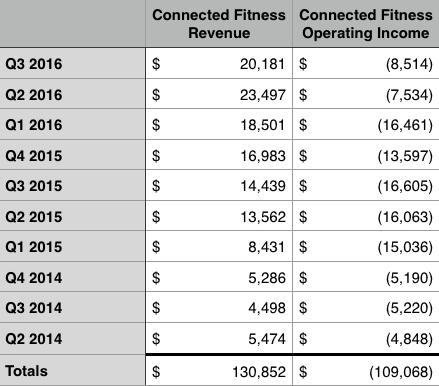 Data Source: UA Earnings Reports
Outside the $110M in losses that UA has racked up the most alarming trend is that revenues for the segment actually went down in the most recent Q/Q. So while the operating losses are starting to trend in the right direction, I believe the revenue portion is going to fizzle out around the current levels as the wearable industry is saturated with free tracking offerings.
If we add up the total consideration paid for the apps ($150M + $463M + $87M) we get to a figure just over $700M. Add in $109M in reported operating losses since Q2 2015 and UA has burned over $800M in real money on a non-performing asset of the business.
Given UA borrowed a large portion of the money to fund these acquisitions, we can assume financing costs will continue to add up. Add in additional re-structuring and UA will easily be in for a total of $1B if it hasn't crossed that point already.
For a company that clears between $200M and $250M in net income for an entire year, burning through $1B on an asset that generates nothing for the bottom line after two years is reckless spending.
The connected fitness blunder proves a few things about Under Armour and Kevin Plank's leadership in particular. First, the company is trying to run before it walks. A more prudent strategy would have been to partner with these apps - or other connected fitness solutions - instead of paying up the money to own the business 100%. Second, it proves that UA might not be re-investing the company's cash flow into assets that will deliver for investors down the road. The poor investment in connected fitness brings into question the $280M sponsorships of UCLA, expensive real estate deals in Manhattan and $70.3M for land in Baltimore.
Recommendation
UA shares will become attractive once the company trades closer to a 20-25 P/E. For some investors, this might be too expensive, but in the fashion business - this is considered average and I would likely feel comfortable acquiring shares of UA at that price. Morningstar currently has the industry P/E average pegged at 22.3 and Under Armour was listed at 69. UA's forward P/E was listed at 45.2 meaning UA's valuation could be cut in half if UA starts reverting closer to the industry mean.
Conclusions
Material earnings from the "connected fitness" segment of the business won't materialize anytime soon. Additionally it appears demand for UA's products domestically is fading. With lowered guidance, I fully expect shares to continue trading lower in the months ahead.
Disclosure: I am/we are long NKE.
I wrote this article myself, and it expresses my own opinions. I am not receiving compensation for it (other than from Seeking Alpha). I have no business relationship with any company whose stock is mentioned in this article.