In recent weeks, the dramatic appreciation of the dollar in tandem with a surge in major U.S. indexes has delivered a shocking surprise to all those who expected a broad-based selloff in the event of an unanticipated outcome in the U.S. presidential election. Market participants appear to have confidently embraced the view that Donald Trump will be successful in implementing his pro-growth reforms, strengthening and stimulating the U.S. economy. This has been the main narrative of how the dollar has managed to appreciate so rapidly. It is currently at its highest level since 2003, and despite some modest profit taking on Monday its momentum remains intact.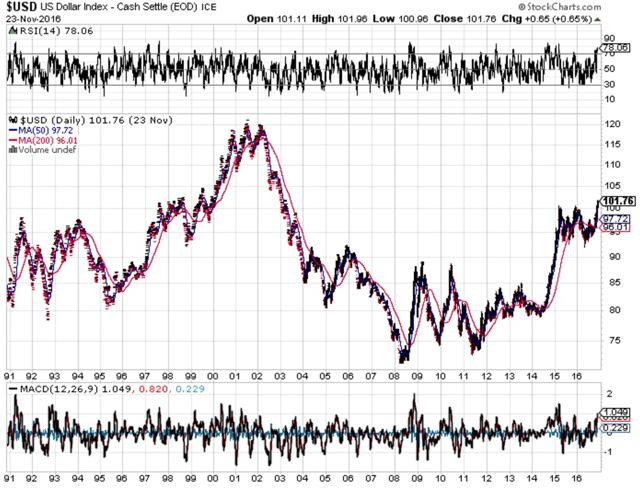 Undoubtedly, if this unusual strength in the dollar is sustained, the implications for the global economy will be significant. It is, therefore, warranted to examine the nature and the sustainability of the primary drivers behind the recent moves in currency markets.
The increasingly popular reflationary economic scenario is anchored by the belief that Donald Trump will follow through with his commitment to ramp up infrastructure spending and proceed with a revolutionary corporate tax reform. This has been the focal point of recent market action, but there are more factors in play that have contributed to the latest unusually aggressive movements in equities, as well as currency and bond markets.
Market expectations of widening interest rate differentials have increased, as it is now commonly accepted that the Fed will have more compelling incentives to pursue a bolder policy approach with regard to the tightening cycle. Meanwhile, ECB and BOJ are not expected to implement any significant policy changes, sticking with their historically unprecedented level of artificial liquidity and ultra-low interest rates despite the lack of success in triggering sufficient economic growth since their introduction. The subsequent capital outflows have been escalating, and I believe this will have a largely positive effect on both sides of the Atlantic. It will reinforce the confidence that higher levels of growth in the U.S. economy are imminent, while the rest of the world, including Europe, Japan and China will receive a substantial growth boost as more attractive exchange rates are expected to promote exports and lift asset prices.
One of the less talked about reasons of the surprisingly warm market reaction to the victory of Donald Trump has been his conciliatory tone and his effort to mend the nationwide wounds and divisions caused by one of the most bitter presidential races in modern history. Apart from his effort to articulate a unifying message, Donald Trump appears to have softened his stance on some elements of his campaign rhetoric that could severely destabilize the global economy. Specifically, the implementation of aggressive protectionist measures, which would likely spark trade-wars on a scale we have not seen in decades, could very well have disastrous long-term consequences on global trade and the world economy. Such a scenario would dramatically increase existing stagflationary pressures, potentially inflicting a fatal blow to the U.S. economy which is still struggling to find its footing, trapped in a protracted period of low growth since the crisis of 2008-09.
A third factor that has added fuel to this decisive shift in market sentiment has been the post-election reiteration and renewed emphasis on the lack of confidence regarding the protracted stimulative policies of the Federal Reserve. It is healthy for the long-term well-functioning of financial markets to openly discuss the risks that stem from ballooning asset bubbles. Bubbles tend to burst, and when the current bubble which is easily observable today in many asset classes does burst we will risk a recurrence, potentially even more damaging, of the financial crisis.
Interestingly, the market has decided to focus solely on the positive market impact of a more hawkish Fed, as we can see from the coexistence of a dizzying rally simultaneously in equities and interest rates. It is remarkable that both the Dow Jones Industrial Average (NYSEARCA: DIA) and the S&P 500 (NYSEARCA: SPY) have set new records, while the 10-year Treasury yield has skyrocketed. As the charts below illustrate, the bigger story in terms of post-election market developments has been the phenomenal increase in Treasury yields.

The rapidly growing divergence between Treasury yields and global government bonds has become the primary force driving currency movements and dictating major adjustments in terms of market positioning and asset allocation. However, all this market exuberance raises the question of whether we are truly entering a fundamentally different era in terms of economic growth. There are numerous signals that the post-election rally has largely priced in an overly optimistic scenario, which is unlikely to materialize anytime soon.
It is still far too early to have a clear view of the policy changes that will ultimately come to pass. Meanwhile, the challenges facing the global economy are increasing. Europe is approaching a critical moment that will determine if the monetary union can survive in its current form. China is scrambling to deal with its mountainous debt overhang in the private sector, and if it fails to do so in an orderly fashion the global economy will be in jeopardy. Ominously, Japan is also facing an existential economic challenge, with its government debt remaining well in excess of 200 per cent of GDP. In all these cases the solution is relatively straightforward, yet it remains elusive due to the lack of political will to design and properly implement bold reforms without worrying about the short-term political cost.
Consequently, it is entirely possible that we are currently experiencing the calm before the storm -- potentially a perfect market storm that may be triggered by the realization that a severe, possibly simultaneous, deterioration in the fiscal position of the world's four largest economies (United States, Europe, China and Japan) is becoming inescapable. While the recent market optimism is welcome, market participants would be well advised to tread carefully as the macroeconomic environment is in the process of diving into a period of heightened fluidity fraught with significant market risks.
Disclosure: I/we have no positions in any stocks mentioned, and no plans to initiate any positions within the next 72 hours.
I wrote this article myself, and it expresses my own opinions. I am not receiving compensation for it (other than from Seeking Alpha). I have no business relationship with any company whose stock is mentioned in this article.