In an article earlier this month, I had explained how Chesapeake Energy's (NYSE:CHK) strategy of enhancing its production from low-cost assets will bode well for the company in the long run. Now, along with Chesapeake's focus on increasing its output from assets that have a lower cost base, an improvement in natural gas and oil prices will also have a positive bearing on the company's financial results.
So, in this article, we will take a closer look at how higher natural gas pricing could impact Chesapeake's bottom-line performance. But before that, we will take a closer look at where natural gas prices are headed going forward.
The natural gas price rally will continue
A remarkable rally has been witnessed in the price of natural gas in recent months. In fact, so far this year, natural gas prices have risen close to 35% due to higher demand and constrained supply. More importantly, it is likely that the increment in natural gas pricing will continue going forward, driven by a ramp up in exports and an increase in coal-to-gas switch by power plants.
For instance, the EIA forecasts that the average Henry Hub Natural Gas price will increase from an average of $2.50/MMBtu in 2016 to $3.12/MMBtu next year. Now, the good part is that natural gas prices are already trading at more than the forecasted levels for next year at $3.14/MMBtu. As such, it won't be surprising if the price of natural gas actually trades at the levels forecasted by the EIA next year as consumption and exports are set to rise.
Cheniere Energy (NYSEMKT:LNG), for example, has been ramping up exports of natural gas from its Sabine Pass terminal. This year, Cheniere achieved substantial completion at its first two trains at Sabine Pass, with the third train ready to be completed by the middle of next year. Now, after the completion of the Train 1 and Train 2 at Sabine Pass, Cheniere will be exporting a total of 400 Tbtu of natural gas on an annual basis.
On the other hand, once Train 3 is completed, Cheniere will see additional imports of 216.5 Tbtu annually from Sabine Pass. All in all, once Cheniere completes all its liquefaction trains at both Sabine Pass and Corpus Christi by the end of the decade, the company will start exporting a sizable volume of natural gas from the U.S. More specifically, on completion of its projects by 2020, Cheniere will export 31.5 million tons per annum of LNG, which is 9% of the global LNG market.
Thus, an increase in natural gas consumption due to higher exports and an increasing usage in the electricity sector will lead to lower inventory levels. For instance, the working natural gas in storage in the U.S. will drop from 4,017 billion cubic feet last month to 3,863 billion cubic feet in October 2017. As a result of this decline in inventory, the price of natural gas will continue to remain strong going forward.
How better pricing will impact Chesapeake's financial performance
Now, if natural gas prices average $3.12/MMBtu next year, Chesapeake will be able to generate strong returns from its assets. This is because Chesapeake's natural gas assets carry a very low cost base. For instance, at Marcellus, the company's break-even price to produce natural gas is just $2.00/MMBtu.
The good news is that Chesapeake has a sizable resource base in the Marcellus with 11.2 trillion cubic feet of net recoverable resources. Now, CHK has been ramping up its activity in the Marcellus, which has allowed it to expand its capacity since the third quarter of 2015, while reducing lease operating expenses at the same time. Additionally, the Marcellus assets require very low capital expenses to develop, which is the reason why well costs have been declining over here.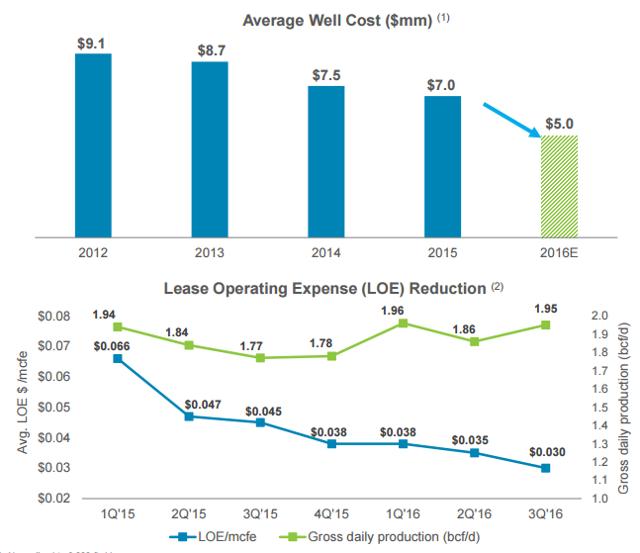 Source: Chesapeake Energy
On the other hand, Chesapeake's other important natural gas asset - the Haynesville Shale - also has a very low break-even cost of $2.35/MMBtu. Thus, if natural gas prices actually average $3.12/MMBtu next year, Chesapeake's margins from both the Marcellus and Haynesville will be robust due to low costs.
Conclusion
It is evident that Chesapeake Energy is well placed to take advantage of an improvement in natural gas prices going forward due to its strong asset base. As such, it will be a good idea to continue holding Chesapeake Energy's shares even after gains of more than 45% so far this year as more upside is possible.
Disclosure: I/we have no positions in any stocks mentioned, and no plans to initiate any positions within the next 72 hours.
I wrote this article myself, and it expresses my own opinions. I am not receiving compensation for it (other than from Seeking Alpha). I have no business relationship with any company whose stock is mentioned in this article.